Who doesn't love spending a blissful afternoon on a poolside lounger? But have you ever thought about the wonders of an outdoor hanging chair? These basic, suspended seats have got it all: from built-in shade and a gentle rocking motion to cocoon-like support, not to mention the fact that hanging chairs offer a completely solo place to get away from the stresses of life. These simple furniture pieces are becoming a must-have for today's modern homemaker.
Most people associate hanging chairs with being outdoors, like on a balcony or back deck, but today, hanging chairs have become the cool new thing for both outdoors and indoors.
For outdoors, there is no doubt that a hanging chair is the ultimate outdoor accessory, instantly creating a relaxing spot for reading, sunbathing, or a delightful afternoon cocktail. But don't forget about indoor hanging chairs! There are so many places indoors where you could have a hanging chair by just using a little bit of imagination, and to make it even better you'll discover there's a variety of hanging chairs to reflect your decorating style.
Why Hanging Chairs Indoors Have Become so Popular
Having a hanging chair suspended from a living room ceiling, or even in a bedroom or home office, is becoming increasingly fashionable and stylish. And the reasons for this are very simple – it's fun, it's healthy, it's aesthetically appealing, it's something different, and it's usually quite unexpected.
Different Chair Types for Indoors
Whether hammock, acrylic, wicker, or rattan, hanging chairs are designed and constructed to deliver a comfortable and amazingly relaxing environment. The following is just an idea of some of the types of hanging chairs available for indoor use –
Hammock Chair, Chair For Bedroom, Basket Chair, Egg Chair, Rattan Chair, Papasan Chair, Bubble Chair, and Macramé Chair.
There's Sculptural Rattan, Practical Canvas, right through to Washable Nylon Camping options, so you can see that there's definitely a hanging chair to suit your home or apartment.
Another great thing about indoor hanging chairs is that DIY installation is not difficult. In fact, it can be a fun project for the whole family.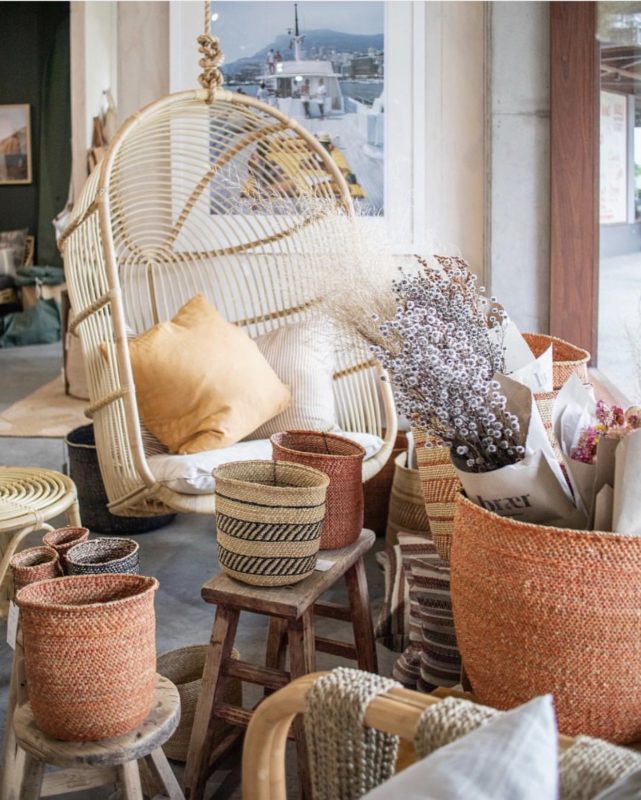 Looking for Comfort in Your Home? Consider a Hanging Chair
Hanging Chairs first became popular in the 1960s, however the most popular model was known as the Bubble Chair, which was designed by a Finnish creator in 1968. Manufactured from transparent material, with a perfectly round seat, the Bubble Chair hangs from the ceiling by a metal chain, thus resembling a floating bubble.
Today, hanging chairs are in-vogue again, with a lot more materials and shapes on offer. And they have many advantages, like the gentle rocking action which has been scientifically proven as the perfect way to relax.
If you've never had the opportunity to relax in a hanging chair, you'll be surprised at just how comfortable they are, especially when they're padded out with mattresses and soft cushions. Could there be a more perfect way of relaxing after a long and stressful day?
Regardless of your interior design, there's a hanging chair that will make the perfect decoration to suit your decor. You'll be amazed at the wide variety of shapes and colours available; and you can mix and match the colour and material to suit your decor. Designers are constantly creating new types of hanging chairs, so matching a hanging chair style to your interior design is a very simple process. You can choose from minimalistic and simple, to decorative and ornamental shapes.
Various Types of Hanging Chairs
When it comes to this type of furniture, the main difference lies in the construction and the appearance of the product. Of course not every style of hanging chair will be suitable for every room, so consider the purpose of the chair and what you're looking to achieve. The following styles are readily available in most furniture shops –
Brazilian Hammock Chair: This chair is a type of hammock. The key selling point of this chair is that it's a perfect fit for any body shape. Besides being one of the cheapest types of hanging chairs, it can be quickly removed at any time. Store inside a cupboard or wardrobe where it takes up very little space.

Ceiling Hanging Chair:

This is one of the more appealing types of hanging chairs. A rope is attached to a hook affixed to a ceiling. The seat hangs from the rope, which allows the user a full range of movement. You have a choice of wider and narrower models, so you should have no problem choosing the perfect ceiling hanging chair for your space.

Hanging Chair with Stand:

This is a more mobile yet smaller type of hanging chair, whereby the seat hangs from a floor-based stand. This chair has the huge advantage of suiting limited spaces. While this type of hanging chair provides a smaller range of movement, its mobility means you can move it out onto a patio or balcony in the summer months.
Attaching a Hanging Chair
If you have a Hanging Chair with Stand, then there is no specific way or place for the chair to be installed. You can just put it wherever you want. However, a Ceiling Chair must be installed safely and correctly. Failure to install carefully could result in the construction collapsing.
A Word of Caution! Is your ceiling in poor condition, or very old? If the answer to either of these questions is yes, then you must carefully check the ceiling to ensure it's capable of holding such weight. Ideally, you will ask a specialist to come to your home and assess the situation. If you're still unsure of the quality of your ceiling, we strongly suggest you choose a Hanging Chair with Stand.
Let's Begin!
Prepare a few accessories prior to starting the installation process. You will need a drill, a screwdriver, a hammer, and an adjustable spanner; you'll also need a chemical anchor, a snap ring, and a wall plug or eye screw.

Next, determine where you want to place the chair, then use a pencil to mark the drilling spot. You should drill the hole at an angle of 30°. The spot should be moved by a couple of centimetres if you hit a reinforcing bar.

Use a larger bit to widen the drilled hole, then vacuum it.

Next, the chemical anchor should be squeezed into the hole, after which the wall plug or eye screw should be inserted.

Screw it very tight. Now move on to hanging the snap rings and chain.
Another Word of Caution! It's really important that you test the strength and safety of the construction. Do this by using both hands to hold onto the chain, then hang for a while. Because the structure should be capable of holding the weight of two people, you will ideally test the construction with the help of another person. After the construction has passed the safety test, tighten the plug. You can install the seat once you know that everything is okay.
In Conclusion
If you're looking for comfort, something different, and you'd love to impress your house-guests, consider adding a hanging chair to your home. Choosing the right chair can be a lot of fun because there are many designs and colours to choose from. Not only will your new hanging chair be comfortable and relaxing, it will look great because there's a hanging chair to match any decor.
Related Products