Today, furniture can be made from a number of materials, like plastic, metal, wicker, and wood. With timber furniture, an item is specifically manufactured with timber being used as a raw material. The notable features of wood in furniture making are its durability, hardness, toughness, and firmness.
There's no doubt that wood can completely transform the mood of a room, and even an entire house. The use of timber furniture creates a sense of homeliness and elegance – a welcoming feel. And of course using timber furniture in homes and other buildings is not new – wood has been used for furniture construction by generations; in fact, timber was one of the first building materials used by man. It offers a quality of excellence that simply can't be replicated.
If you're looking for longevity from your furniture, you can't go past wood. As a robust and long-lasting material, there's certainly an inherent reliability and stability to a well-constructed wooden chair or table.
As a raw material, there are two classes of wood as defined by their physical make up – hardwood and softwood,. The characteristics of hardwood and softwood vary in density, appearance, and workability.
Hardwood: Hardwood trees are typically broad-leaved, deciduous trees. Hardwood timber is renowned for its exceptional style and performance. The main positive characteristics of hardwood timber furnishings are longevity, strength, easy maintenance, fire resistance, and appearance. With natural weather resistance, hardwoods are typically longer lasting and require less maintenance than less expensive softwood alternatives.
Softwood: Softwood trees are evergreen, open-grained trees, like redwoods, pines, and other coniferous trees. Softwood is a versatile timber, renowned for its sustainability, workability, and cost. It offers a beautiful finish, and is used to create furniture, feature walls, doors, ceilings, and windows. In external applications, softwoods typically have a shorter service life than hardwoods because, even after they've been treated, they require more maintenance and care over their lifespan and are usually less durable.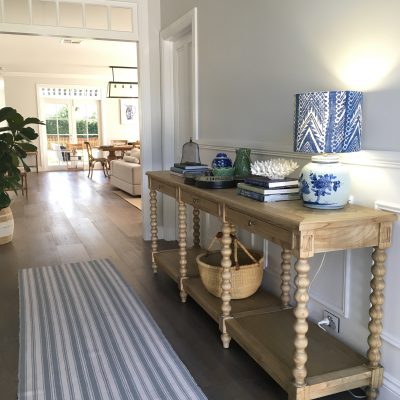 Today, the strength and resilience of timber in construction is far superior. We now have the ability to produce fast and sustainable constructions, bringing a feeling of nature into our homes. No household has areas that wouldn't suit the richness, comfort, and warmth of wooden furniture. Whether it be bed frames, tables and chairs, cupboards, shelves, and even ornaments, the many advantages of wooden furniture in today's homes can't be overstated.
Rooms In Which Timber Furniture Can Be Placed
The Family Home: Why not enjoy family meals in your dining room on your stylish dining table and chairs set? Imagine the quality timber furniture that can be used in your living room? And consider your kitchen for a moment; can you see the stunning cabinetry work? And what about a beautiful coffee table and matching nest of tables in your family room? Consider an elegant cabinet in your lounge room, perfect for storing your ornaments and family heirlooms? The list is endless – there's not a room in your home, including bedrooms, that wouldn't benefit from the warmth of timber furniture.
Holiday Cottages: Who doesn't love getting away to a holiday cottage for a few carefree days. Cottage house plans today are space efficient, offering luxury and roominess in a casual setting. Sophisticated timber furniture is often used to add a farmhouse feel to these getaway experiences, and once again, there is no room in a holiday cottage that wouldn't benefit from the durability, comfort, and longevity of timber furniture. Much thought and effort is required to design the perfect cottage home, and the ones that leave lasting memories are those that are tastefully constructed, furnished, and decorated with timeless wood.
Cottage Home: The perfect cottage home sits in beautiful harmony with its surroundings. Casual, colourful, and comfortable – these are the requirements for cottage furniture, and wood is the obvious solution to all these requirements. The rustic, yet romantic feel of a cottage home lends itself perfectly to timber furniture. Every room, from the dining room and kitchen, living and family room, study or office, bedrooms, and even outdoors, timber furniture will look perfectly at home. And don't forget the timber flooring – is there anything more elegant than timber flooring?
Types of Timber
Oak: Oak comes in red and white and is a heavy, solid wood that's typically used in furniture designed to support weight, as in tables and cabinets.
Pine: Pine is perfect for staining and painting, so we see a lot of pine in untreated furniture pieces. Because it's easy to shape, it works well for ornate and curved furniture.
Ash: More popular than oak for many types of furniture, Ash is a hardy wood and more responsive to painting and other finishes; and it's resistant to decay.
Mahogany: Mahogany is used in high-quality, fine furniture because it's an expensive wood. Soft and easy to use, it can be shaped into ornate fittings and trims. You'll typically see Mahogany used in items like cabinets and drawers.
Walnut: This is the most expensive hardwood, and it's used in a wide variety of furniture. Walnut woods range from dark brown to almost black, and while it isn't the hardest of words, it is quite easy to work with.
The Many Advantages of Choosing Timber Furniture
Below are just some of the advantages of using timber furniture in your home or office area –
No. 1: Versatility
Most people agree that wood looks great in almost any setting. Whether your design be rustic or modern, wooden furniture can be used as part of any design scheme. And it's versatility extends to outdoor areas as well. Furniture made of timbers like treated pine and jarrah can look amazing on a veranda or in a garden setting.
No. 2: Durability and Strength
Timber furniture is incredibly resilient and requires less maintenance, which are two of the main reasons many people choose timber furniture for their home. So if you're looking for easy maintenance and longevity with your furniture, you can't go past choosing strong, elegant wood. With the durability of timber furniture you're also getting excellent value for money because your furniture will maintain its value for many years to come.
No. 3: Easy Maintenance
Timber furnishings are almost effortless to maintain. The durability of timber furniture ensures easy maintenance. The easy process of waxing, polishing, and oiling need only be carried out occasionally. Typically, all that's required to maintain timber furniture is a simple wipe over of the surface with a damp cloth.
No. 4: The Look and Feel of Elegance
Wood adds a certain warmth, charm, and dignity to any room in any home, whether that timber be a lighter coloured wood or a wood in rich, dark hues. And when a skilled artisan has crafted that same piece of wood, there is limitless potential to deliver elegance to any piece of furniture. For people who live in cities in high density apartment blocks, wooden furniture is the only answer to creating a sense of nature indoors. In any sterile surrounding, wood evokes an immediate feeling of warmth and comfort.
The overall look of any room can be enhanced by simply adding a piece of timber furniture. The appearance of a somewhat sterile room can be changed immediately, providing a feeling of sophistication, charm, and elegance.
No. 5: Timber Furniture Is Modifiable
Over a period of time, timber furniture can be modified over and over again. With simple processes like painting and staining, timber furniture can be refinished to provide a completely modern and innovative look to suit any room in your home.
In Conclusion
Strength, elegance, and appeal, including beauty and appearance, are all words used to describe the advantages of having wooden furniture in your home. Of course the practical advantages of having wooden furniture are its strength, versatility, and longevity.
The enduring look and appeal of wooden furniture, with its varying tones and grains, brings character and warmth to any room in any home. Even when old and damaged, hardwood furniture can be restored or repaired with the right skills and tools. There is no doubt that timber furniture adds a sense of elegance and warmth to any home.
Related Products