The answer to the very common question, "Are Coastal and Hamptons home styles the same?" is, "No, they are not the same." There are some very distinct differences between these two home style trends.
And while there are differences, both these trends have seen a massive uptake in Australian design, incorporating both personal preferences and the beautiful Australian climate and lifestyle.
While both Hamptons and Coastal styles work best with clean, white canvases with neutral colour schemes, one of the main differences between these two styles is the accent colours used.
There are 5 main design differences between Hamptons and Coastal Styles, and these are colour palette, textures, patterns, space, and flora.
So let's define these two interior design styles, then you can decide which one is right for you.
Defining Hamptons Style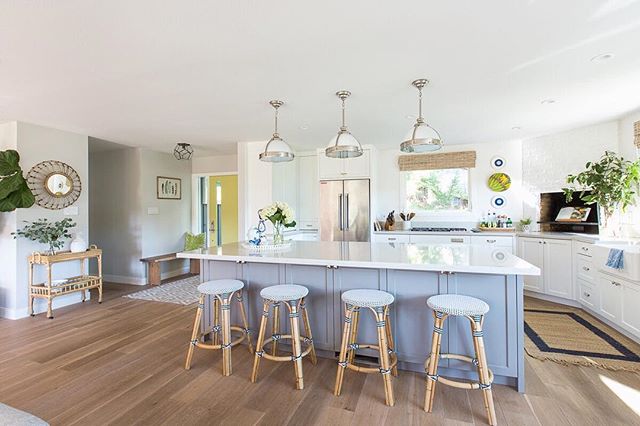 Hamptons style is all about grandeur, but in a modern and clean way – some describe it as 'simplicity with grandeur', or 'comfort with a touch of luxury'.
Hamptons style encapsulates all the comforts of a beach house, but with added luxury finishes. With this style you get the best of both worlds – the mix of seaside relaxation and the indulgence of the rich and famous. Think luxury in a clean and modern way – remembering that any design is more effective when worked in conjunction with natural settings. Local and native elements should be used to bring Hamptons style into the Australian context.
Consider this: lofty ceilings, eggshell-white walls, whitewashed timber, with luxury chandeliers and plush buttoned upholstery as finishes. With colour, Hamptons works well with dark accents, so consider schemes using steel greys, taupes, stone, and navy blues. If this sounds like you, then you need to get the Hamptons look!
Defining Coastal Style
Coastal is more relaxed. Think sunny, summer days and a calm home haven that's made for living in. Some people describe Coastal Style as 'the Hampton style's Bo-Ho-hippie little sister'. Coastal is a feeling, more than just a style. More and more we're seeing Australian homes incorporating native bush elements, creating magnificent anaesthetics totally inspired by our gorgeous coastal landscapes.
We should point out that, besides Bo-Ho, there are a variety of sub-styles within Coastal, like contemporary, modern, and rural coastal themes. Whichever way you go with Coastal style, this is a relaxed theme with bright colours, soft beachy vibes, natural and raw materials, and open living spaces that support both active and leisurely lifestyles.
Coastal can be as beachy as you want it to be – think white-washed wood with a touch of nautical navy blue. As a contemporary and flexible style, Coastal allows for individual personalities much more than classic Hamptons style. Consider this: natural textures like rope, shell, and rattan; the beauty of reclaimed timber, and a simple colour palette of sea and sand hues.
Coastal homes are rustic and raw, while coastal styling is about highlights – try to stick to yellows, marine greens, and light blues.
3 Top Tips for a Hamptons Style Home
No. 1: It Must Be White!
Your base colour should be pure white or off-white. Now you have a base to build on, keeping in mind that Hamptons style is defined as clean neutrals, then layering with shades and lighter tones. White-on-white is also an excellent idea for Hamptons style.
No. 2: Natural Texture Works Well with Hamptons Style
Luxury does not mean forgoing texture and charm, so consider adding pieces that highlight coastal and natural appeal. Items like buttoned cushions, linen throws, and jute rugs are perfect pieces to add a softer touch to your spaces.
No. 3: Go Glam in Your Furniture Staples
Introduce a touch of glam in your upholstered pieces like armchairs, sofas, and even your bedhead. A classic and on-trend Hamptons Style staple is upholstery with button-back.
3 Top Tips for a Coastal Style Home
No. 1: It's All about the Blues
For a typical Coastal Style design you'll be working with a palette of blues, ranging between deep shades of navy to marine tones, with pops of powder blue or aqua. Keep them natural and balanced, and don't go over the top.
No. 2: Become a Collector of Unique Décor
Accents like tumbleweeds and shells can add a natural but interesting and unique personality to your décor. Gather as many natural items as you can as you stroll along the beach. For larger furniture items with one-of-a-kind charm, go for reclaimed timbers.
No. 3 Let There Be Natural Light!
Coastal Style is about lots and lots of natural light – so open the windows and throw back your curtains. The idea is to fully live and embrace all the natural charms Australia has to offer. When the sun goes down you can add Bo-Ho bonfire ambience or candles or string lights.
Related Products