When furnishing our homes it often turns out that the items we least expect to have issues with turn out to be the hardest decisions to make. Bar and counter stools can often be one of these items. It's not always easy to choose the right bar or counter stool for your area because there's a lot to take into consideration – you want to strike the perfect balance between functionality and aesthetics; the stools need to be timeless yet on-trend, and they need to make a statement whilst also be hard wearing.
Bar and counter stools are not just for commercial eating and drinking establishments; they look great in any kitchen or breakfast nook – in fact, they look good in any casual dining setting. Bar and counter stools add a welcome informality to any space. One of the reasons for this is that formal dining rooms with their delicate china and fancy cutlery are fast becoming a rarity in today's fast-paced modern world.
Bar and counter stools range from modern to traditional and come in a wide rage of looks and styles.
The three figures you need to remember when choosing the perfect bar or counter stools for your area are the counter height, the chair size, and thigh clearance. This combination of measurements will provide an idea of the range of stools available for you, keeping in mind that the stools must strike a good balance between the proper distance from the surface and a comfortable seating position.
Is There a Difference Between Bar Stools and Counter Stools
Yes, there is. We discuss bar and counter stools as if they're the one and same thing, when in fact they refer to different stool sizes.
Height of Bar Stools: These stools typically have seat heights between 70cm and 80cm so they can comfortably fit beneath table tops with a height of between 100cm and 105cm.
Height of Counter Stools: Counter stools typically have seat heights between 60cm and 70cm for table surfaces that range between 90cm and 100cm high.
Our Recommendation: Before making a final decision, measure the distance between the underside of your counter and the floor. This will narrow your product search right down and you'll know whether to opt for bar stools or counter stools.
Determining How Many Barstools to Purchase for Your Space
The appropriate number of stools for your space will be determined by the length of your counter space, in addition to the number of guests you wish to accommodate. This easy formula can help you work it out –
Allow 15cm between each seat if the stools are between 40cm and 45cm wide.

Allow between 20cm and 25cm between each seat for stools 45cm and wider.

If you have swivel stools, you'll need to allow extra room between seats to enable guests to move in and out of their seats.
Other Barstool Options
Before making your final decision on which bar or counter stools to purchase, keep in mind that there are other options available to you.
Swivel Barstools: A swivel barstool has a rotating seat; this gives your guests easy access both to and from the stool as they exit the counter area.
Armless Barstools: An armless barstool takes up less space than a stool with arms; it also allows for easier access to the stool.
Backless Barstools: These are great because they can slide right underneath the counter, meaning they take up less space visually and they're very suited to smaller spaces.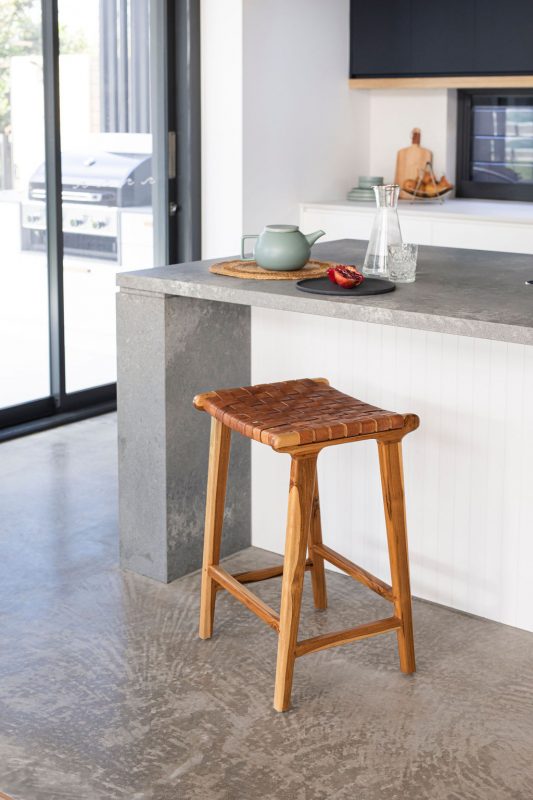 Back and Arms Barstools: If you're looking for something more traditional that offers supreme comfort, then you can't beat a bar or counter stool with both a back and arms.
Bar and Counter Stool Materials and Fabrics
For a refined, sophisticated look, consider an upholstered bar or counter stool. Also consider stools manufactured from different materials, like wood, metal finishes like chrome and iron, and leather. There's bound to be the perfect stool that perfectly matches your home décor.
As you can see, there are many options when it comes to choosing the right bar or counter stools for your kitchen area or bar set-up. With the wide range of stools available you're sure to find the perfect addition to fit in nicely with the interior design of your home.
The following barstool materials provide comfort and space as shown –
Leather: Looks attractive and expensive – very easy to clean.
Upholstered: Stylish and very comfortable.
Metal Finishes: Chrome finishes on bar and counter stools always looks smart and adds contemporary appeal, while iron finishes deliver a classic look.
Wood: Timber stools are elegant, durable, and long-lasting.
Barstool Assembly
Assembly varies when it comes to bar and counter stools. Many barstools arrive completely assembled, while others require simple assembly – like assembling the legs and attaching the leg rests. Any assembly required will be explained in the online product details.
Weight Limit: The maximum weight limit of barstools is 110 kg, unless expressly noted otherwise.