Careful planning is key to a beautiful and functional kitchen. It takes time, research, and sometimes the help of a professional to ensure you get everything exactly the way you want it. Consider the following tips when designing your kitchen, remembering that this room needs to not only look great, it must be functional and prepared for hard work!
It's imperative that your kitchen be a room you enjoy spending time in, regardless of whether you're cooking or cleaning. The kitchen is arguably the most important room in a home, so if you find the prospect of carrying out a kitchen renovation completely overwhelming, we suggest you start by compiling a list of ideas and specific items you would like in your new kitchen. This is a great starting point, and you can always be flexible with these ideas as the project advances.
You may be designing a new kitchen or planning a kitchen renovation, either way a thoughtful design will ensure you create a space you'll love working in. The following elements should be considered when designing your new kitchen –
Layout

Style

Functionality

Storage

Bench space

Cabinetry

Hardware
We suggest you buy the best quality materials you can afford and never sacrifice functionality for luxury features.
Our Top 15 Tips For Planning A New Or Renovated Kitchen
No. 1: Would a Partial Renovation Be Just as Effective?
Having a brand new kitchen can be very exciting, but for many people it all comes down to budget. Have you considered a partial renovation? A partial reno can be just as effective. It could mean simply replacing the cabinetry or benchtops, or both. A lot less work and a lot less expense! Perhaps changing the cupboard doors and a lick of paint would do the trick, especially if you add some modern handles and/or knobs.
You also have the option of doing your own demolition work and choosing pre-assembled kitchen cabinets instead of using a cabinet maker. This would not only save money but a DIY installation would be a further cost-saving. Consider doing your own painting! If you're comfortable installing a tiled splashback instead of a glass or stone one, this will also save some money.
You don't want a budget blowout, so you need to allow for a cabinet maker, plumber, electrician, and tiler, and allow a little extra for unforeseen expenses. Renovation products you need to allow for include cabinets, benchtops, kitchen sink and tap, splashback, appliances, tiles, lights, electrical fittings, flooring and kitchen accessories.
Make sure you have a budget range in place prior to starting this project.
No. 2: Do You Intend Replacing Kitchen Appliances?
If you have a strict budget to conform to, your kitchen update could be as simple as replacing old appliances. If you're carrying out a full renovation you need to research very carefully the appliances you need, and their dimensions, prior to work beginning. Your cabinet maker will need this information before he can start. If the plan is to purchase a number of big-ticket items, we suggest opting for the same brand and purchasing all items at the same time to maximise potential savings.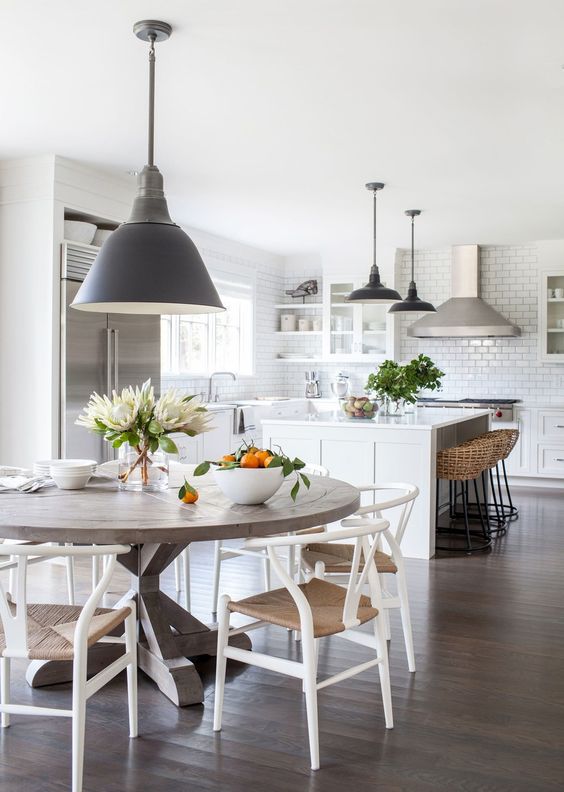 No. 3: Functionality is Vitally Important
One of the keys to a great kitchen is functionality; your kitchen needs to be the most user-friendly, functional room in your home. As part of your planning strategy, consider set-down spaces around your oven and microwave. Typically, kitchen designers allow for 375mm of countertop on either side of a cooktop and a refrigerator. Where will you be preparing meals? We suggest close to the sink and your bin.
No. 4: Allow Room To Move Around
Consider the flow of traffic in your new kitchen and ensure there's plenty of room to move around. Designers typically allow 900mm wide paths through kitchens, while you should aim for 1050mm paths within the cooking zone. Fridge placement should allow for easy access for people prepping food and drive-by grazers. Check to see how doors will open and close; an open dishwasher should not block off your kitchen. The same applies to overhead cupboards – they should open safely to protect eyes and heads.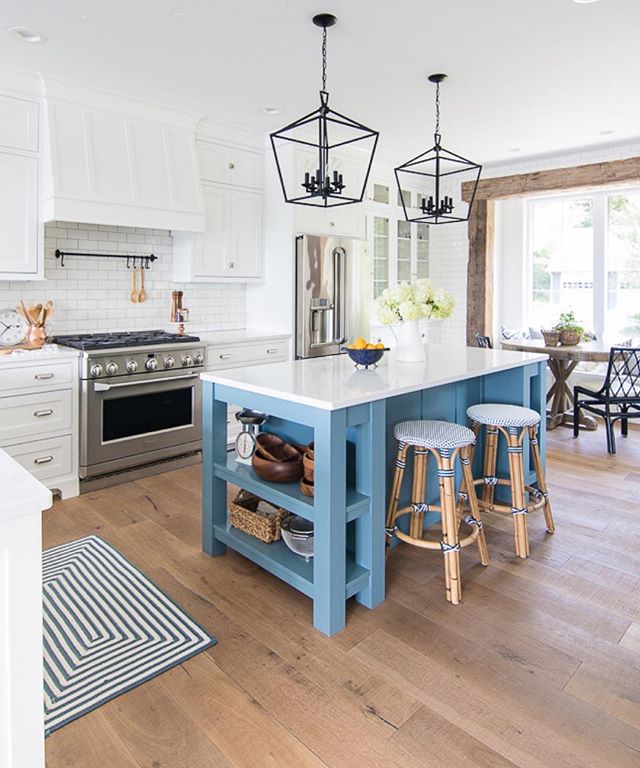 No. 5: Plan Kitchen Plumbing and Electricity Prior to Commencing
Considering plumbing and electricity for your new kitchen prior to starting your kitchen renovation is very important. For a renovation, consider where existing plumbing lines lie and determine if they can remain where they are. The same applies to electricity points. Will you be adding an island bench to your new design? You'll need to allow for both plumbing and electricity to the island bench prior to laying a new floor.
No. 6: Consider Placement of Electricity Points
Plan your electricity points prior to starting work and carefully consider which appliances will be used on a regular basis. If a washer/dryer is to be installed in your new kitchen, remember that it must conform to code; in addition it must work in conjunction with existing kitchen staples like the microwave oven and stove. It's very important to allow for power points on your new island bench. You'll be so glad you did!
No. 7: Choose a Focal Point For Your Kitchen
It can be quite overwhelming designing a kitchen, so where's the best place to start? How about a focal point for this room? Will it be the splashback, the island bench, a statement light, or something else? Once you've made this decision you can plan your benchtops and cabinets around it.
No. 8: Organise Your Kitchen Range
Your kitchen must make sense, meaning it must be functional, because this is where you'll be spending a lot of your time. Ensure the kitchen utensils you use the most are within easy reach; this also applies to cooking condiments and sauces. Where will you keep your kitchen knives? Will they be in a knife block, or do you intend to mount them to a magnetic strip on the splashback?

No. 9: A 'Chef's Line' Can Be Very Handy
A 'chef's line' refers to a bench in a restaurant kitchen where chefs assemble food ready for serving. These are very handy to have in your own kitchen; an island bench is great for this purpose. They're a great focal point and people always seem to gravitate towards them. Be cautious about this option if your island bench also includes cook tops and meal prep areas, which should be clearly defined from seating areas. We suggest having a raised section where people can sit and eat.
No. 10: Who Will Be Cleaning Your Kitchen?
If the answer to this question is that you will be cleaning the kitchen, then carefully consider this when designing your new kitchen. For example: wooden benches around the sink might look fabulous, but will they stain? How hard-wearing will they be? Concrete benches look great, but you need to get one that has a protective coating because oil stains can be almost impossible to remove. For your sink, an under-mount or flush set would be ideal because the rim can't get dirty. Do you hate sticky hand-prints on glossy cabinets? Think about this when planning your cabinetry finishes.

No. 11: Create a Space For Your Bins
So many kitchen designs completely forget about kitchen bins. Don't make this mistake. Are you planning on having a stand-alone bin in your kitchen and where will that be, or do you want to integrate it into your cabinetry? We suggest having your bin/s located underneath foot preparation areas and, if possible, to have specific areas for recycling. It needs to be very easy to remove your refuse, so consider having a slide-out bin system in your new kitchen.
No. 12: Consider All Family Members
How will young children interact with your new kitchen space, and keep in mind that children don't stay the same size – they grow! It may not be possible to design a totally child-safe kitchen but there are certain things you can do to make this space more kid friendly. Your microwave oven should be at a safe height – if it's too high it presents a scalding risk and if it's too low little hands can reach in and grab. It's suggested that your microwave be approximately 375mm above your countertop. Also, ensure your cooktop is away from high traffic areas.


No. 13: Create a Message Centre
The kitchen often becomes the nerve-centre of a home, so we suggest including a whiteboard, chalkboard, or pin-up board in your newly designed kitchen space. This will ideally be mounted above a surface that also doubles as a place to write. Ensure there's a pad and pen ready for adding to shopping lists or making notes; alternatively, make a spot to keep your Alexa or similar smart home device.


No. 14: Consider Your Kitchen Corners
Corner cupboards typically become storage areas for all the gadgets we rarely or never use, simply because they're awkward spots to access. If a corner cupboard is inevitable in your kitchen design, choose in-built gadgets to ensure you can easily reach items. Many store their pots and pans in their corner cupboard, and this can work very well if you implement a swing-out system so it's easy to locate what you need. We also suggest you ensure corner cupboards don't bang into each other when opened at the same time.

No. 15: What About A Butler's Pantry?
If you love entertaining and hosting dinner parties, then a Butler's pantry is a fantastic idea for your kitchen; however, if that's not who you are, you might want to reconsider having one in your home. There's the extra expense to start with, like a second sink, fridge, etc., then there's the space that could well be used for something more suitable for your family. Consider using this area to create a computer nook, a storage area for art-and-crafts, or an area for kids to do their homework.

Other Ideas For Your New Kitchen
The classic 'work triangle' usually works very effectively. This refers to the positioning of the sink, stove, and refrigerator in a triangular pattern. It works because it saves unnecessary steps.

Don't buy unnecessary items; stick with the basics you know you'll use. Extra gadgets and appliances just create higher utility bills.

Buy the best quality materials you can afford. High-quality countertops, cabinets, and appliances, last longer and are great for potential resale.

If your kitchen area is small, use light or soft shades on your kitchen cabinets. This will help visually expand your room.

Don't completely cover your kitchen walls with cabinetry. It can make your kitchen look heavy and uninteresting. Break up long blocks of drawers and doors by adding interesting details, like display shelving or glass doors. Alternatively, place windows or wine storage between cabinet areas.

Have you considered equipping a drawer with outlets and USB ports? Makes a handy charging station for devices.
Install electrical outlets on the island bench and along the backsplash so you'll have electricity wherever its needed.

A 'pot-filler' is simply a swing-out tap that's installed near the cooktop for filling pots near where they're heated. This is a good idea if you dislike carrying water-filled pots from the sink to the cooktop.

For extensive cooking needs or those with a large family, you may want to double-up on some appliances. A mini-refrigerator or even a refrigerator drawer placed at the edge of a kitchen work-centre, and a second microwave oven, can keep family members and guests in the kitchen but out of the cook's way.

A snack bar with stools makes a great after-school spot for the kids, as well as a gathering spot for dinner guests.

Your kids' snack foods and favourite dishes can be kept on shelves or in drawers they can easily reach.

Dedicate one cabinet for recycling: place separate containers in the cabinet for metal, plastic, and glass. Old newspapers can go into a spare drawer.

Create a designated spot for sharp kitchen knives, out of children's reach.
$

579.00
or 4 payments of $144.75 with Afterpay
Only -5 left in stock