The kitchen is unfortunately one of the quickest rooms in your home to become outdated, and we say 'unfortunately' because it's also the most expensive room to remodel. However, there's good news, because you can update your kitchen without having to complete a major renovation. As you may know, a full kitchen renovation can be costly, inconvenient, and time consuming, but you may not realise that a quick kitchen makeover can be cost- and time effective, and easier than you may think.
Years and years of hard work can leave a kitchen looking worn, outdated, and worse for wear, but revamping this room doesn't mean you're automatically up for a complete renovation: it really doesn't take much to give this worthy room a well-earned spruce-up.
Let's take a closer look at how you can save time and money by updating your kitchen without having the heavy cost of a full kitchen renovation. Yes, it's true, you can actually have the kitchen of your dreams without the cost and inconvenience of having a full remodel.
Note: Set a budget before you start your kitchen update.
Change Out The Hardware
The quickest, cheapest, and easiest way to instantly lift a kitchen is to change out the kitchen taps and cabinet hardware. Consider warming up your finishes with a brass option in a modern, sleek shape. Your kitchen will look on-trend, and the cost will be minimal. Think of these accessories as jewellery for your kitchen; they'll shine and create great visual interest, and the impression will be that you've installed a new sink or kitchen cupboards.
You may prefer sleek silver tapware or brushed gold metal handles; either way your kitchen gets an instant makeover. This may appear to be a small detail, but the effect will have a huge impact on the aesthetics of this room. It's only a minor investment and you could probably have it all completed in just one afternoon.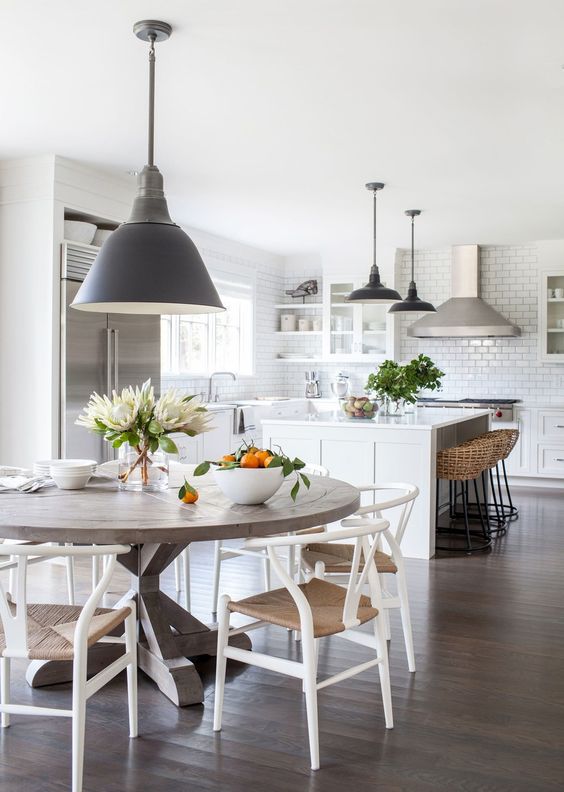 Paint the Cupboards, Cupboard Doors, and/or Walls
Painting the cabinets may seem like a big job, but it's very affordable. If you're doing it yourself it may cost one or two cans of paint, plus primer, but the result will look fantastic and the whole room will be completely transformed. Perhaps you like the colour of your cabinets but the walls look dull and tired. Dress them up with a new colour, like a bright white or darker colour, as long as the colour complements the cabinets.
Kitchen walls and cupboards typically become dull because of the steam and cooking splatters over a period of time, so sometimes all that's needed to glam up your kitchen is a fresh coat of paint. We love classic white in kitchens, but you may prefer to go bold with an eclectic or vibrant colour; either way your guests will be very impressed!
If you're looking at resale, we suggest opting for a neutral colour like gray, white, or creamy off-white.
Replace Downlights With Pendant Lights
Lighting in a kitchen is important for both its functionality and the look it creates. Your whole room will have a new lift if you update old light fittings with new, on-trend designs.
It's very common for older kitchens to have downlights, and they're certainly practical and provide good cover; however, they are inclined to leave the top portion of the kitchen looking bland and bare. Today's modern kitchens typically have pendant lights, which draw the eyes upward.
Many older homes have only one light source in the kitchen, so all you need to do is add some pendant lights over the bar; these will add character and brighten up the space.
Consider wicker and rattan pendants; they work beautifully in resort or coastal style areas, whereas a glass and contemporary metal pendant will effortlessly blend into a modern kitchen.
A Kitchen Trolley Creates More Counter Space
Most of us have experienced this: You're planning a barbecue or dinner party and simply run out of counter space! Many of today's kitchens are quite small and have limited built-in surfaces. So what can you do? Get yourself a kitchen trolley, also called a kitchen island, that can quickly and easily be wheeled away when not in use. They're great for freeing up existing surface space and many have storage options like cupboards, shelving, or a wine rack.
Update Your Kitchen Bench Appliances
We've all got that old kettle we love and the toaster that sometimes works, but if you're going to give your kitchen a facelift then it's time to invest in new appliances for your kitchen countertop. There's such a wide range of shapes, styles, and gorgeous colours available today that updating just these few appliances will make a huge difference to the appearance of your kitchen. Not only will your kitchen look new, modern, and shiny, you won't have to replace these appliances for many years to come.
Introduce More Storage With Open Shelving, a Display Cabinet, or a Sideboard
If you've got a blank wall in your kitchen, consider adding some open shelving. You can display your expensive glassware, your collection of cookbooks, and/or your favourite serve-ware. Finish off your new shelving with minimal or sculptural brackets for a touch of class.
If your kitchen cupboards are always overflowing, the simplest and most practical solution is to create a storage area outside your kitchen cabinets. Use open wall shelving, a sideboard, or a display cabinet to store your dinnerware, glassware, table linens, cutlery, tablecloths, and so on. They'll still be within easy reach but not too close to clutter the space. Perhaps you like the idea of using this storage space as an extension of your pantry; you can display freshly baked goods, and/or artistically arrange cans and jars of preserves.
Update Your Counter Stools
Another easy idea for an inexpensive kitchen makeover is to replace your set of bar stools. After a few years of hard work, counter stools start showing their age, with stains, scuff marks, and dinged legs. You can create a whole new atmosphere simply by swapping them out for a new set. Buy according to your budget and consider upholstered stools with a solid structure.
If you have a small bar area, we suggest opting for bar stools without backs. They can quickly tuck underneath the countertop and out of the way of walking traffic. There's such a huge range of bar stools available to purchase. They come in different sizes to suit all tastes, so you shouldn't have any problem making a good choice for your kitchen makeover.
Remember to carefully measure how much space you have available before making your purchase.
Display Your Beautiful Cannisters
A great looking set of cannisters on a benchtop can look amazing, and what a perfect way to give your kitchen an update. Decant your regularly used ingredients like coffee, tea, salt, sugar, and so on, into matching canisters or jars. Give them all a fancy label, then line them up near the kettle or stovetop for a clean, cohesive look.
Add a Vase of Flowers and Some Stunning Artwork
And our final suggestion is to place a beautiful fresh or faux plant or bouquet into a gorgeous vase, and place in just the right spot on your benchtop. If you have the wall space, the right artwork can look spectacular in a kitchen. Both of these can be changed out when you feel like something new or different, and both can bring a room together. Consider the right colour and shapes for either a complementary or contrasting look.
In Conclusion
We hope the above suggestions have given you some ideas on how to give your kitchen a makeover on a budget. Other suggestions include –
Replacing window coverings

Adding a feature wall in chalk paint for a stylish and fun addition to your kitchen

Covering your countertops

Adding under-cabinet lighting

Giving your splashback a makeover

Swapping tiles for a mirrored splashback

Adding some wallpaper

Removing outdated moulding on cabinets

Changing the colour scheme in your kitchen.