Teak is one of the strongest, hardest, and most durable of all timbers. It's a close-grained hardwood that's long been valued for its strength and beauty. Teak has a high natural oil and silica content, is impervious to the effects of rain, hot sun, snow, and frost, and is highly resistant to rotting. For these reasons teak has been used by boat builders for centuries.
Teak has primarily been the premium wood of choice for upscale homes and fancy hotels and is now more popularly used for both indoor and outdoor furniture like patio sets, bathroom vanities, shower stools, and so much more. Teak has a natural beauty, which has made it one of the most valuable of all woods. As a low-maintenance material, teak's natural oils make it water repellent – it also repels insects and pests, and this includes termites. Even left untreated, teak furniture is probably the most durable garden furniture available on the market today.
About Teak Wood
Teak wood is native to south and south-east Asia. It's a dense hardwood that come from the Tectona Grandis tree, which is a tall, deciduous tree that lives for one hundred years and grows up to 50-metres in height. The wood has a naturally golden colour, with a smooth texture and grain. Because it's high in rubber and natural oils, teak wood is durable, strong, and almost impervious to rotting and extreme weather conditions. Even though teak is a porous material, its natural oils make it resistant to rotting, moisture, splitting, and warping.
As one of the faster growing hardwoods, teak grows at about half-an-inch per day. A mature tree can be harvested in around 25 years. Considered 'King of the woods', teak makes gorgeous durable outdoor furniture. Teak is a harder wood than chestnut, white pine, mahogany, poplar, and cedar.
Today, teak is used in both exterior and interior wood applications. Exterior applications include marine trim, marine decking, marine millwork, siding, outdoor furniture, decking tiles, and residential decking. Interior applications focus more on the beauty of the wood, like marine interiors, teak and holly flooring, mouldings, flooring, furniture, and custom millwork.
Interesting Fact: Did you know that some of the oldest teak park benches in Britain are more than 100-years old? Imagine how long your teak furniture would last if it was kept indoors!
How To Care For Your Teak Furniture
Many owners of teak furniture choose to apply a teak sealer to preserve the timber's golden-honey pigment. The sealer has no effect on the longevity or durability of the wood, but it does slow down the patina process, thus assisting in preserving its colour. A good teak sealer will inhibit mildew growth and provide protection against the sun's UV rays. Should you decide to seal your teak furniture, ensure the sealer you use is designed specifically for teak and that it's environmentally friendly. The surface area should be cleaned with a teak cleaning agent prior to sealing. The sealer should be applied with a soft cloth – it's not recommended that you use a brush.
Because teak produces its own oils it's not necessary to protect this wood with added oil, and manufacturers recommend that you don't add processed solvents into the mix. However, if you apply a teak oil to your furniture it will help in restoring it's original finish, but if it's not applied on a regular basis (say, every two months) it will quickly revert to its weathered appearance. What happens is that, over a period of time, the teak becomes dependent on the application of the manual oil, thus slowing it's natural oiling process and weakening the durability of the wood.
Teak products are typically sold with a natural wood finish, meaning that no sealer or stain has been applied, so it's up to you to determine how you want to protect the product. And this is one of the things we love about teak – because it produces its own natural oils, you don't have to seal it or stain it to ensure the wood stays in good condition.
About Teak and 'Patina'
Teak will slowly change from a golden honey colour to a silvery grey colour once it's placed in direct sunlight or exposed to the elements. This process is called 'patina' – it's a normal process and is the wood's natural way of protecting itself. However, like all woods, teak will contract and expand in the cold and heat. When teak is left outdoors for an extended period of time, extreme changes in weather may cause the wood to crack. When not in use, we suggest either bringing the furniture indoors or at least covering it while outside. If you decide to clean the furniture, make sure it's a cleaner specifically formulated for teak. You could also apply a hardwood protector to prevent mildew and stains.
​
Taking Care of Sealed Teak Furniture
Maintenance of a teak product that is already coated with a coloured or clear sealant, or a teak product that you have sealed yourself, will be the same as caring for natural teak. Sealed teak should never be oiled, and it's not necessary because the sealant will already be protecting the colour of the wood. In addition, applying teak oil to the furniture item would reverse the effect of the sealant and promote mildew and fungus growth. We suggest cleaning your sealed teak with an environmentally friendly teak cleaner that's specially formulated for teak products. To remain effective, you'll need to do this at least once a year; however, if you decide that you prefer the natural, weathered-grey appearance, just allow the sealer to fade.
Can I Varnish Or Paint My Teak Furniture?
No; our advice is that teak should not be varnished or painted. Teak wood naturally produces an oil that rises to the wood's surface, and it's this oil that prevents varnishes and paints from adhering to the surface of the wood. The varnish or paint will peel and chip after a brief period of time, creating an unpleasant appearance. Teak should either be protected with a few coats of sealant, or left to patina naturally.
Cleaning and Stain Removal
Even though your teak outdoor furniture will be resistant to rot and water, dirt accumulation and mildew can occur. When you feel your furniture requires cleaning, ensure you use a special cleaner for teak. You can even use a homemade solution of 1-gallon warm water mixed with 1-cup of vinegar.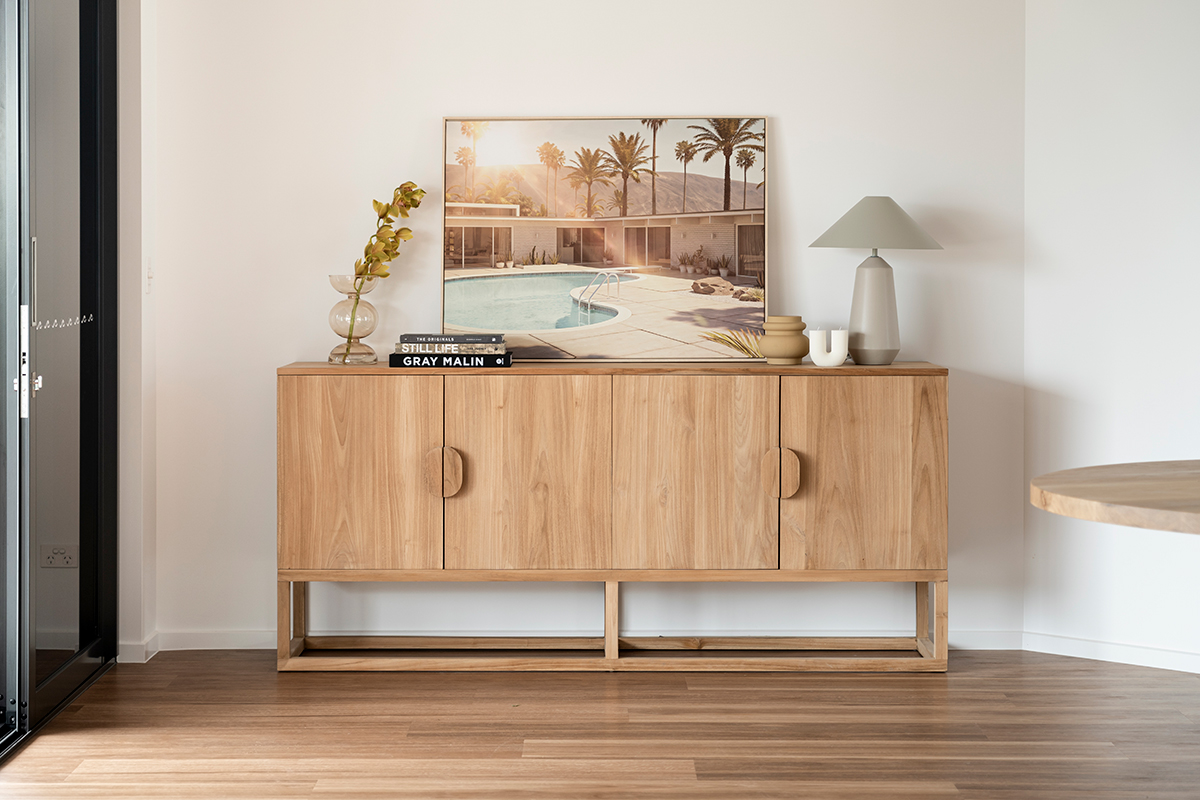 Begin by using clean water to lightly moisten the surface area. Evenly apply your chosen cleaning solution using a soft sponge or cloth. Allow the solution to soak into the wood for around 10 to 15 minutes. Working in-line with the wood's grain, use a sponge to clean the surface. Do not use metal brushes, metal scrubbing pads, or rough sponges that can scratch the surface or cause the surface of the wood to splinter. Once clean, rinse the furniture with clean water. Do not use pressure washers on your teak furniture as this will cause discolouration and damage the wood.
If needed, a plastic-bristled brush can be used to remove stains. For tougher stains, you can try adding some oxalic acid or bleach to the mix. If that fails, try lightly sanding the affected area away with some fine-grit sandpaper. Just be aware that the sanding procedure will remove the patina or any sealer from the surface of the wood. If your plan is to apply a teak protectant or sealer, make sure the teak is completely dry before applying.
The Best Ways To Preserve Your Teak Furniture
There's no doubt that teak outdoor furniture is practical, durable, and beautiful. It can be left outdoors without warping or becoming twisted. And it won't splinter, crack, or become a home to termites. When cared for correctly, your teak furniture will retain its durable and attractive qualities.
Teak Outdoor Furniture Ages And Greys Naturally
Teak's natural state is a honey-brown colour, so that's how you'll receive your teak wood furniture. It may appear to be polished, and this comes from the oil that occurs naturally in the wood. In just a few days outdoors the surface oil will have evaporated from the wood. What gives this gorgeous wood its durability is the oil that remains below the surface. Teak outdoor furniture left outside to age naturally will turn into a lovely silver-grey colour, but this could take anywhere up to 12-months to occur. It all depends on the amount of rain and ultraviolet light the furniture is exposed to.
Be assured that the greying process does not affect the integrity of the teak. The 'ageing' characteristic of teak looks fantastic on any type of garden setting. Perhaps part of teak's popularity is because it's a natural material and it's virtually maintenance free.
Because teak is a natural material, you may notice fine cracks appearing in the end grain of products, which then disappear when the weather changes. These are quite normal, particularly in heavier components like legs and arms. They will have no effect on the durability or life of your teak outdoor furniture.
How To Retain The Original Color Of Your Teak Outdoor Furniture
We recommend using a sealer to preserve the honey-brown colour of your beautiful outdoor teak furniture. A good solvent-based teak sealer will typically be of water-like viscosity and will provide protection against moisture, mold, and ultraviolet light. These sealers come in a range of colours. They're very easy to apply and are typically applied to outdoor furniture at least every year. Our suggestion (if you decide to use a sealer) is to visit a marine store and ask for specialty teak sealers. These are the products typically used on boats.
How To Clean Teak Furniture
Other than an occasional scrub, your teak furniture items will require very little maintenance. To remove any accumulated dirt we suggest either a mild solution of soapy water, or alternatively, a diluted mixture of water and Marine SimpleGreen® will do the trick. Rinse off with clean water.
Grease spots and stains can be removed with a light scrub using a de-greasing agent. Always follow up with a rinse in clean water.
If you want to restore your furniture items to their original colour by removing the silver-grey patina, we suggest purchasing a teak cleaner from a marine store to do the job for you.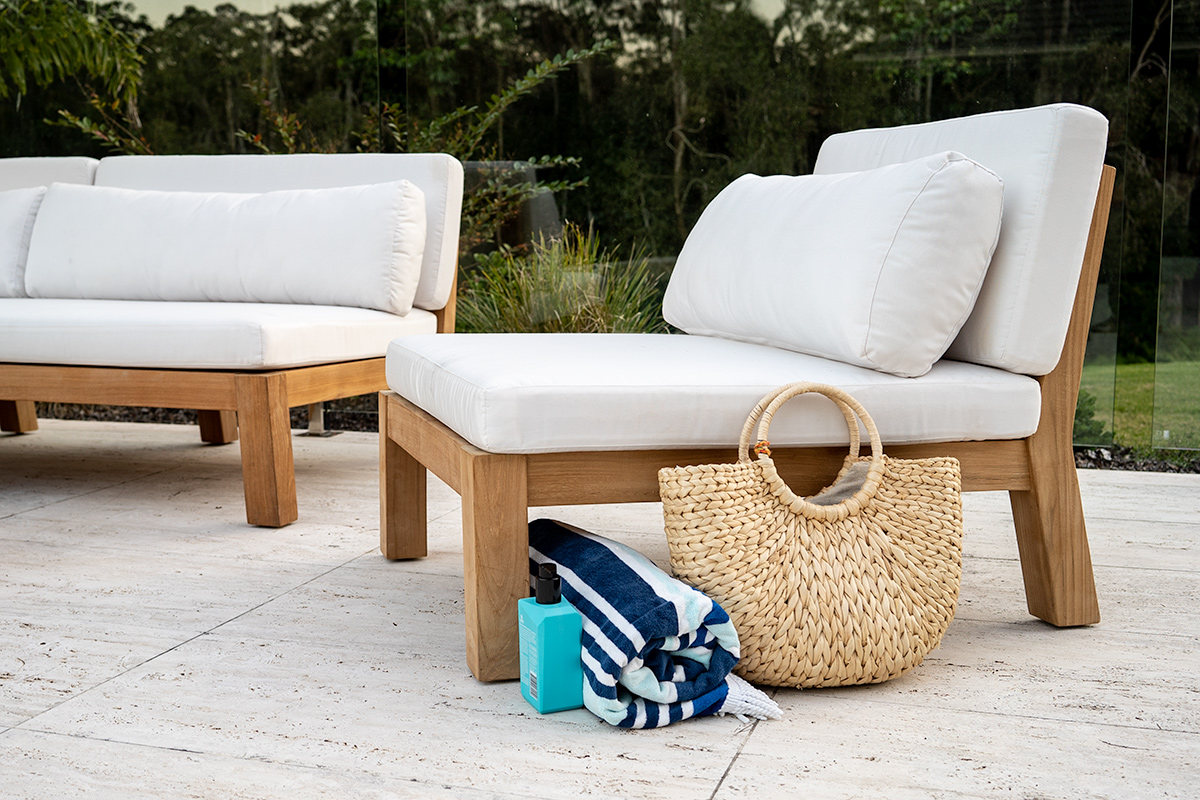 Storing Teak Furniture For The Winter
Regardless where you live, your teak outdoor furniture can be left uncovered for the entire year. You may choose to cover these items during the winter months, so if you do you must ensure the covering material allows the wood to breathe.
Alternatively, you may decide to store your furniture away during the winter months, so ensure it's not stored in a heated room. The heat can cause the wood to dry out and create cracks. It's perfectly normal for teak wood to contract and expand with changes in weather and with time. Note that some of the joints may not be glued, similar to slats in chair backs, so you may need to tighten the fasteners from time to time.
With the ageing of the wood, you may notice small cracks or checks appearing on the surface of the wood. This is quite normal and in no way affects the durability of your furniture items.
In Conclusion
Teak is a wood that ages beautifully. The durable and natural qualities you love about your teak furniture are due to any resulting imperfections in the material.
or 4 payments of $327.25 with Afterpay
Only 1 left in stock