For Your Space
In Australia, dining room tables are rarely used for just somewhere to enjoy family dinners; they're also a place for children to do homework, families to enjoy arts and crafts together, a nice wide area for Dad to spread out the morning paper, and even a place to work during a COVID lockdown. Above all, the dining room table is one of the key furniture items in your home, so it's important that you choose a table that's strong, well crafted, and blends in with the décor of your home.
Of course it's important that your dining table looks great, but it's even more important that it fits your space and provides enough seating. Given the functionality and prominence of a dining table, we suggest doing your research prior to making a final decision on purchasing your new dining table. Not only will your new table be a wise investment, it will look great and will last for many years to come.
Here are some tips to help you make the right decision –
Plan Ahead
Where is your new dining table going to be situated in your new home? The position will determine the size, shape, and style of your new table.
Choose Your Material
No. 1: Timber Dining Tables
If you're looking for a dining table that will last forever you need one that's manufactured from a solid hardwood. Consider hardwoods like teak, beech, and oak, all of which age beautifully. A less expensive option is rubberwood, which is a timber from the maple family. Rubberwood has a beautiful medium tan-blonde colour. Then we have even cheaper options like composite woods, such as MDF and plywoods, which are not as strong as hardwoods. Still, we often see Scandi dining tables manufactured from plywood and they're always elegant and very functional. If you wanted to compromise, consider a dining table that combines composite wood with hardwood. For example, a table with solid wood legs and a wood-veneer tabletop.
No. 2: Reclaimed Wood
Are you someone who shops for furniture items with a conscious? Ecologically, it's definitely worth looking for a dining table suits your décor, is environmentally friendly, and will also stand the test of time. Reclaimed timber products can look amazing; they're a great investment, and they add longevity to your home.
No. 3: Glass Dining Table
We love glass dining tables because they add so much brightness to a smaller space. They go with a range of décor styles and they come in different shapes and sizes. And, when you choose a dining tabletop that's manufactured from tempered glass, it will be heat resistant and scratch resistant. Perhaps the downside is that it will require a regular wipe-down to remove watermarks and fingerprints.
No. 4: Marble Dining Tables
For sheer glamour you can't beat a marble dining table. They make a big statement; but on the downside they're heavy and awkward – perhaps not the ideal dining table if you plan to move on a regular basis or if you live in a rental. They can also be quite pricey. If you do go with a marble dining table you need to watch out for staining – get into the habit of using placemats!
No. 5: Faking It With Marble
Most people will admit to loving marble dining tables and they're certainly on-trend at the moment. But the price tag can be quite hefty and out of many people's reach. Fortunately, you don't need to look for the 'real' thing – there are a wide range of dining tables that offer the appearance of marble but come without the big price tag. Many people today are opting for faux marble tables – just read the care instructions very carefully because hot plates and some food stains can negatively affect the faux marble surface.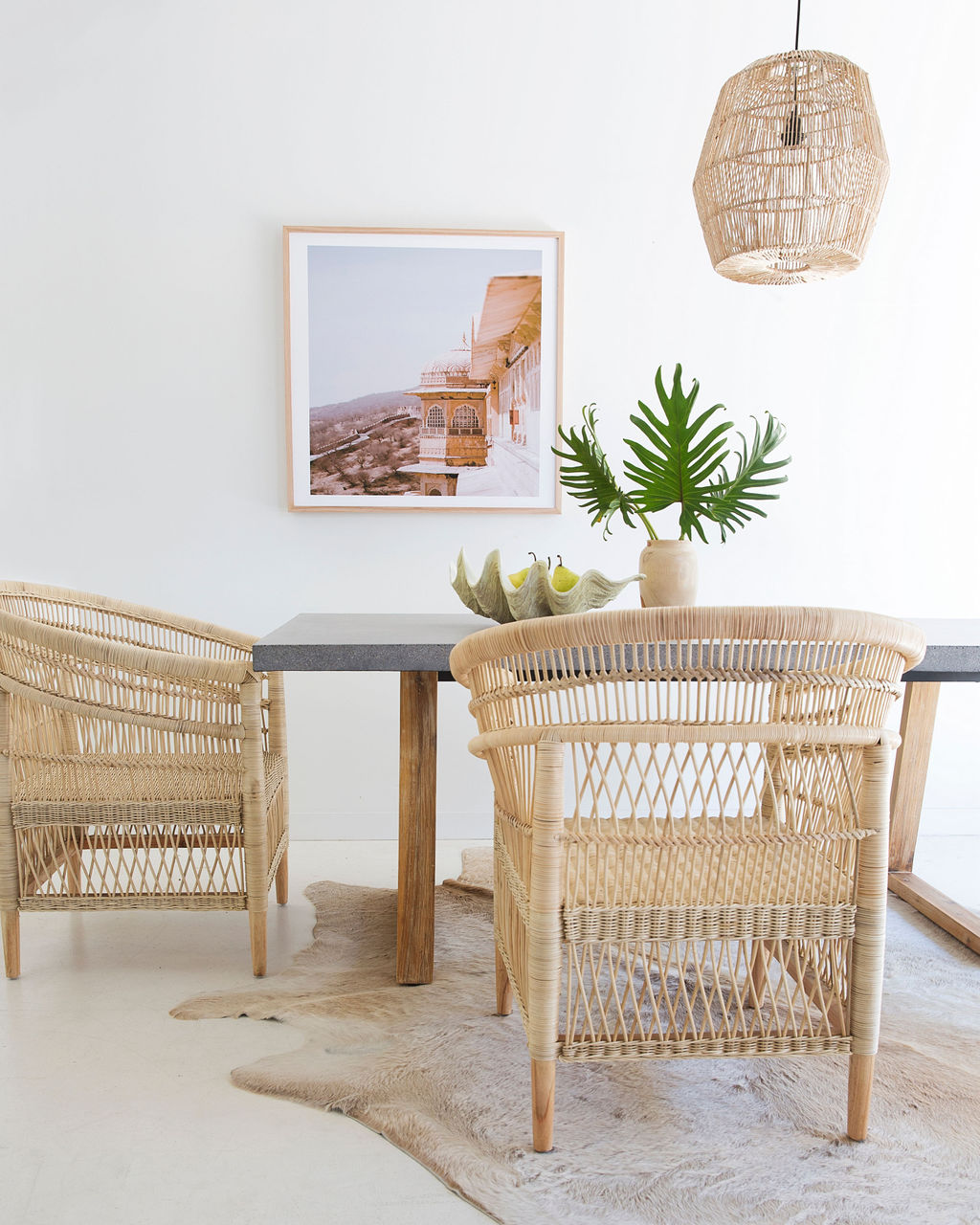 Classic Styles Of Dining Room Tables
Most people selecting a dining room table are looking for a 'forever' table, so they're looking for something they love that will stand the test of time. We suggest choosing classic materials and colours that are always on-trend and versatile enough to blend effortlessly with other styles of décor and furniture. The following dining table styles typically fall into this category –
Country and Farmhouse: solid wood, elegant, classic
Scandinavian: light-coloured wood, contemporary, streamlined
Industrial: Distressed wood or dark metal, urban, rustic
Shapes and Sizes
When choosing your forever dining table, try to plan ahead. By this we mean doing your research and planning to purchase a table that has the shape and size to grow with your lifestyle and your needs. Our advice is to keep your options open and go as big as possible.
Extendable Dining Tables: Maybe you don't entertain a lot but you still like the idea of allowing for guests should the occasion arise. In this instance we suggest looking for an extendable table; once you start looking for extendable tables you'll discover they are many to choose from.
Round Dining Tables: These are the ideal solution for square dining areas and smaller spaces. The always look gorgeous and they create an intimate atmosphere. A round dining table is very flexible when it comes to seating and it's usually quite easy to fit additional people around the table.
Rectangular Dining Tables: This is the most common shape of dining room table and this shape works best in narrow or long rooms. If you love entertaining, keep the width of the table in mind when choosing a rectangular table. This is to allow for extra crockery, cutlery, platters, and bowls.
Pieces you may like
$

579.00
or 4 payments of $144.75 with Afterpay
Only -5 left in stock