We're often asked about coffee tables and side tables and whether they should match or be entirely different. Should they have the same shape? Should they be constructed out of the same material? Can they be different styles?
Many furniture outlets sell matching coffee and side tables and they can certainly create uniformity in a space; however, if you're more interested in establishing a unique style in your home you might like to mix up your furniture items – and there are just a few guidelines you need to follow to make it work.
Your furniture items don't have to be identical to create a cohesive yet stylish look in your home. When you mix furniture items it makes your home look like you've been collecting items over a period of time, which can ultimately provide you with a lot of satisfaction – certainly more than if you purchase a store-matched furniture set. Let's take a look at sizes, shapes, materials, and other factors that will help you design a unique living space.
Height and Scale
Height and scale refers to the relationship between your sofa and other furniture in the room and your new coffee table and side tables. Let's say you have a giant coffee table in a large room – to create a balanced and intentional look you will also need large side tables.
We suggest that your side tables be about 2-inches less than the sofa's arm height and your coffee table be approximately 2-inches less than the seat height of your sofa. Sofas are typically around 20 inches from the top of the sofa's seat to the floor, which means you're looking for a coffee table that's approximately 18 inches tall. These measurements are based on using your coffee table as a footrest (if you're allowed to!) and the ease of placing drinks down while seated. To allow for easy navigation between your coffee table and the sofa there should be at least 18-inches between the two.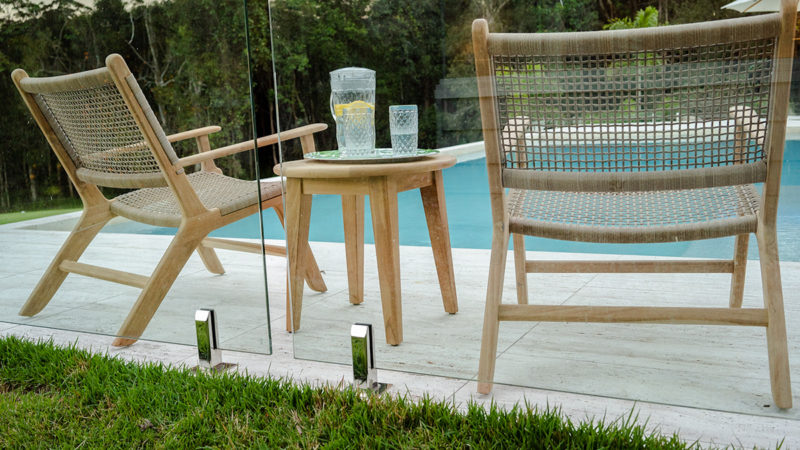 Of course it's up to you whether you follow these guidelines – there are certainly lots of options for side tables that don't follow these measurements but still function well and look amazing. Perhaps you only need some extra surface area – something that can be stored away – in that case we suggest an ottoman or a decorative stool. These may be a little shorter but they make a great footrest and they're the ideal perch for drinks.
Maintain a Cohesive Style
Whether you decide to go for matching tables or tables that contrast well together, both will look amazing providing you style intentionally. If your tables are both (say) mid-century modern, you'll certainly create a cohesive look, but it's also fun and unique to mix different furniture styles. With matching tables there's not much room left to manipulate the theme of your room, so ensure both your sofa and décor match the look you're going for.
Alternatively, you could add a bit more personality to your living room by using different style occasional tables, accent tables, or side tables. Just keep in mind that to create a cohesive space they must have a thread of consistency, like the color, style, material, scale, or shape.
Consider The Visual Weight
Visual weight is an easy way to promote balance in your living space. A blocky or solid coffee table would look great if paired with lighter side tables in a similar design or the same colour. Similarly, a slimline coffee table would pair beautifully with stockier accent tables. A visually heavy drum-style coffee table would balance out well with a side table on a pedestal base or a side table with delicate legs. The ideal combination is airy and delicate versus heavy and substantial.
Mix Up Furniture Shapes
A great way to add visual interest and promote room flow is to mix up your furniture shapes. A rectangular end table would pair well with a round coffee table, and vice versa. A dominating square coffee table could be matched up with smaller round stools or a set of
nesting side tables to prevent the space from being overwhelmed with block shapes.
Materials: Same or Different?
When pairing your side tables and coffee table you're looking for identical, or completely different, materials. If your materials are going to be the same, make sure they are exactly the same, otherwise your space will be visually confusing. We suggest pushing the contrast, ensuring your side tables and coffee table are noticeably different.
With timber you have two choices; either stay with the same wood, or have woods with different shapes, finishes, and tones, providing they are intentionally different. A timber coffee table paired with concrete or marble side tables would look amazing, creating a stunning, dynamic space.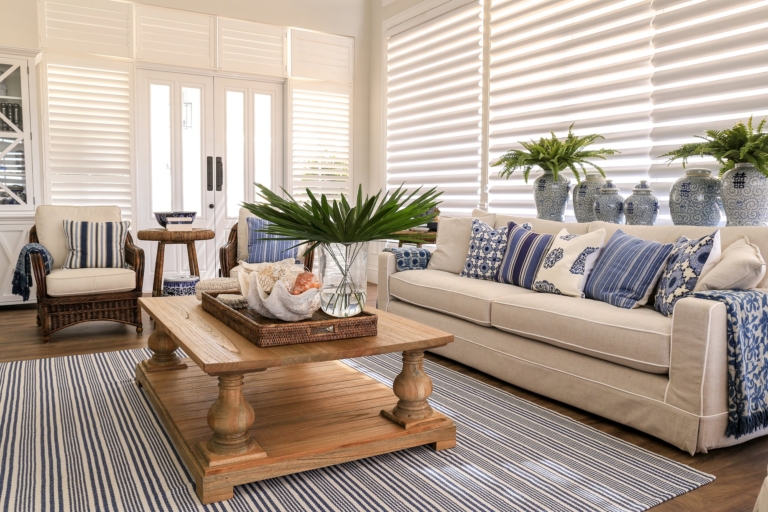 You have a bit more leeway with metals like brass, gold, and silver, because they all blend in beautifully. You might like to try styling marble or stone with timber or metal; just be sure that it's consistent and works within the overall color palette of the space.
or 4 payments of $87.25 with Afterpay
Only 3 left in stock
$

699.00
or 4 payments of $174.75 with Afterpay
Only -1 left in stock
or 4 payments of $132.25 with Afterpay
Only 7 left in stock