The best way to describe the on-trend Hamptons look is 'laid-back, effortlessly elegant, cool and classic, with creamy linens, tranquil blues, and plush velvets.'
Here in Australia (especially coastal Queensland) we're blessed with a beautiful, seemingly-unending coastline – not to mention all the other natural and man-made waterways, so it's not hard to see why Hamptons Style is gaining in popularity.
But Hamptons Style is not only for those with unlimited funds who live on the beach. Regardless of whether you're coastal or country, there are only a few key elements to creating your own relaxing but elegant Hamptons Style sanctuary.
The original summer houses on Long Island have been described as 'little worlds unto themselves' because they contained every comfort required for a relaxing summer away from stifling New York City. These homes were designed for living, enjoyment, and especially entertaining. The Long Island Hamptons homes showed how successful you were; they represented your status in the world. Gary Lawrance, a New York architect said, 'the homes were run by women who married the men who made the money.' The house was run as a hotel would be run, with cocktail garden parties, balls, and benefits.
Hamptons style traditionally included detailing like chandeliers, grand staircases, dark timber floors, and heavily panelled walls. When these strong elements were balanced with white walls and neutral-coloured soft furnishing, you had the basic Hamptons Style look.
Today, classic Hamptons Style features include open, light-filled, generous-sized rooms, emphasising the connection between indoors and outdoors Furnishing should include a mix of tailored comfort and relaxed elegance, like glass pendant lights, bold lamps, marble or glass coffee tables, and large comfortable fabric sofas. Now mix this with soft furnishings and accessories like vases and cushions in coastal colours, like fresh white, soft greys, duck egg blue, and navy.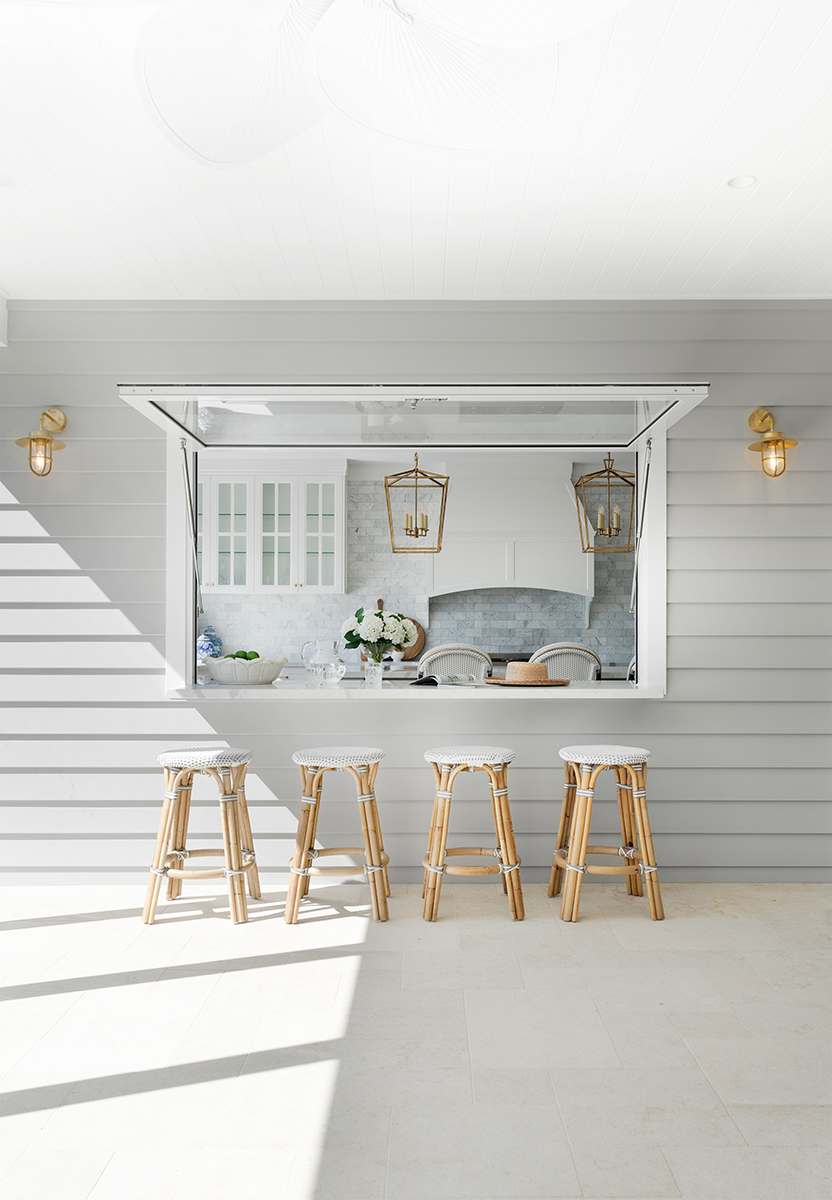 Structurally, components like skylights, multi-paned windows, and French doors are commonplace in Hamptons Style homes. Another must for Hamptons Style homes is to create warmth with timber floorboards in European or American oak, or in black stain for added drama. Shiplap, dado walls, and timber panelling add to this stylish feel, while detailed trims like cornices, shirtings, and architraves are also key. Windows should be dressed in floaty floor-to-ceiling sheer curtains or white plantation shutters. The combination of soft fabrics, dark timber, wicker furniture, and clean lines help create the relaxed feel one expects from a Hamptons home.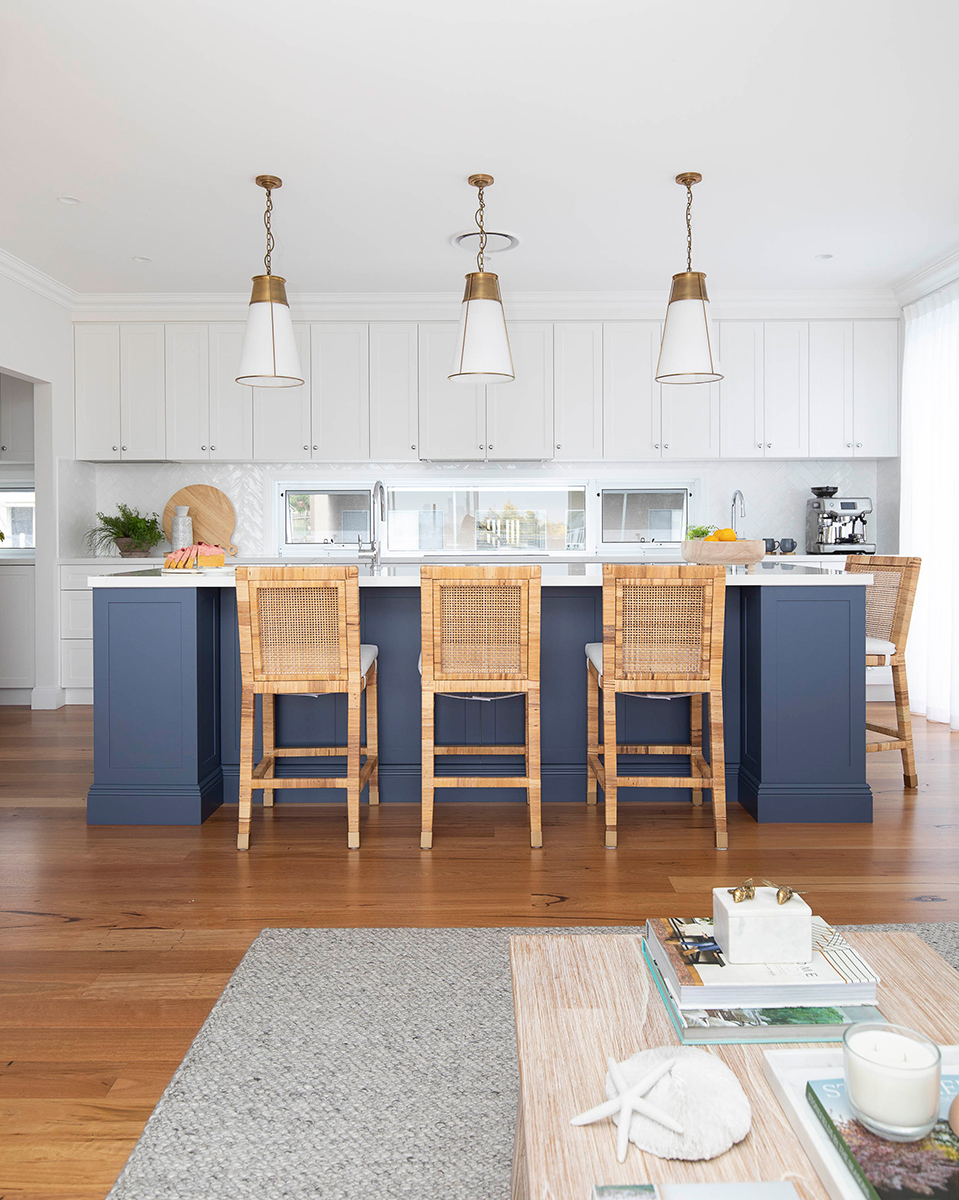 Modern Hampton's Style
Not everyone loves the white-on-white aesthetic of a traditional Hamptons home, and that's fine. Perhaps you'd prefer a more daring aesthetic that's just as relaxing; simply use a bolder colour palette with a mix of more natural textures. Further, don't hesitate to add interesting elements to your home, like polished floorboards, copper fixtures, and black appliances. The key to a successfully designed Hamptons home is to strike the ideal balance between eye-catching design and subdued elegance.
Hamptons Style in Australia
Australians love indoor/outdoor living, which is why Hamptons Style has become so popular. It's a classic style and the architecture has longevity. In addition, the interior details of a Hamptons Style home can be manipulated to create more of a specific look, like modern, coastal, minimalist, classic traditional, or glamorous.
Many architects and home building companies in Australia are reporting a surge in interest in Hamptons Style homes. Customers are constantly inspired by this timeless decorating style with its relaxed yet elegant look, with hints of timber, natural palettes, and accents in ocean-inspired hues giving a nod to coastal style living.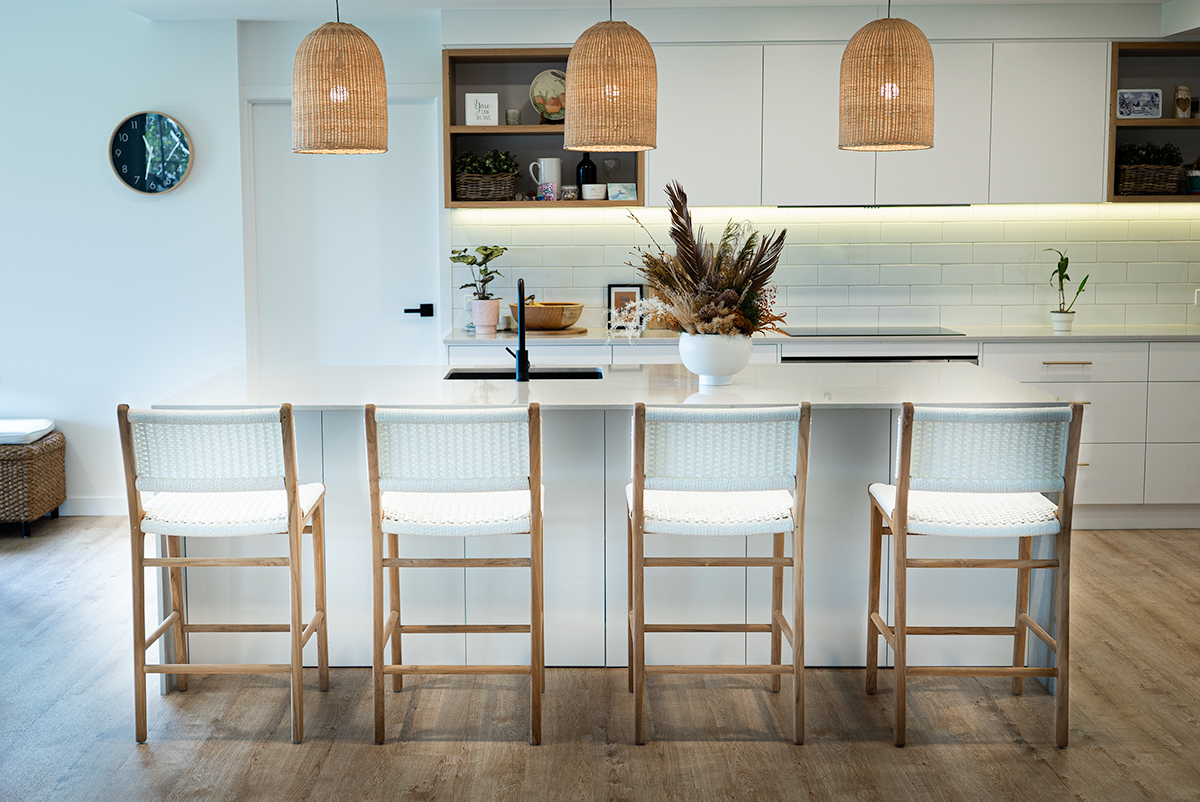 Whether you're transforming your entire home or simply adding a touch of this gorgeous coastal look, there are limitless ideas for opening the door to Hamptons Style interior design, most of which will work in every room of your home. The result will be a light, airy, and stunning Hamptons Style sanctuary.
Hamptons Style Has Raised The Bar
When it comes to stunning summer homes, the timeless charm of Hamptons Style has definitely raised the bar. Natural textures, nautical-inspired pieces, comfortable and laidback furniture, windows that allow streaming sunlight into the home, and airy living rooms all lead to understated luxe done right. And of course, the paint colour of choice is always white, accented with oceanic hues of sky blue, sea green and teal.
Transform Your Home With These Decorating Ideas
The following is an inconclusive list of decorating ideas for your Hamptons Style home –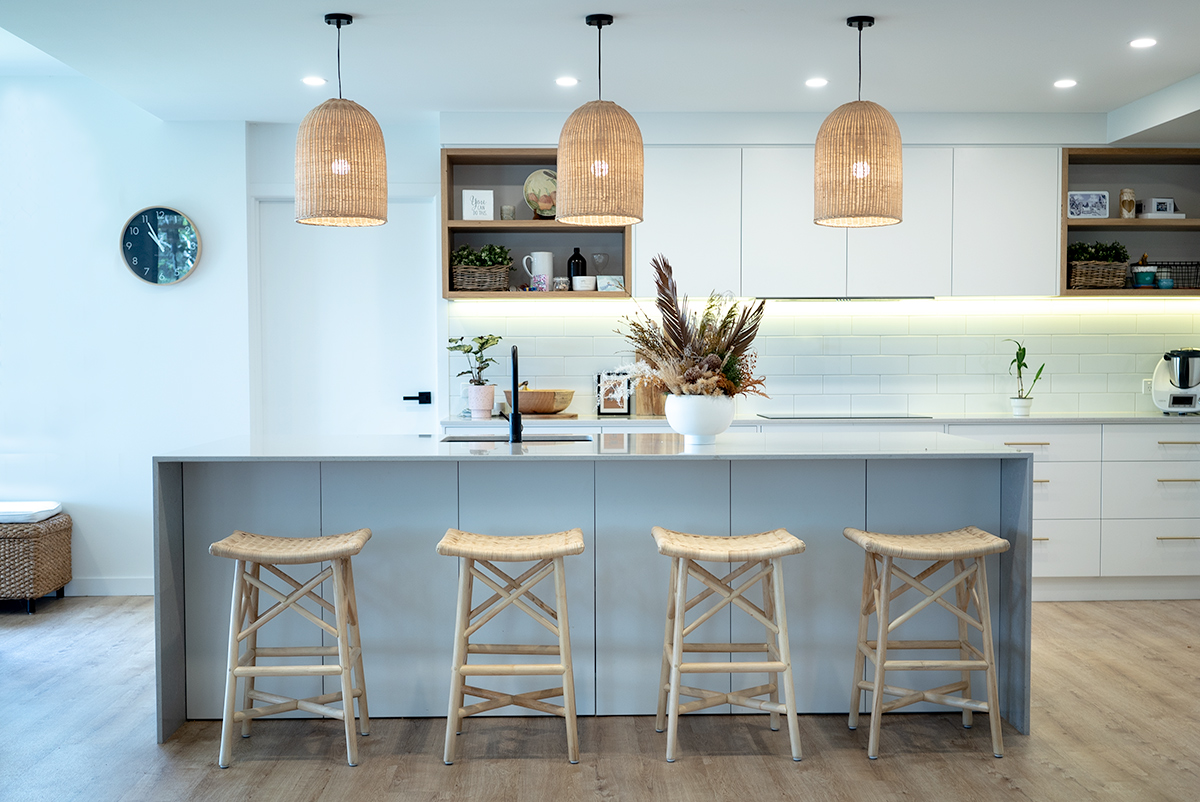 White walls

Comfortable furniture (oversized, soft couch and large wicker chairs)

Nautical colours (throw pillows and cushion covers in baby blue or duck egg blue)

Prints and patterns (fabrics in paisley, gingham, or strips)

Seamless transition between indoors and outdoors

Green foliage

Kitchen island bench

Shaker-style joinery (in teal, cornflower, or matte white paint)

Pendant lights in sets of 2s or 3s

Front door in glossy white or black

Balustrades should be square and painted white

Kitchen to be predominately white

Hallway and entry in a neutral palette with touches of ocean-inspired blue

Bathroom with white marble surfaces and neutral colour palette

Window seat with upholstered cushions

Plantation shutters in living room and/or bedroom

Natural textures, like burlap, linen, wicker, cotton, and wood

Polished timber floors

Cosy lighting, like timeless wall sconces.