There are four things to consider when choosing a bedhead for your bedroom – style, size, colour, and fabric. If you can get this combination right, you're well on the way to achieving a stylish, smart, and elegant bedroom.
A bedhead, sometimes referred to as a headboard, is an optional part of a bed, and while it's not a necessity, it is a decorative furniture item that can instantly make your bedroom look very stylish. Attaching a smart, pretty, decorative, and/or stylish bedhead to your existing base is a very simple way of upping the style stakes in your bedroom.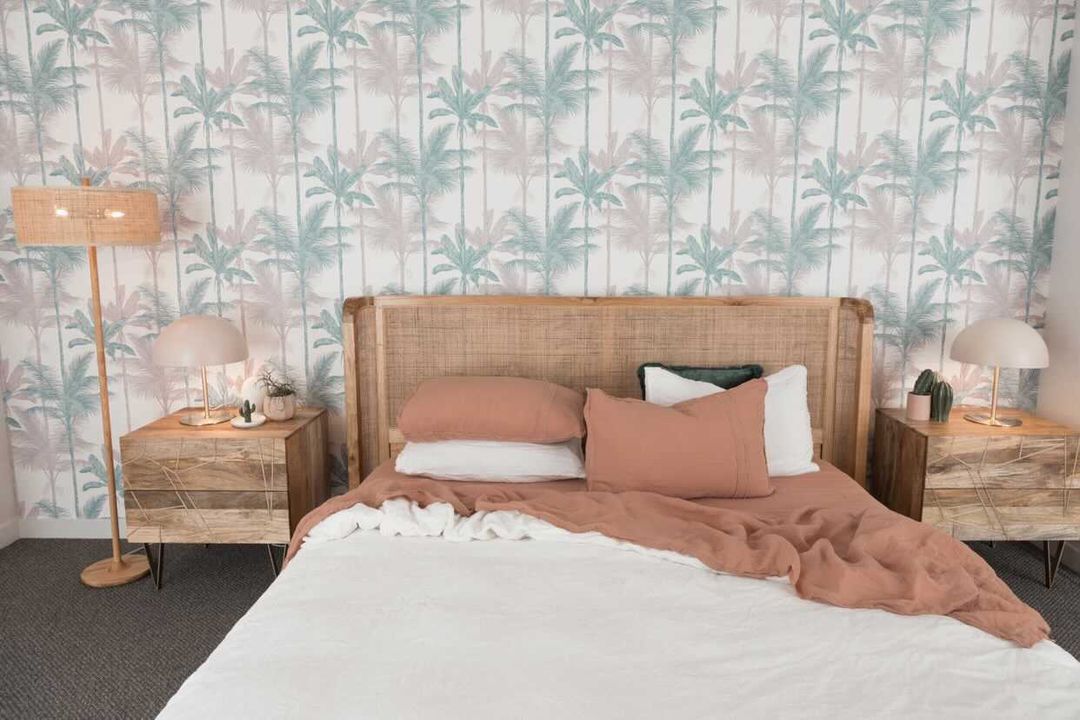 What Is A Bedhead and Why Do I Need One?
A bedhead is a decorative panel that's placed at the head of a bed to add comfort and style to a bedroom. There are some truly beautiful, stylish bedheads to choose from, and any one of these can completely transform the appearance of your bedroom. The bedhead also creates a focal point, or alternatively, you can use choose a bedhead to match in with the existing style of your room.
Some stylists believe that a bedroom is simply not complete until a bedhead has been installed, but of course, some people are short on space and a bedhead is out of the question. Incidentally, if you are short on space, you can still jazz up your bedroom by hanging some artwork above your bed – the effect will be just as good. Also, keep in mind that a bedhead is a flexible piece of furniture that can be moved to another room (or bed) should your situation change.
If you're considering updating your current bedhead, or perhaps you have a bed base and mattress and are looking to add a bedhead, here are our tips on how to make the right choice.
How Does A Bedhead Attach To A Bed?
The answer depends on the style of bedhead you choose, but it can be attached to the bed or the wall behind the bed, or it can rest on the floor and be held in place by the weight of the bed. Generally, bedheads are attached to a bed base using a bracket slotting system, but the bed and bedhead must be compatible in size.
What Type of Bedhead Should I Look For?
Decide if you need your new bedhead to blend in with the rest of your bedroom décor or if you want it to be the focus of the room. Whether you want the bedhead to be a statement piece or just a subtle décor addition will depend entirely on the current ambience of your bedroom. Here are some tips that may help you decide –
Will you be working with a current wallpaper, or wall colour? Do you want your new bedhead to contrast it or complement it?

Do you want your new bedhead to match the shapes, materials, and styles of other furniture in your bedroom?

Note the size of your bedside tables – are they bulky and tall? If yes, then ideally you'll be looking for a large bedhead. This will complement the grand scale of your furniture.

Note the other focal points in the room, like windows, mirrors, and artwork. Decide if you want your bedhead to steal the show or to create a framework for these other points?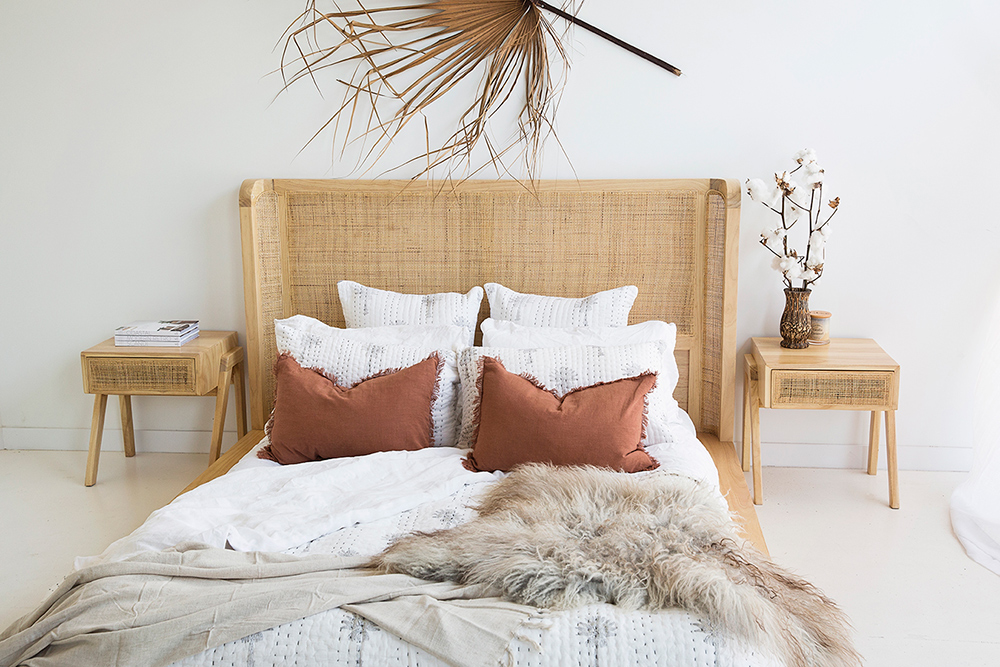 Let's say you've decided you want the bedhead to stand out –
If you have a dark wall, choose a light-coloured bedhead; alternatively, if you have a light-coloured wall, choose a dark-coloured bedhead.

Choose a completely different colour, like blush pink or a jewel tone.

Choose a material that will contrast with your wall, like a gorgeous plush velvet bedhead contrasting with an exposed brick wall.

An oversized bedhead will certainly make a statement, but consider the wall width and ceiling height before you go with this choice. Keep in mind that an oversized bedhead will make a smaller bedroom look overcrowded and claustrophobic. Test it out prior to making your purchase by marking out the measurements on the wall.
Perhaps you've decided you want the bedhead to blend in –
Go for a muted, neutral shade, or

Choose a colour that already exists in your décor and/or other furnishings.
There's a really wide range of bedheads available on the market and this can make it difficult to decide; however, just consider the current décor style of your home, and your bedroom, and narrow your choices down by working with that.
To help you decide, these are the typical bedhead styles –
Modern: bold, oversized, and upholstered

French Provincial: tufted with stud detailing

Casual and Simple: linen slipcovers for easy maintenance

Country and Rustic: classic and neutral

Exotic: vibes of a tropical island resort

Bedhead Shapes
Now that you've decided on a bedhead style, you need to decide on the right shaped bedhead for your room. You may decide to use the shape of your new bedhead to add extra style to what's a rather uniform space or you can use the shape to complement existing shapes in your bedroom.
To help you decide, these are the typical bedhead shapes –
Rectangular: traditional, streamlined, and bold

Arched: a very popular shape, with rounded edges

Scooped: a classical look – corners have scalloped edges

Circle or Half-Moon: a lovely retro look

Camelback: a smart and elegant look with gently sloping sides.