You'll Love The Boho Beach Look!
Interior design isn't just about creating a beautiful space. It's about creating a space that reflects your unique personality and style. If you're drawn to bohemian, beachy vibes, we've got some great tips for incorporating the boho beach look into your home.
Boho beach-style is all about being relaxed, natural, and comfortable. It's perfect for those who want to get away from the hustle and bustle of everyday life and enjoy a more laid-back lifestyle. This style is often used in interior design to create a relaxed and comfortable atmosphere.
Boho beach-style interior design is inspired by the carefree attitude of Australian beach culture. This style of decor often features natural materials and light, airy colours. Rattan furniture, sea glass accents, and billowing white curtains are all common Boho beach style elements. If you're looking to bring a little bit of the Australian way of life into your home, Boho beach-style interior design is the perfect place to start.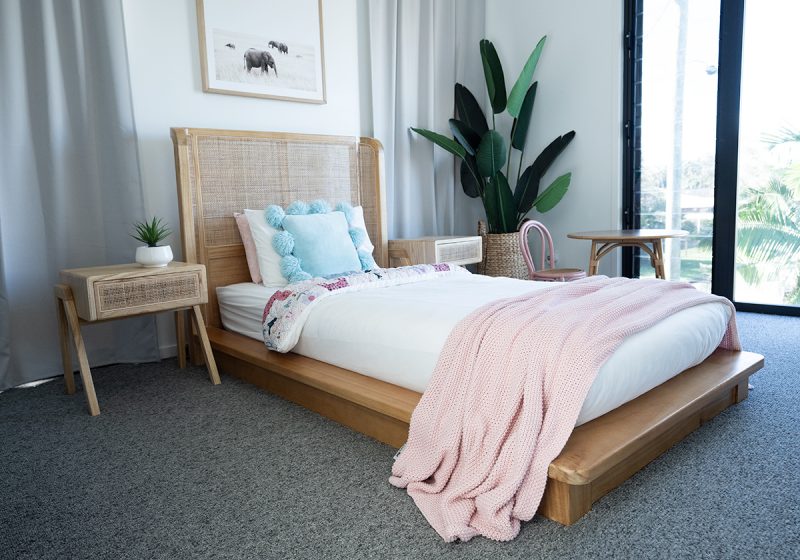 Here are our tips on how to get this very popular look in your own home.
Describing The Boho Beach Look
Boho beach style is all about creating a relaxed, yet stylish space. It draws its inspiration from the carefree days of summer, mixing prints and patterns, natural materials, and a mix of old and new. It's basically a combination of bohemian style and the coastal look. Boho beach style is often light and airy, with lots of whites and neutrals offset by pops of colour. Furniture is typically vintage or eclectic, and rugs and textiles are often striped or patterned.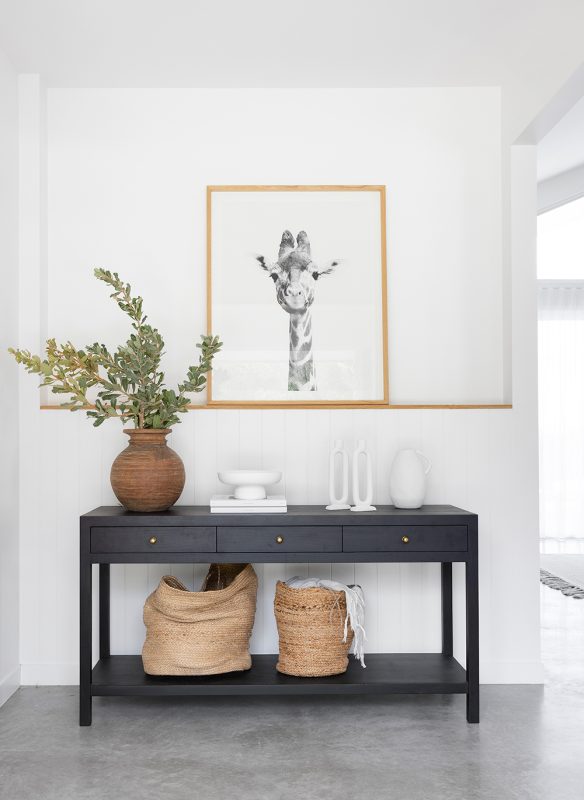 You'll love the Boho beach look in your home if you're into a more natural, rustic vibe. Boho chic is all about being creative and having fun with your decor, so don't be afraid to mix and match different colours, patterns, and textures. The key to nailing the perfect beach boho look is to keep it light and airy. Use lots of whites, creams, and pale blues to create a serene space. Bring in natural elements like wicker, jute, and sisal to complete the look. Finally, add some personal touches like photos, artwork, and pillows to give your space a lived-in feel.
About The Boho Beach Look
If you're hoping to bring a little bit of the beach into your home, you may be wondering how to achieve the perfect boho beach look. Luckily, it's not as difficult as you might think. Here are some key elements that will help you get the look just right:
Wicker Furniture
Wicker furniture is a must-have for any boho beach-inspired space. Not only does it add a touch of coastal charm, it's also incredibly sturdy and comfortable. Plus, it's the perfect place to relax after a long day in the sun.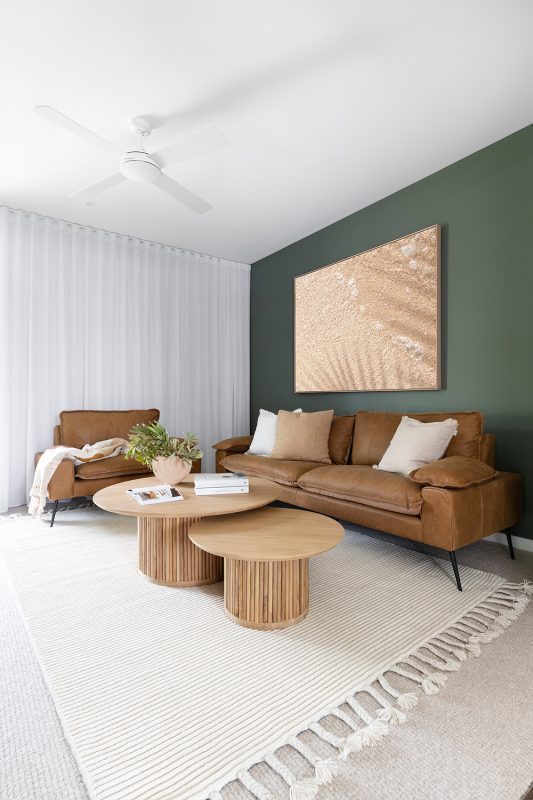 Blue And White Accent Colours
Blue and white are the perfect colours to use for accents in a boho beach-themed home. They help to create a feeling of airiness and lightness, which is essential for any space that's meant to evoke the beach.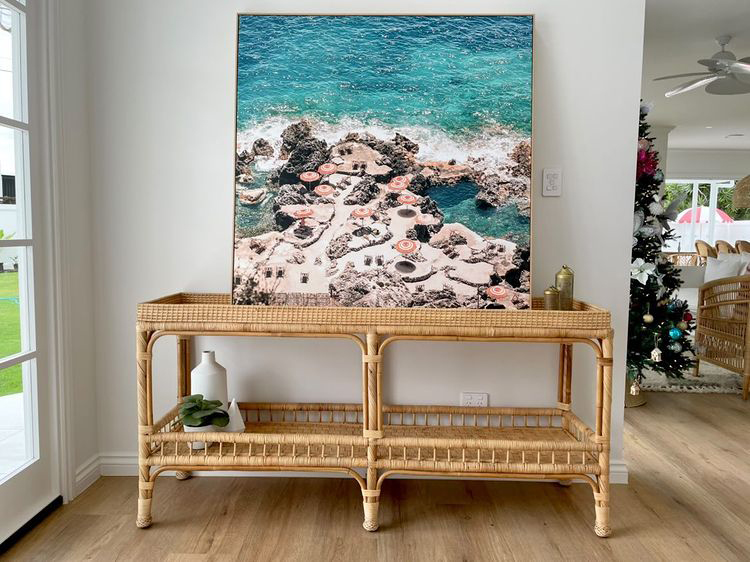 Seashells
Seashells are another essential ingredient in achieving the perfect boho beach look. Scatter them around your home on shelves, in bowls, or even in vases. Not only do they add a touch of whimsy, but they also help to bring the outdoors in.
Driftwood
Driftwood is the perfect way to add a bit of texture to your space. It can be used as decor, or even incorporated into furniture. Either way, it's sure to give your home a unique and stylish look.
Patterned Fabrics
Patterned fabrics are a great way to add interest and personality to your home. Choose bold, brightly-coloured patterns to really make a statement, or opt for more subdued designs if you want to keep things feeling calm and relaxed.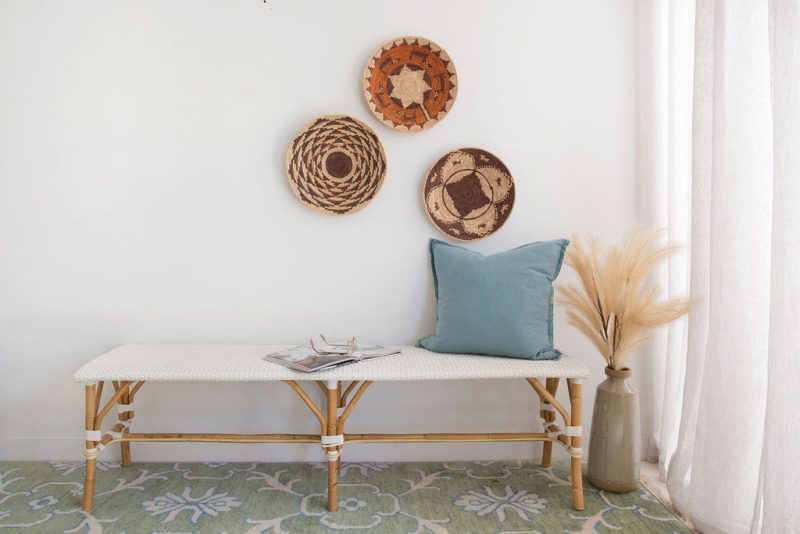 With these key elements in mind, achieving the perfect boho beach look in your home is easy. Just mix and match different pieces until you find the perfect combination for your space.
Materials for Boho Beach Style
Go-to materials for boho beach style are natural fibres like rattan, seagrass, sisal, and jute. Look for them in furniture, rugs, lighting, and accessories.
Boho beach style is all about relaxed living. Comfort is key, so choose furniture that you can sink into after a long day at the beach. Oversized sofas and chairs with plenty of cushions are perfect for lounging around.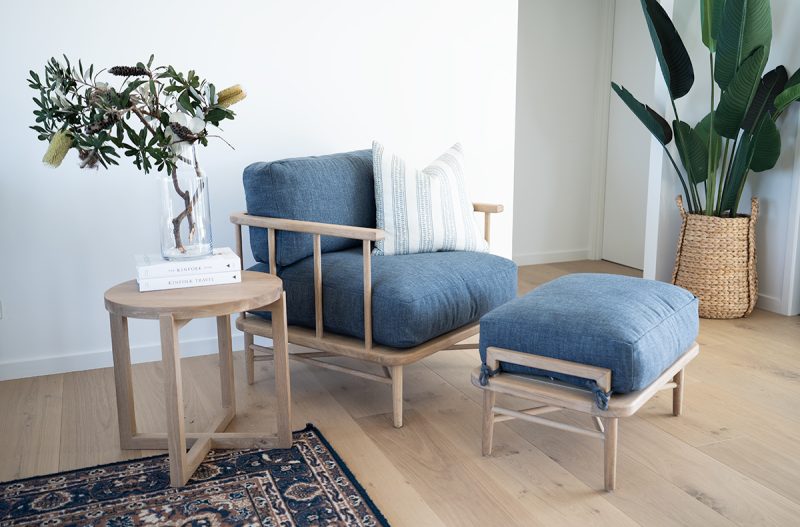 Layer different textures to create interest and add warmth to your boho beach home. Use chunky knit blankets, sheepskin rugs, and velvet pillows to create a cosy atmosphere.
Add some greenery to your home with plants or flowers in wicker baskets, ceramic pots, or hanging planters. Also, feel free to include smooth timber, macrame, leather trims, linen, and rope.
What's the Difference Between Coastal Style and Beach Style?
Coastal style and beach style are sometimes used interchangeably, but they actually have subtle differences.
Coastal Style is all about creating a relaxed, yet chic look that's inspired by the colours and textures of the seaside. It often incorporates nautical elements, such as stripes and seagrasses, as well as light-coloured wood furniture to evoke a feeling of airiness.
Beach Style is more about capturing the laid-back vibe of life by the beach. It's all about relaxation and taking things easy. Beach style often incorporates natural materials, such as driftwood and shells, as well as earthy tones to create a warm and inviting space.
More Key Elements To Help You Attain The Boho Beach Look In Your Home
Beach style, also called "boho beach" or "bohemian beach," is a casual, relaxed, and natural style that draws its inspiration from the carefree vibe of the beach lifestyle. This look can be achieved by using a mix of different textures, colours, and patterns to create a warm and inviting space. Here are some key elements of the boho beach look:
Furniture: Boho beach-style furniture is typically made of natural materials like wood or rattan. Pieces are often handmade with an organic shape. Upholstered furniture is usually covered in linen or cotton fabrics in neutral colours.
Accents: Boho beach-style spaces are filled with colourful textiles and global-inspired accents. Tapestries, rugs, and pillows in vivid patterns and colours add texture and interest to the space. Lighting fixtures are often made of natural materials like wood or woven baskets.
Window Treatments: Boho beach-style window treatments are typically light and airy, like sheer curtains or Roman shades. They allow natural light to filter into the space while still providing privacy.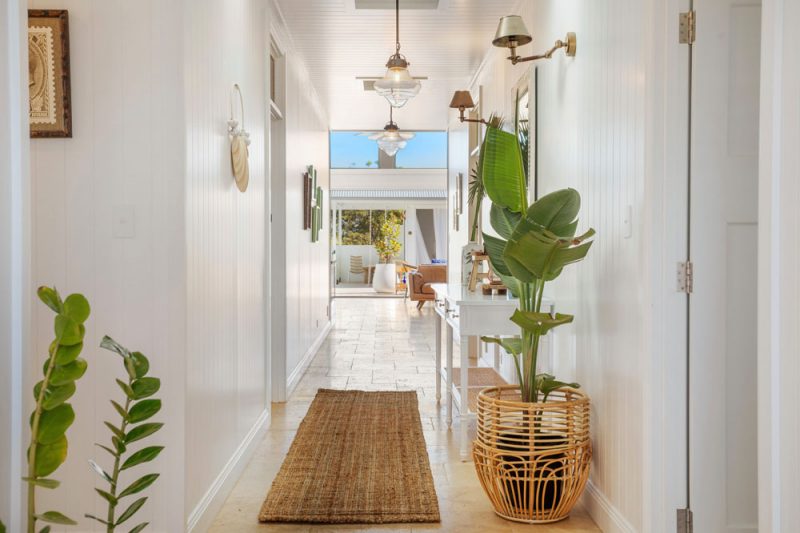 Greenery: Plants are a key part of the boho beach look. Large palms, fiddle-leaf figs, and Monstera plants add a touch of the tropics, while succulents and cacti give the space a desert vibe.
Flooring: Boho beach-style flooring is typically made of natural materials like wood or stone. Area rugs in bold patterns and colours add to the relaxed vibe of the space.