Dining room chairs are an essential part of any dining room set, as they provide both comfort and style. Not only do they provide a place to sit and enjoy a meal, they also play a role in the overall design of the space. But with so many different options available, it can be tricky to choose the right chairs for your room.
Here are a few tips to keep in mind when selecting dining room chairs:
Consider the overall style of your dining room. If your dining room is more formal, you'll want to choose chairs that match that style. For a casual dining room, you'll have a wider range of chair styles to choose from. Do you want something traditional, or something more modern? Dining room chairs come in a wide range of styles, so it's important to pick something that will complement the rest of your décor.
Think about comfort. Dining room chairs should be comfortable enough to sit on for long periods of time, so take into consideration the height and width of the chair, as well as the padding and support.
Keep practicality in mind. Dining room chairs see a lot of use, so they need to be able to withstand regular wear and tear. Look for chairs that are made from durable materials such as wood or metal, and that have easy-to-clean surfaces.
Take the size of your dining table into account. You'll want to make sure the chairs you choose are the right size for your table.
Consider function. Chairs with arms may be more comfortable for long dinners, but they can also take up more space than armless chairs. Similarly, upholstered chairs add a touch of luxury, but they may require more care and upkeep than wood or metal chairs.
Take durability into account. Dining room chairs see a lot of use, so they need to be able to withstand constant use. Look for chairs made from sturdy materials like wood or metal.
Don't forget about budget. Dining room chairs can be quite expensive, so set a budget before you start shopping. Once you've determined how much you're willing to spend, stick to it!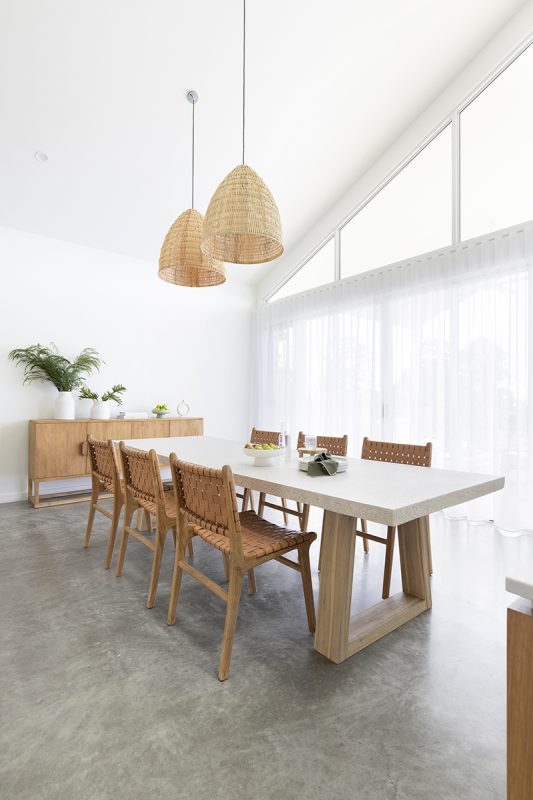 Take time to consider your dining room table, the space itself, and the needs of your family and guests. Ultimately, the best dining room chair is the one that fits both your needs and your personal style.
Here are our best tips on how to choose the right dining room chairs for your space –
No. 1: Mix and Match
When it comes to furnishing a dining room, many people opt for a matching table and chair set. While this can certainly be a practical choice, it doesn't have to be boring or dull. There are plenty of ways to inject style and personality into a dining room with a matching set.
One option is to play with different colors and finishes. For example, you could choose a light wood table with dark leather chairs, or vice versa. Or you could try mixing and matching different woods or metals. This can create an interesting and unique look that will still feel cohesive.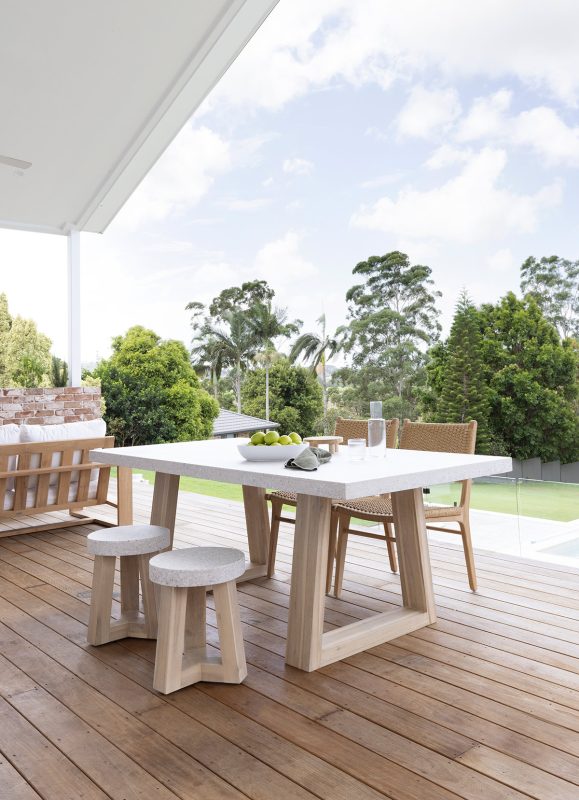 Another way to add personality to a matching set is through the use of upholstery. Dining room chairs are often available in a wide range of fabric options, from traditional patterns to bold prints. This is a great opportunity to really make the space your own. You could also consider adding some accent pillows or throws to really bring the look together.
What if You're Looking For Something A Little Different?
We've got the perfect solution, and it's a trend that's really popular today. Mixing and matching dining room chairs! The only rule with mixing and matching is that all chairs must be of a similar height.
Mixing and matching dining room chairs can give your dining room a unique, eclectic look that's sure to impress your guests. It can also be a great way to add personality to your space.
Here are a few things to keep in mind –
It's important to choose chairs that share a common design element, such as material or color. This will help to create a cohesive look.

Don't be afraid to mix different styles of chairs. A traditional table can look great with a mix of modern and vintage chairs.

Make sure to measure the chairs before you buy them to ensure they fit around your table.
No. 2: Choose a Common Design Feature
To create a seamless look in your dining room, pick furniture items that share a common design feature. Dining room chairs are a great place to start because they come in a wide variety of styles and can be easily mixed and matched. Look for chairs with similar silhouettes or those that share a common material or finish.
Another way to achieve a cohesive look is to select pieces that echo the design of your existing table. For example, if you have a round table with curved legs, look for chairs with similar features; or, if you have a wooden table you might want to look for chairs with wooden legs or upholstered seats in a similar shade of stain. By choosing furniture with complementary features, you can create a dining room that flows effortlessly and is sure to impress your guests.
No. 3: Consider the Size and Shape of the Chair
If you've already started looking at dining room chairs, you already know that not all chairs are created equal. You probably also know that not all chairs fit comfortably under all tables.
When selecting chairs for your dining room, it's important to take into account the size of your current dining table and the overall size of the room. Choosing chairs that are too large or too small will throw off the balance of the room and make it appear cluttered or cramped.
It's also important to consider the height of the table when choosing chairs; if the table is too high, guests may have difficulty reaching their food, and if it's too low, they may feel like they are sitting at a child's play table. You will also want to consider the style of your existing furniture and décor. If your dining room is large and formal, you may want to select chairs with an ornate design. For a smaller, more casual space, simple chairs may be more appropriate.
Another thing to keep in mind is how much space your new dining room chairs will take up around your table. If you have a smaller dining table, you might want to choose chairs without arms so that guests have enough room to move around. However, if you have a larger dining table, consider chairs with arms so that guests have somewhere to rest their elbows while they eat.
By taking careful measurements and considering the overall style of the room, you can select chairs that will create a stylish and inviting dining space. You'll be able to narrow down your options and select the perfect chairs for your dining room.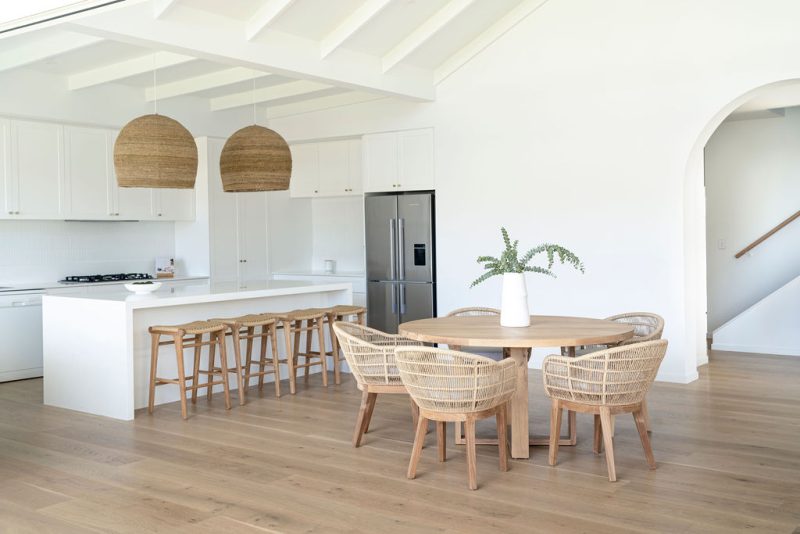 No. 4: Consider Function and Maintenance
Today, with open-plan living the new norm, modern-day families are using their dining room tables for a lot more than just dining. To ensure you choose the right chair for your space, consider your family's day-to-day requirements.
Do you have children who make good use of your dining room table for completing their homework and art and craft projects?

Do you host dinner parties where your guests linger long after the meal is over?

Or is your table more likely to be a dumping ground for bills and unopened mail?
Answering these questions will help you to choose the right chairs for your needs.
If comfort is key, look for chairs with plush upholstery and ample padding.

If you entertain often, choose chairs that are easy to move around and stack away when not in use.

And if you're tight on space, consider chairs with slim profiles that can be tucked under the table when not in use.
Dining room chairs are often one of the first things people notice when they walk into a dining room. And with good reason – they set the tone for the space and can make a big impact on the overall look and feel of the room. But with so many different chair materials to choose from, it can be hard to know which one is right for your home.
Wood chairs are a classic choice that introduce warmth and natural beauty to the space. But they require regular dusting and polishing to keep them looking their best.
Leather chairs, on the other hand, carry a sense of formality and class. But they require more upkeep than wood chairs – especially if you have pets or small children.
Ultimately, it's important to choose a chair material that fits both your design aesthetic and your lifestyle.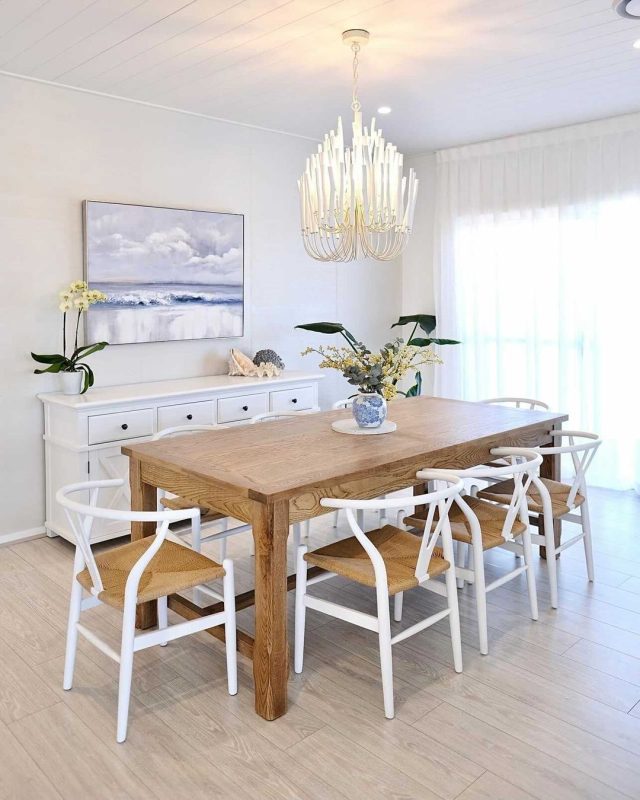 No. 5: Love Entertaining?
Do you require dining chairs that can be easily moved around to accommodate larger groups? Some dining room chairs are heavy and difficult to move, which can make entertaining a hassle. If you're big on entertaining, choose seating options that are light enough to move around without becoming cumbersome or awkward. Some lighter materials include wicker, rattan, and certain types of wood.
Abide Interiors has an enormous range of dining room chairs. Check out our website, or why not come in and see us? We'd love to meet you!