Choosing the right bed size is one of the most important things you can do. It's not only a matter of aesthetics and looks. The right bed size will offer you more comfort and improve your lifestyle. Many people suffer from poor sleep patterns, and at times, this also might stem from a poor choice of bed or accessories. Keep reading to learn more about how to choose the right bed size.
Prioritize your comfort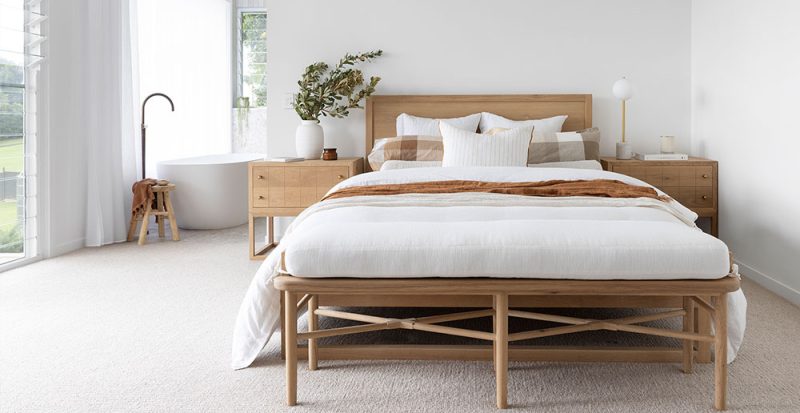 First and foremost, you should make sure that your bed is comfortable. This is where you will rest and recharge your batteries to face your busy days. For this reason, it is very important to prioritize buying a bed with the most comfortable features. This brings us to another question: what is comfort? The feeling is definitely subjective to a certain degree, although a few things objectively lead to a more comfortable experience. Generally speaking, better construction materials lead to higher quality, more durability and more comfort. Affordable beds might feel very comfortable whenever you buy them. However, they might change over time as the materials might slack or give. Conversely, higher-quality products are meant to last longer and offer optimal comfort and performance even after decades. Although high-quality beds can be quite expensive, it is important to realize that a really good bed can be an investment for you and your family that will pay itself back over many decades of healthy comfort. When budgeting for a new bed, it is a good idea to consider whether you are looking to save money or if you would rather invest in something that has the potential to last you a lifetime.
Think about the users of the bed.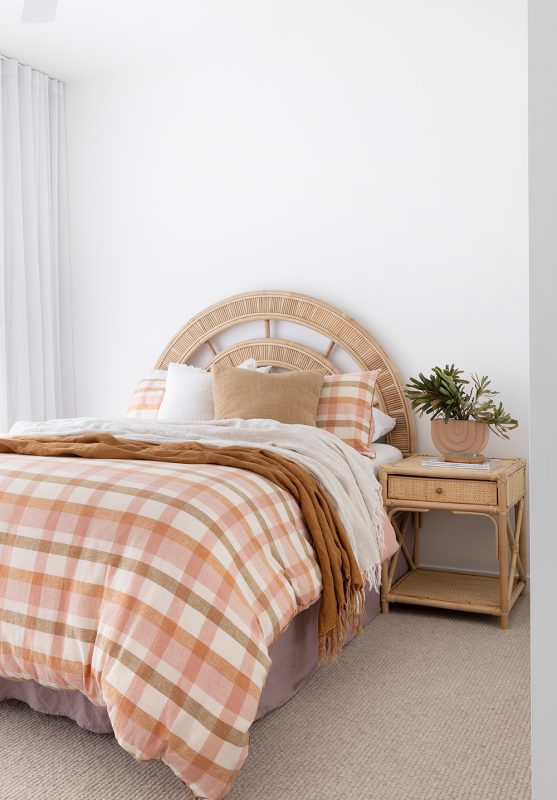 At the end of the day, it is really all about people. When selecting a new bed, it is important to think about who is going to use it. Are you going to share the bed with a partner? Is this bed for children? Do you have any physical conditions, such as arthritis or anything that needs special sleeping requirements? There are so many variables to consider, and you should be asking yourself all these questions and more.
The size of your room matters
Comfort is very important. However, you should not underestimate the importance of having a bed that will fit the side set the size of your room. You definitely want to achieve a result that is fairly proportional. Otherwise, your risk creating a very cluttered environment that will be messy and stressful. This is often what happens when people opt to put a very large bed in a relatively small room. There's barely any space to move around or place other furniture or objects. As a result, the room will feel even smaller and more uncomfortable. Nobody wants to live in an environment that is constantly messy and chaotic. For this reason, it is necessary to ensure that your bed fits the size of your room. There are many variables to consider, though. For instance, if you're sharing your bed with a partner, you should not settle for a very small bed just to save space. It's very important to put comfort first. Ideally, you should be able to find a compromise that would give you the best of both worlds.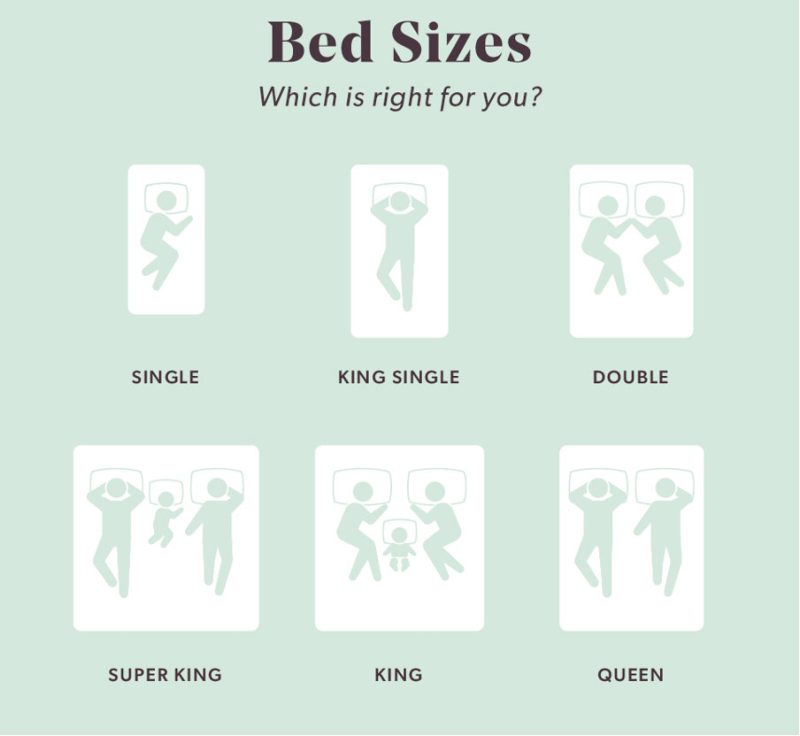 | | | |
| --- | --- | --- |
| Bed Type | Metric (cm) | Imperial (inch) |
| Single Bed Size | 92 cm * 187 cm | 3'0″ x 6'2″ (36″ x 74″) |
| King Single Size | 106 cm * 203 cm | 3'6″ x 6'8″ (42″ x 80″) |
| Double Size | 137 cm * 187 cm | 4'6″ x 6'2″ (54″x 74″) |
| Queen Size | 153 cm * 203 cm | 5'0″ x 6'8″ (60″x 80″) |
| King Size | 183 cm * 203 cm | 6'0″ x 6'8″ (72″ x 80″) |
| Super King Size | 203 cm * 203 cm | 6'8″ x 6'8″ (80″ x 80″) |
Double-check the dimensions.
When looking for a new bed, it can be very important to double-check the dimensions in order to make sure that the product will actually fit in your bedroom. Measure your room and try to get the most accurate measurements of your bed in terms of width, depth and even height. There's nothing as frustrating as buying a bad and waiting for it to be delivered after quite some time only to find that what you ordered actually does not fit in your room. Taking measurements ahead of time is an amazing way to save yourself some trouble and enjoy a much more hassle-free experience. Installing a new bed can always be a little bit of a challenge. However, if you get organized and know what you're getting yourself into, it will not be as difficult to get it done! You can even go the extra mile and create a little bit of a plan for how you are going to set up the bed in your room. This will help you visualize the space that you will be creating once the bed is in the place where it should be. The layout is going to be more obvious if you map it out, and you are going to be able to get a clear view of what to expect. The strategy will also help you understand how bad will fall into place they're only with the size of your room but also with other elements within it. These include other pieces of furniture, accessories, windows, and many other amenities they need to coexist with your bed. Once again, our main goal here is to avoid clutter because we do not want the beds to take up the majority of the room and make it look smaller and unorganized.
Match your bed with the interior design in your room
If your room has a specific look that embraces a certain type of decor, it might be a very good idea for your bed to fit in aesthetically. Keep in mind that a bed is most often a very large piece of furniture and generally a feature in a room that immediately stands out because of its sheer size. Even the smallest beds have a very imposing quality in the look of an environment. This is why it can't be very good to consider the materials, the style and the construction so that the bed will work with the other elements in the room seamlessly.
In conclusion, these are only some of the many things to consider in order to make the best choice in terms of buying the right bed for your room and, more importantly, for you!
or 4 payments of $487.31 with Afterpay
Only 5 left in stock