As the weather gets warmer and days get longer, many of us are spending more time outdoors. Whether you're entertaining guests or just enjoying a quiet moment in your own backyard, outdoor furniture is a great way to make the most of your space. But with so many options on the market, it can be tough to know where to start. Luckily, we've put together a list of our top outdoor furniture picks for summer 2023. From contemporary dining sets to colorful chaise lounges, there's something for everyone. So take a look and get inspired for your next outdoor living update!
Day beds
Ready to drift away into summertime bliss? Look no further than outdoor furniture on the Sunshine Coast! A daybed is the absolute pinnacle of outdoor lounging. Make sure to find yourself a shaded and breezy spot, outdoors of course – you want to capture that ocean breeze. Add your favorite cushions for top-notch comfort, and why not throw in a small table for some reading material and an iced drink next to you (looking at you, Aperol spritz). Settle in and prepare for the ultimate outdoor siesta experience. You're welcome in advance.
Hanging chair
The hanging chair is a rattan outdoor furniture piece with so many possibilities. Imagine chilling out in your own pod, easily adjustable to accommodate a book, breakfast or cocktail. Hang one off your balcony or back patio and thank yourself later for the perfect early evening relaxation spot. With such versatility in sizes, colours and designs available – from futuristic rattan to bold and vibrant – it's easy to find one that suits any space. And why not add some comfy cushions and an ottoman? It'll instantly transform any backyard into an inviting space for two. Don't resist the temptation of letting your imagination run wild!
Timber setting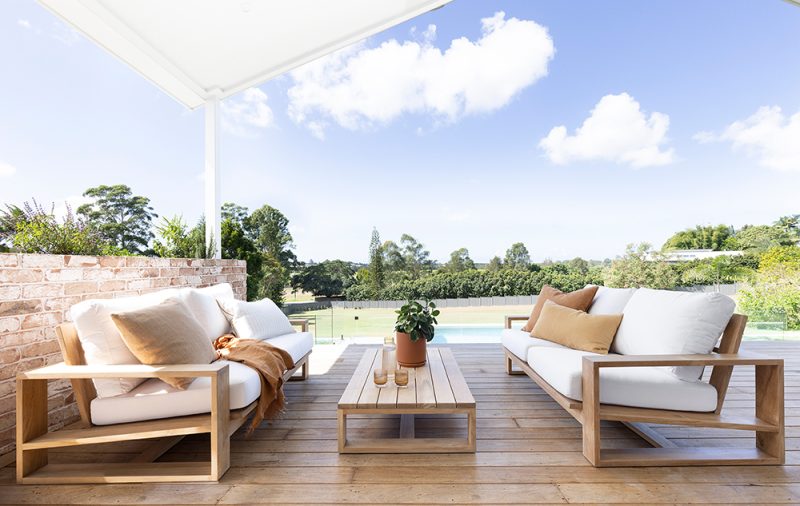 If you're looking to bring a touch of classic charm and versatility to your outdoor space, look no further than the Australian classic timber dining setting. These 10 seater outdoor tables, outdoor bench tables and white outdoor tables come in a variety of hardwood colours, so you can easily find one that blends with your unique environment. Whether you prefer an outdoor table and bench combination or a 10 seater option for those family barbecues, adding seat cushions in your favourite colour will transform these settings into the ultimate entertainment pieces for any occasion. Why not celebrate the Aussie way and liven up your garden party with one of these stylish and versatile options?
Bright furniture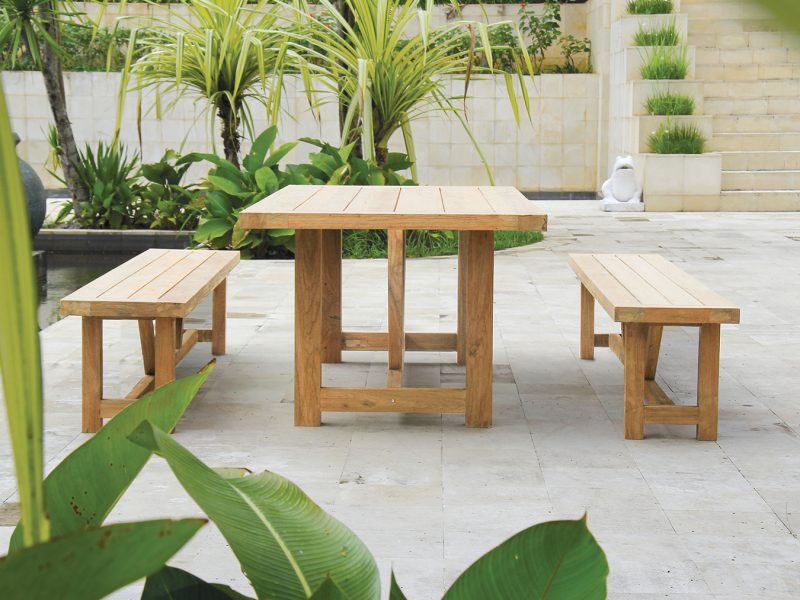 Summer is the perfect time to add a statement outdoor piece and express your personality in vivid colour. Dare to be bold, inspiring furniture with bright hues of blue, yellow, orange and red that deliver a real wow factor when placed under the sun. Transform any outdoor area or extension table with outdoor timber furniture like an outdoor lounge setting or a classic outdoor bench table – all sure to turn any area into a stunning reflection of your own unique style.

Summer is a great time of year for outdoor activities. Following these tips, you can make your summer days sparkle and shine like the night sky without blowing your budget. Replenish your energy with delicious snacks without spending much money, or plan a beach day and reap the rewards of majestic scenery and calming waves crashing onto shore. And when the sun sets, gather around a crackling fire and allow it to bring everyone closer together over waning conversations under starry skies – all absolutely free! Don't miss out on all these potential adventures this summer season; follow these tips today so that you can relish in endless sunny days without worries.
With summer just around the corner, now is the perfect time to start thinking about updating your outdoor furniture. At Our Store, we have a wide variety of options to choose from so you can find the perfect pieces to fit your style. We've put together a list of our top picks for summer furniture that will help you make the most of lazy days and balmy nights outdoors. Be sure to browse our collection and buy now so you can enjoy your new furniture all season long!