An Australian bedroom with a modernised Hamptons style interior design has poise, grace, culture, and a coastal influence. It is the perfect bedroom design for recreating the appearance of a seaside residence, regardless of whether your home is next to the sea.
Of course, the inspiration for the Hamptons style comes from the Hamptons seaside communities of Long Island, New York. It is known for its light colour schemes, refined interiors, open spaces, and overall feeling of serenity. Wouldn't you like to go home to a bedroom with these attributes after a hard day's work?
How to Implement the Hamptons Style Design into Your Bedroom
Do you dream of creating a Hamptons style bedroom in your home? Here are the primary attributes of the Hamptons style interior design:
A light colour scheme with beige, grey, blue, and white hues

Natural textures like linen, cotton, and sisal

Place Hampton style rugs made of sisal

Furniture made of cane, wood, or rattan

Few walls and plenty of open square footage

Additional plants and greenery for establishing a natural appearance
If you implement these ideas into your bedroom's design, it will begin to feel like your bedroom is next to the beach and sea. However, you can arrange the colours and furniture in different ways to create a unique and personalized Hamptons style design for your bedroom.
Here are the top 7 Hamptons style design variations you can use to transform your bedroom:
1) Coastal Bedroom
A coastal bedroom design has large windows, white walls, light grey carpets, and plenty of sunlight. The idea is to allow as much natural light into the room as possible. You should also use natural materials for the bed and furniture as well.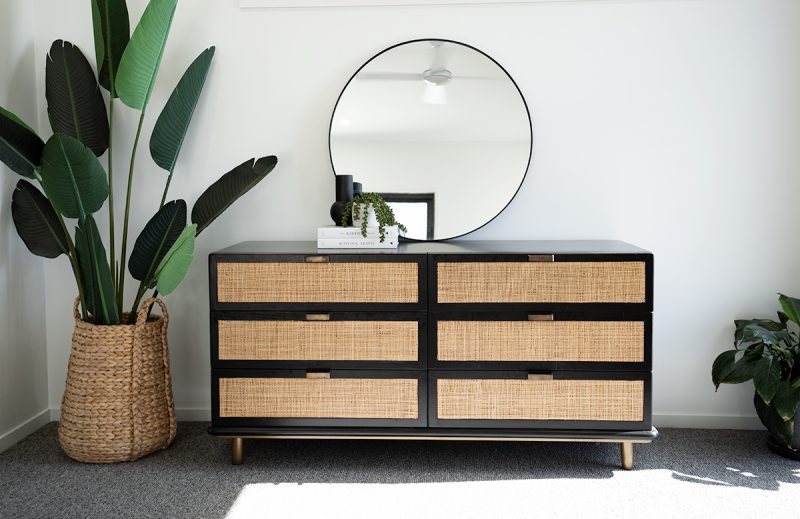 A Hamptons style bed is the centre of the coastal bedroom. It should have a rattan bedhead, cotton, or linen cushions, and throws. Not only do they look great, but they are comfortable and breathable for your skin.
2) Navy Bedroom
Do you like navy blue as a colour? A Hamptons style bedroom with a predominately navy blue design is increasingly popular in Australia. Whether you choose a heavy dark navy blue or traditional light navy blue, it is a great colour to signify a modern luxury Hampton style home.
In addition, you can use sandy colour tones for the bedspreads and dark-painted colours for the furniture and bedside tables. The mixture of sandy and navy tones blends well together.
3) Sanctuary Cove Bedroom
A Hampton style bedroom should have more than light colours and natural materials. It should also have organic materials and matching decorative items, such as corals and seashells on the bedside tables and nautical artwork on the walls.
The sanctuary cove design incorporates colours and elements of the sea into the bedroom, which is why corals and seashells are a nice touch. But you could also add woven bed throws and soft-patterned linen cushion covers to complete the sanctuary cove design.
4) Bold Coast Bedroom
Do you want to take a break from the blue and white colours? Some Hampton style beds and furniture may look better with bolder colours and rougher natural materials to portray the feeling of an uncalm sea.
For instance, a handwoven rattan bedhead panel and black bedside tables would create gorgeous coastal décor in your bedroom. The design offers a practical and modern appearance with its black accents and rough textures. It is a more intense way to incorporate a coastal influence into your bedroom.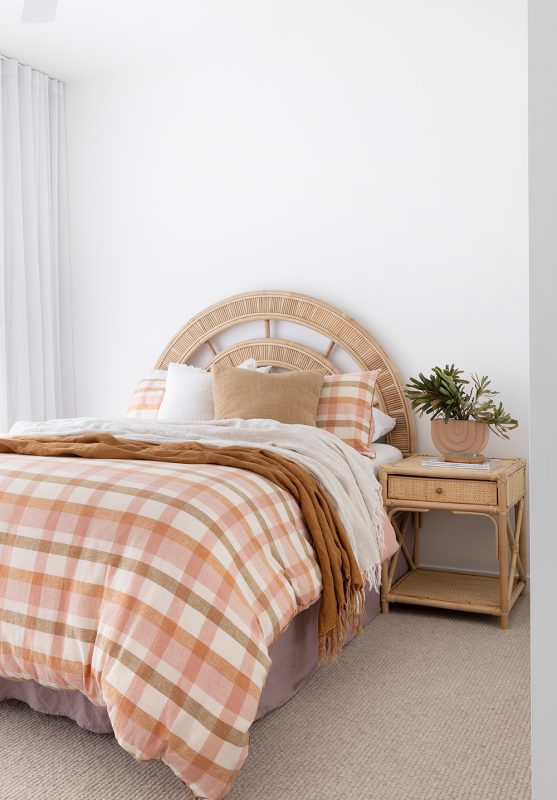 5) Luxury Bedroom
How would you like to have a luxury Hampton style bedroom? The best way to create a luxe statement in your bedroom would be to have sophisticated upholstery, such as button tufting for the bedhead.
Other features in the bedroom may include dark-coloured bedside tables, a beaded chandelier hanging from the ceiling, and table lamps with a base made of seashells.
6) Calming Coastal Bedroom
A calming coastal bedroom design combines a cottage look with a coastal influence. For instance, the Hamptons style bedside tables are wooden, and the furnishings are made of a textural rattan material to create a feeling of calmness.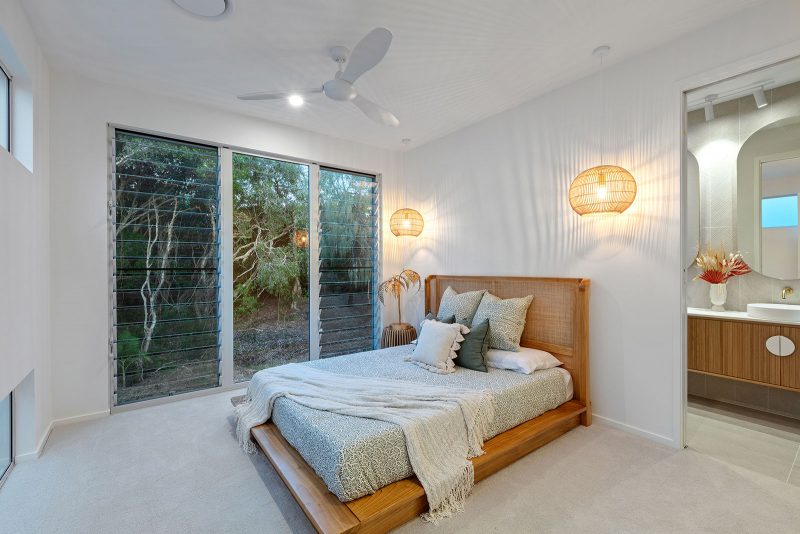 The entire bedroom has neutral or muted natural colours, such as beige, light brown, light grey, aqua blue, and light green. Imagine greyish blue and green colours for your bed throws and cushions and beige for your flooring carpets.
7) Kid's Bedroom
Do you want your kid's bedroom to have a Hampton style design? It is best to keep the design simple with white bedspreads, white furniture, a patterned table lamp, and perhaps a few flowers. And, of course, add some rattan trunks, large chests, and bedside drawers to store your child's toys and accessories.
The colour scheme should not have more than a few colours because you'll want your kid's bedroom to be a place where they can feel relaxed and comfortable.
Choose Your Bedhead Wisely
The main centrepiece of a Hamptons style bedroom is the bedhead, regardless of your design choice. The three Hamptons style bedhead options are:
Rattan Bedhead

Upholstered Bedhead

Fabric Bedhead
The rattan bedhead offers a natural, warm, and old-fashioned look with its solid timber frame and rattan back panel. It is also a budget-friendly bedhead option compared to an upholstered or fabric bedhead.
The upholstered bedhead creates a more sophisticated appearance and compliments luxury style furnishings. It has a gorgeous upholstered panel, curved wooden frame, and button tufting across the panel.
As for the fabric bedhead, it is better if you're trying to establish a modernized design for your Hamptons style bedroom. It has a soft linen fabric panel, moulded timber frame, and nailhead trim for the perfect chic design.
Conclusion
Now you know more than one design option is available for a Hamptons style bedroom. When choosing a design, consider the colour tones and materials you wish to incorporate into your bedroom. Then, allow the ideas above to guide you toward the best choice for your bedroom.
Bedside Tables, Dressers and Drawers
$

999.00
or 4 payments of $249.75 with Afterpay
Only 1 left in stock