What are the essential attributes of choosing a dining table? Most people think about the price and quality of a table before making a choice. Is it possible to buy a sturdily constructed table of your preferred style at an affordable price?
If you select an unusually designed table with elaborate detailing, it is more likely to have problems in the future. The rule of thumb is to choose a simple and durable dining table because it'll likely offer the kind of construction, stability, and longevity you're looking for in a dining table.
Of course, the table design is another major factor in your choice. For example, will you use the table for eating only, or will you want to relax at the table for extended periods during the day? If it's the latter, choose a table you feel comfortable using.
Let's explore the top 5 considerations for selecting the best dining table for a home.
1) The Size and Dimensions
First, you'll need to measure the length and width of the space in your dining room where you want to place the dining table. Verify you have enough space to put the table there so you don't end up having to replace the table due to improper sizing.
Make sure you give yourself plenty of breathing room around the table because you don't want to feel stuffed and suffocated at the table each time you use it. Instead, the ideal space between the nearest walls and the table should be about six feet. So you'll want to measure the dimensions of the total space in your dining room and then subtract around 5 to 6 feet from each side.
The result will give you the ideal dimensions of a dining table that can fit in your dining room while still providing plenty of breathing room for you and your family or guests. 
2) The Shape
Try to visualize the shape of your dining table. For example, do you want a round table top or something more rectangular and square-shaped? Most people will choose a dining table with straight and perpendicular sides because it is more formal or traditional.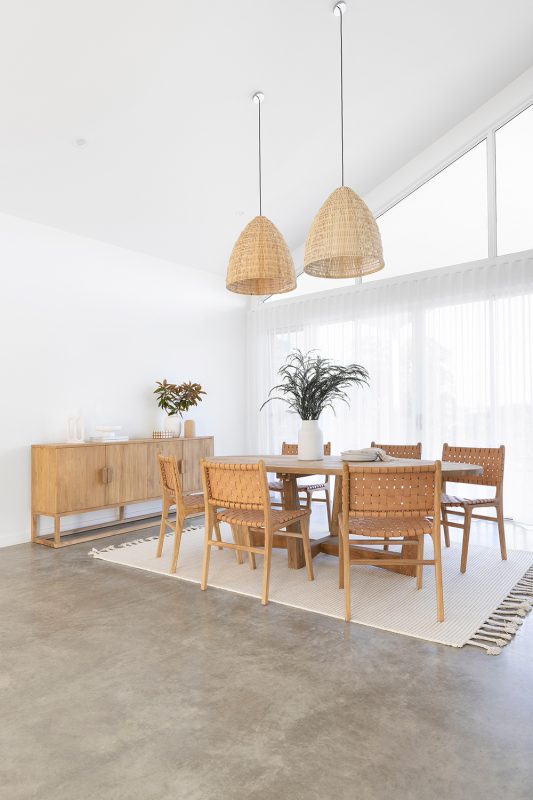 But the truth is that a round table is more space efficient because it does not have corners. Any oval or round table can give you additional space in smaller dining rooms compared to a circular or rectangular table. And if your dining room is long and narrow, use an oval-shaped dining table to ensure you have enough breathing room on all sides.
3) Table Support Systems
Dining tables can have one of three types of support systems on the bottom: Trestle, Pedestal, or Legs.
For instance, a wooden trestle table offers the most secure support because the base is wider and sturdier. This reduces the risk of the table tipping and falling over. A wood picnic table is a typical example of a table with a trestle support system because it can withstand harsh conditions outside.
However, the downside of a trestle table is the base has a horizontal beam running between the sloping legs on each side. Because of this, taller people won't have as much legroom underneath. Trestle tables also take up a lot of space, which means you need large dining rooms if you're using them indoors.
A pedestal table does not use legs but a single or double pedestal in the middle. They are suitable for adding more people to a room with limited space. For example, a teak coffee table may be more appropriate for a pedestal system because it doesn't have ample table space for meals and beverages for multiple people. But it would be suitable for a bunch of friends sitting around the table having coffee together.
The leg system has a thin leg below every table corner, giving plenty of space for extra chairs and legroom on the sides. You cannot typically extend leg tables like trestle tables, but they already come long in most cases. In addition, timber table legs keep the tables more secure than a pedestal table system. That is good news if you have large gatherings of people at the table.
4) Materials
Do you want a solid timber dining table? How about a stone dining table made of marble or quartz? The material is one of the most important considerations for choosing a dining table.
The material choices are as follows:
Solid Wood

Wood Veneer

Stone

Glass

Metal

Plastic
Solid wood is a traditional dining table material. Although expensive, it offers more durability and a natural look pleasing to the eye. You may not want solid wood for a pool dining table outdoors, but perhaps for something classier like a Hamptons Hall table or a console table Hamptons style table.
If you are looking for a wood table at an affordable price, the wood veneer table is a suitable alternative. Veneer contains a thin solid wood layer with plywood glued to it. That way, you have a durable wood base layer with attractive aesthetics outside for a lower price. A 3m dining table made of veneer may be a good investment for a smaller dining room with fewer people.
Stone tables are probably the most attractive because they can be made from different stone materials like marble, cast stone, or quartz. They are better for decoration than anything else because they are porous and can stain easily. And if you need to repair them, it is almost impossible. Who wouldn't want to have a grey dining table as decoration in their home?
Glass tables are also classy and attractive but not durable for apparent reasons. People like to use glass tables outside on patios, which is fine if you have an umbrella feature attached to protect it from rain and sunlight. But if you're considering getting a pool dining table, a better option would be metal or plastic material.
Metal and plastic tables are not the most attractive, but that is okay if you use them outside near pools or gardens. They are cheaper than wood tables and can withstand more environmental impact.
5) Construction
The final thing to consider is the construction and reliability of the table. Just because a table is made of a durable material like solid wood doesn't mean the table's structure is sturdy. You must also ensure the joints connecting the tabletop and base are sturdy.
Joinery with fewer hooks and attachments is a good thing. For instance, a solid wood base directly connected to a solid wood table top is ideal. But if you see a bunch of plastic or metal components between them, it is not a sturdy table.
$

459.00
or 4 payments of $114.75 with Afterpay
Only -4 left in stock