Choosing the best outdoor furniture is essential because it can impact your home's beauty, comfort, and value. That is why you must pick your new outdoor furniture pieces wisely to ensure they possess the appropriate materials, aesthetics, and weather-resistant materials for your home's location.
Below are the top five tips for selecting and maintaining the best outdoor furniture for your home in Australia.
1) Do Not Be Cheap
People naturally want to purchase the cheapest outdoor furniture because it saves them money. However, cheap furniture is usually not made with quality materials or craftsmanship, so it falls apart faster. Then you'll have to buy new furniture a lot sooner, resulting in more money out of pocket.
Investing in high-quality furniture can help you save money in the long run. Check if it is made from high-quality materials, such as solid wood or metal. It should also have as few joinery parts and connectors as possible.
In the end, you may find purchasing the expensive outdoor table with bench seats from Restoration Hardware is a better long-term investment because of the quality and longevity of the furniture pieces. But, of course, that doesn't mean you should automatically purchase the most expensive furniture because the manufacturer and seller's reputations are also essential factors.
The rule of thumb is that cheap, flimsy, and lightweight outdoor furniture is unreliable. On the other hand, a high-rated and reputable furniture company selling outdoor furniture made of high-quality materials is the most reliable, regardless of the price. That is what you should think about it.
2) Consider the Chair Leg Thickness vs. the Patio or Deck Surface Type
Does your outdoor patio have pavers or wooden planks on the surface?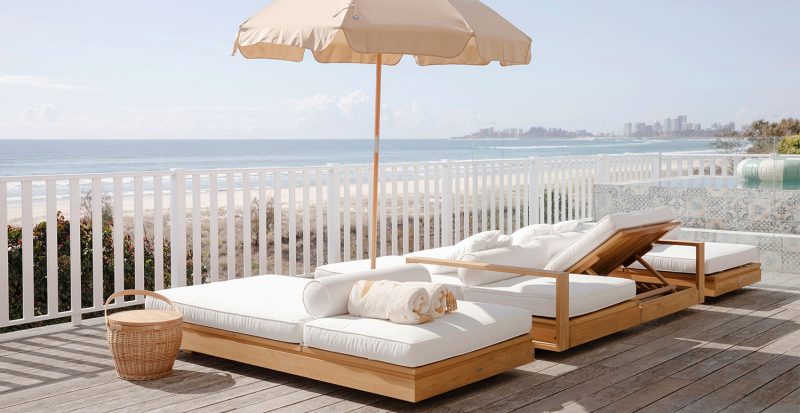 For example, if you add a 10 seater outdoor table onto your patio or deck, it is imperative to have chairs with the appropriate leg thickness. After all, you wouldn't want to have thin chair legs on a patio with wooden planks because the legs would get caught in the gaps between the planks. Therefore, chairs with thicker legs would be a wiser choice for patios with wooden plank surfaces.
Flat surfaces or paved patios are a different story. You can have chairs with thin legs on them because there are no gaps or cracks on the surface. As a result, the chairs won't get caught or stuck on the surface.
3) Pick the Best Outdoor Furniture Materials
Do you dream about having the ideal outdoor furniture sunshine coast piece in your backyard? Before you think about aesthetics, the most consideration should be made toward the materials of your new outdoor table and bench or chair.
We have already discussed how materials factor into the quality and longevity of outdoor furniture. First, however, you must consider the climate and frequent weather conditions of your location in Australia because certain furniture materials can be more resistant to bad weather than others.
The various materials used to make outdoor furniture pieces are as follows:
Aluminium

Teak

Stainless Steel

Eucalyptus

Wrought Iron

Synthetic Resin

Wicker
Each material has advantages and disadvantages based on your location, budget, and preferences. For example, you wouldn't want a lightweight outdoor bench table made of aluminium in a windy environment because the table would get blown around and likely cause damage to your home or property. Instead, a heavier outdoor table made of stainless steel or wrought iron would be better for high-wind locations.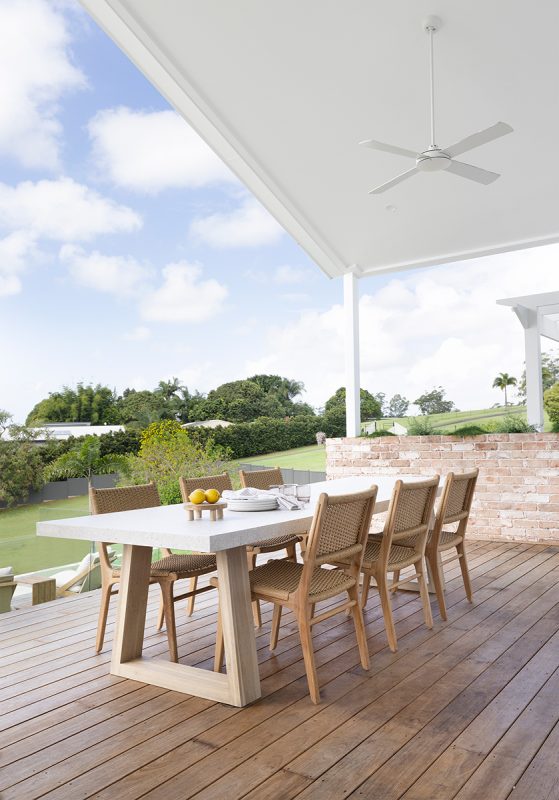 Natural wood materials like teak or eucalyptus are great for aesthetics and sunny locations but bad for rainy environments. If you live in a place with frequent rain, synthetic resin outdoor furniture is better because of its resistance to water and moisture.
4) How to Prepare for Rain
Now it is true that no place is 100% rain-free. There will always be some days when rain falls on your white outdoor table or whatever other furniture you have outside. But this does not mean you must always have synthetic resin outdoor furniture for the sake of the rain, especially if you prefer the craftsmanship and aesthetics of outdoor furniture pieces made from other materials.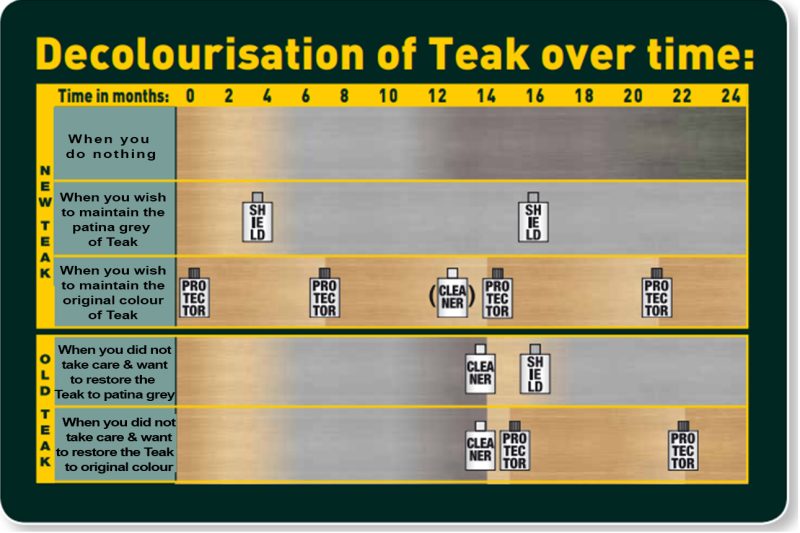 You have a few options to protect your outdoor furniture on rainy days. First, bring your outdoor furniture pieces inside before rainfall begins. Either that or at least bring the cushions from outdoor sofas inside because they are most susceptible to damage from the rain. Even if the cushions supposedly have water-repellent fabric, it does not mean they are waterproof.
Another option is to place a protective cover over your outdoor furniture, particularly those pieces made of wood. Buy a separate protective cover for every wood furniture piece, whether you have an outdoor extension table, sofa, or both.
5) Keep Outdoor Furniture Away from Trees and Bird Droppings
Would you want to see bird droppings and fallen berry pieces making a mess of your timer outdoor lounge furniture? No, of course not, because it will force you to spend much time scraping off the unsanitary debris from your precious outdoor furniture.
Therefore, do not put your extendable outdoor table, chairs, benches, sofas, or other outdoor furniture pieces underneath a tree or active bird area. Then you can save yourself the trouble of dealing with these unfortunate messes that will fall onto your furniture.
One way to protect your outdoor furniture is to put it underneath a patio cover or pergola. If you don't have enough space for one, the last resort is to put protective covers on the furniture. Then if you see any bird droppings or tree debris on the covers, remove and wash the covers to eliminate the debris effectively. After that, put the newly washed covers back on the outdoor furniture.