Are you looking for the best bar stools to put in your home? Perhaps you have an island countertop in your kitchen or a fancy breakfast bar and want to find the right bar stools to match their style and design.
You do not need a bar in your kitchen to use bar stools. That is why some people refer to them as counter stools, but they are basically the same. What is most important is determining which design, style, size, and height you want for your new bar stools. Hopefully, the information in this article can help point you in the right direction.
Below are the top seven factors to consider when looking for the perfect bar stool for your home.
1) The Height of the Bar Stool
The height is an essential consideration because you will want to ensure the bar stool is high enough for you or your guests to reach the kitchen countertop. Since the typical kitchen countertop surface is around 36 to 48 inches from the floor, your bar stool should be between 24 to 36 inches high.
Most people will have a 36-inch-high countertop and a 24-inch bar stool. But if you have a bar-style setup at your house with a tall 48-inch countertop, then a bar stool standing at 36 inches would be ideal.
A low stool over 12 inches shorter than the countertop will not work out well for you. The general rule of thumb is to choose a bar stool 10 to 12 inches shorter than the countertop, no more and no less. Then you should be able to seat adults and older children at the counter comfortably.
2) The Width of the Bar Stool
The width is another critical consideration for two possible reasons. First, you may have a small countertop space that cannot fit a wide bar stool. So, you would need a narrow bar stool to ensure it can fit in front of your small countertop space.
Alternatively, you may want a wide bar stool for a larger countertop space to ensure you or your guests are comfortable sitting there. After all, sitting on a wide bar stool is always easier than a narrow bar stool, especially if you are big.
Therefore, choosing between a large and small stool depends on your comfort preferences and kitchen countertop space.
3) The Style of the Bar Stool
Here is your chance to get creative by considering your particular preferences regarding the aesthetics of your bar stool. For instance, do you want your bar stool to have a contemporary or traditional appearance?
Fans of old-fashioned décor may want wicker or rattan bar stools for a homelier and timeless kitchen appearance. On the other hand, if you are more interested in industrial or modern-style aesthetics, you may be happier with a heavier metallic bar stool for strength and durability.
In addition, a wooden stool can give you the best of both worlds because it offers durability and a natural look that can adapt to any environment. So if you have trouble choosing a style, the best default choice is any attractive timber stool.
4) Back Stools or Backless Stools
Many bar stools have no backs to them. The saddle stool is a perfect example because it has a seat surface shaped like a horse saddle without any support for your back. Some prefer this design because it allows more freedom to move around on the stool without feeling restricted. Backless stools are also easier to fit into smaller spaces too.
A bar table and stools with backing are often found in restaurants and public dining areas. Large people are typically more comfortable sitting on stools with back support because they help secure them in their seats and reduce their risk of falling off.
5) Upholstery or No Upholstery
Most people prefer cushioned bar stool surfaces for comfort. You can find bar stools with upholstery made from leather, vinyl, or polyester. They are all suitable materials because they are comfortable, attractive, and resistant to accidental spills.
Non-cushioned bar stools are available too. They are suitable for environments with old-fashioned décors, such as bars with an Old West theme. Don't expect them to be as comfortable as upholstered bar stools, but they give off a particular appearance you may wish to achieve.
Please note that upholstered stools are better for indoor use only. Upholstered outdoor bar stools will suffer more brutal impact from wind, rain, debris, and other hectic outside environmental conditions.
For instance, a terrazzo stool made of concrete and marble is perfect for outdoor use because it has no upholstery and can withstand harsh environmental impacts. On the other hand, Hamptons bar stools have soft and beautiful upholstery that is much more suitable for indoor kitchens only.
Are you looking for a shower stool? If so, the terrazzo stool works wonderfully as a shower stool because of its ability to resist water.
6) Swivel or No Swivel
Do you want your bar stool to swivel 360 degrees like a computer chair? Swiveling is not an old-fashioned feature, but it is highly convenient for turning around in your seat without getting up. Perhaps you may prefer a swivel bar stool if you choose a large or heavier stool made of metal.
Non-swivel bar stools are traditional. So if you care more about appearance than comfort, then non-swivel bar stools are the better choice.
7) The Price
Of course, who can forget about the price consideration? Bar stools have many different prices based on size, shape, design, material quality, etc. The most expensive bar stool is not necessarily the best, but you don't want to choose the cheapest stool either.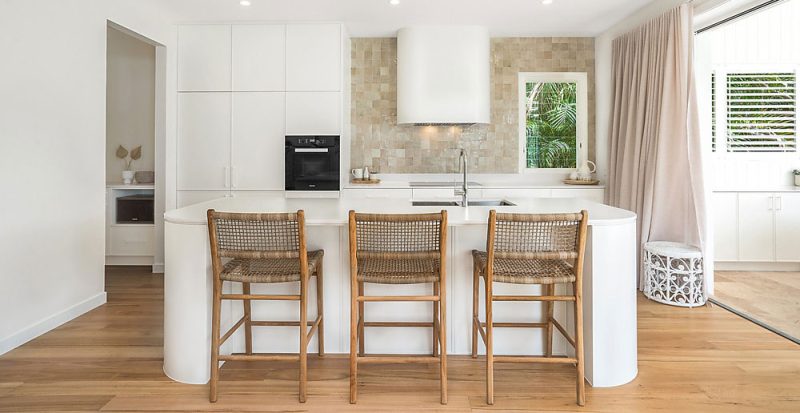 One good tip is to purchase multiple bar stools in a set for a bargain price. You can get better-quality bar stools at lower prices if you buy them in a set or package deal.
Conclusion
Do you now have a clearer image of the bar stool you want for your home? It may require you to do a lot of extra research and browsing to find the perfect bar stool. But once you find it, you will be glad you did.  
$

429.00
or 4 payments of $107.25 with Afterpay
22 left in stock