Bedside tables shouldn't be overlooked as a key piece of furniture that can tie your bedroom together. If you choose well, you can add a lot of style and functionality to make good use of the available space. Whether you're looking for a coastal bedside table, luxury bedside table, or Hamptons bedside table design, finding the right bedside table will elevate your sleeping space. Today, we will share some of the best tips to help you do just that!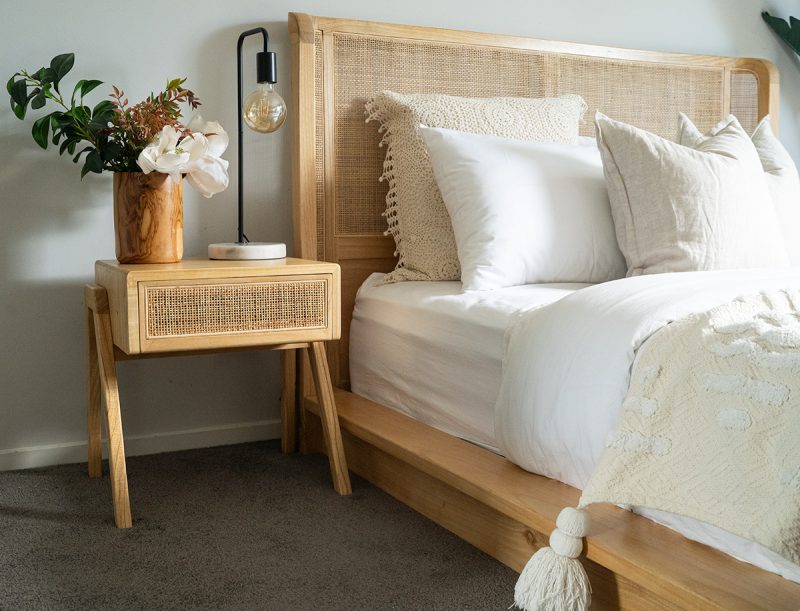 8 Tips to Choose a Bedside Table
Focus on finding the right bedside table height
The height of the bedside table you choose is key and a lot of people disregard that fact. The last thing you want to do is eyeball or wing it when it comes to bedside table height. Instead, find the ideal height for your room and available space.
The fastest way to do that is by measuring from the floor to the top of your bed. Once you have the measurement, you can use it as a guide when you're browsing for bedside table options. You can go 10 centimeters higher or lower, depending on what's most comfortable for you.
Consider the scale of the bedside table in relation to your bed
The next important thing you need to consider is the width of the bedside table because you don't want it to look out of place. For your bedroom space to be well-balanced, you need to take care of the proportions of the furniture you use.
For example, if you have a large bed, adding small bedsite tables will throw the space off. We recommend you go for a 50 to 60-centimeter width if you have a single, double, or queen-sized bed. If you have a king-sized bed or a bed frame that's quite dominant, go for 80 centimeters instead. This will help you create harmony in the bedroom.
Think about the style of your bedroom
Your bedroom's overall style will help you choose the right bedside table, so take some time to think about it. If you want to create a coastal-inspired ambiance, consider bedsite tables made of natural materials and stick to a breezy color palette.
If you're going for a more luxurious style, browse for bedside tables that have elegant finishes such as metallic accents. If you want a combination of these two styles, coastal and luxurious, look for white Hamptons style bedside tables with subtle details and clean lines.
Assess your storage needs
Bedside tables are not just to elevate the aesthetic value of your bedroom, they also serve a practical purpose. So, make sure to assess your storage needs. What are the essentials that you need to keep at hand?
Some people prioritize electronics, while others prioritize books, skincare products, etc. Based on that, you will be able to consider bedside table options with shelves or drawers, to keep your essentials organized and within reach. If you don't have much need for storage, you can go for a minimalist and sleek look.
Consider additional features you need
It's also important for you to assess your need for additional features. This way, your bedside table can help make your daily routine a lot easier. For example, some bedside table designs include built-in power outlets or USB ports.
If you often need to charge your devices overnight or need to use a humidifier, night light, white noise machine, or anything else, this feature can be really helpful. Some bedside tables also come with adjustable lighting or even integrated speakers. So, consider these options and determine how well they will serve you.
        6. Choose a durable and high-quality material
When it comes to furniture of any kind, you should always prioritize durable, high-quality materials. Otherwise, you won't enjoy as much durability as you'd like. As a rule of thumb, wood, and metal are always the most durable options.
You also want to pay attention to the craftsmanship of the bedside tables you choose. The more well-made your bedside table is, the more it will endure. We recommend spending a little more on craftsmanship if possible because it's a smart investment.
Determine if you want matching bedside tables or not
While matching bedside tables is the most common option, it's not a rule you have to follow. You can have a little fun with it and choose two different styles. Just make sure that there's a common thread between the two styles. Whether that's the size, color, shape, or any other element.
For example, if you're sharing your bedroom with a partner, you can each have a different style of bedside table. As long as there's a common element, they will look cohesive within the space while still standing out. Don't be afraid to consider different options and experiment a little. After all, you want your bedroom to reflect who you are.
Set a budget and stick to it
Last but not least, you need to have a budget and stick with it. It's important to know how much you want and can spend before you even start browsing for bedside tables. That will narrow down your options, which will save you a lot of time finding the right one for you.
So, get your finances in order. Remember, higher quality will be a little more expensive, but you need to see it as a long-term investment. If you don't plan on changing the style of your bedroom, you want your bedside tables to last a good long while. Spending a little more can save you money on replacements or repairs.
Final Words on How to Choose a Bedside Table
Keeping these tips in mind will make the process of finding and choosing the right bedside table a lot easier. Remember, you want this new addition to complement your bedroom decor and be practical. If you need help finding a coastal bedside table, luxury bedside table, or Hamptons style bedside table, make sure to browse our shop to discover many great options.
Bedside Tables, Dressers and Drawers
$

999.00
or 4 payments of $249.75 with Afterpay
Only 1 left in stock