When it comes to purchasing furniture for your home, a dining table is one of the most important pieces. As such, you should choose the right material, size, and style. There are many options to consider, such as a solid rectangle timber dining table or a round timber veneer table to mention a couple. we will walk you through some of the most important factors to consider and provide 6 helpful tips. This way, you will have a much easier time finding the right dining table not only for your needs but also for your taste! 
6 Tips to Choose a Dining Table
Get familiar with the space you have
Before you start browsing for dining table options like a nice Hamptons hall table or anything else, you need to get familiar with your space. Take into account factors like the layout of your dining area, the traffic flow, and the other furniture you want to have in the space.
This will help you choose the right size for your dining table to make the most of your dining room. For example, if your dining room is spacious, a 3m dining table can be the right choice. If you have limited space, a compact yet stunning dining table will work a lot better and still elevate the space.
Narrow down the dining table style you want
Of course, one of the most important aspects to consider is the dining table style. It should fit in with the overall aesthetic of your home, so keep that in mind. For example, if you're going for a coastal and elegant feel, a Hamptons hall table could be the perfect choice. This type of design relies on neutral colors and clean lines, so it can create an air of sophistication.
Alternatively, you could go for a more classic option, like a solid timber dining table. This style is timeless, warm, and durable. Not to mention it brings some of the beauty of nature into your home. A round table top is another option and it's perfect if you want to go for a more romantic style. This type of table offers a more intimate setting and it's available in a variety of designs to suit your preferences.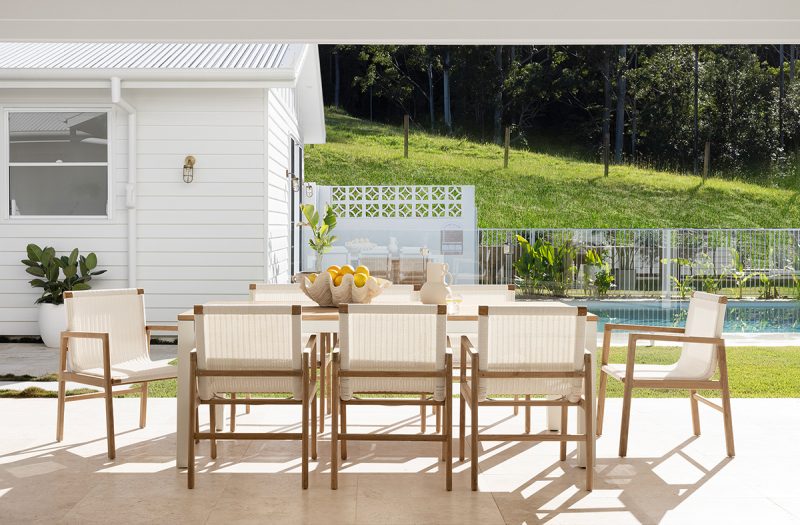 Calculate the perfect size
Size is easily one of the most important factors to consider when choosing a dining table because it will affect comfort level. Now, determining the right size is not as complicated as it seems. First of all, you need to measure the available space in your dining room. This will help you understand what you're working with and narrow down the dining table options.
Additionally, you need to consider a few other factors. For example, you need to determine how many people you want to be able to seat and calculate at least 2 feet of space for each person. Also, consider if the ends of the table can accommodate people. If so, make sure the width is up to 4 feet.
You also need to calculate the space between the table corners and the walls. Ideally, you want there to be at least 3 feet of space so people can pull out their chairs comfortably. Consider all these factors when looking at dining table sizes and it will be a lot easier to find the perfect fit.
Consider the level of functionality you need
Your dining table is one of the furniture pieces you will use most in your daily life. As such, you need to consider the level of functionality you need when browsing for options. You need your final choice to suit all your needs! For example, if you entertain guests often or have a large family, a spacious 3m dining table could be ideal for accommodating everyone comfortably.
Alternatively, solid timber dining tables are known for their sturdiness, making them suitable for everyday use. There are also options like a Hamptons hall table, which may be more appropriate for formal gatherings due to its refined design. And round table tops are great for maximizing space and creating a cozy atmosphere.
Choose a high-quality material
As you may already know, the material and craftsmanship of your dining table will impact its durability. For example, solid timber dining tables are known for how well they stand the test of time, so they're a great long-term investment. Especially if they're made with teak, walnut, oak, or other high-quality woods.
If you don't want a solid timber dining table, there are other options. Whether you're going for a Hamptons hall table, a round table top, a rectangular dining table, a large 3m dining table, etc., make sure to choose the most durable designs and make sure they're well-constructed.
Consider a variety of seating options
Last but not least, your dining table will be incomplete without suitable seating. So, take the time to browse for some high-quality options. Remember, seating should complement the dining table.
Whether you're going for a perfect matching set or a mismatched type of aesthetic, make sure the quality and the harmony are there. It's also very important to make sure the seating is comfortable.
After all, seating is not just about creating the right vibes, it's also about making sure your family and guests have a good experience. Your dining room is a place where people come together to have a good time, so your dining table and seating options should ensure that.
Conclusion
Choosing the right dining table is all about being thoughtful with your choices, your style preferences, and the available space. Whether you're drawn to the coastal elegance of the Hamptons hall table, the timeless beauty of a solid timber dining table, the intimacy of a round table top, or the grandeur of a 3m dining table, the key is finding the one that enhances your dining experience while complementing your home decor.
Browse our shop to find amazing options that will check all your boxes!
$

459.00
or 4 payments of $114.75 with Afterpay
Only -4 left in stock