A TV bench is essential not only because it allows you to place your TV at the ideal viewing angle, but also because it adds style. Additionally, it provides extra storage and will keep your TV safe from pets and curious children to avoid accidents. The only issue here is that choosing the perfect TV can be challenging. It's not as easy as choosing between a black or white TV bench. There are many factors to consider besides color and today's guide will help you with the process.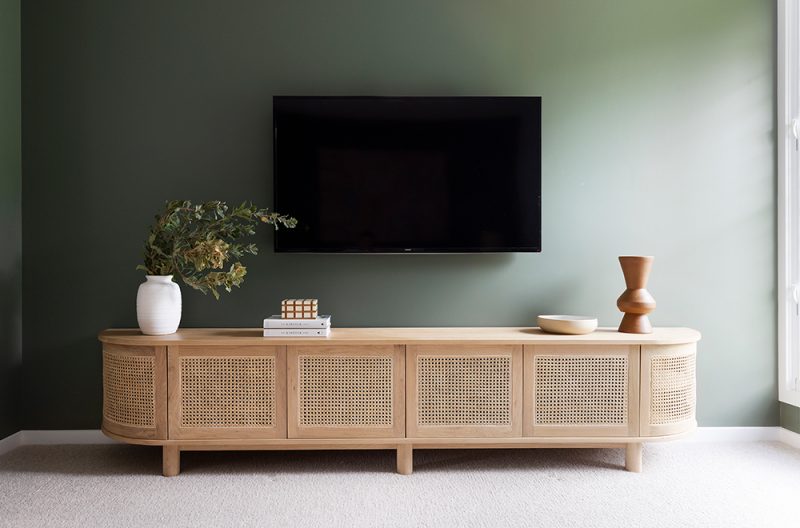 What Are the Types of TV Bench?
There are many types of TV benches to choose from but, overall, they fall under three general categories. Namely low TV benches, medium TV benches, high TV benches, and wall-mounted TV benches. A low TV bench will be 30 to 60 centimeters or 11.8 to 23.6 inches high. This is the perfect choice if you don't have much space to play with or if you're placing the TV in front of a sofa.
On the other hand, medium TV benches are 50 centimeters or 19.6 inches, while high TV benches are over 60 centimeters or 23.6 inches high. These two options are great for big rooms and they offer space for more than your TV. For example, a 100 cm TV bench offers a ton of space not just for storage, but also for additional technology like video game consoles, DVD players, and more.
Last but not least, wall-mounted TV benches are found in a variety of sizes, from small to large. Storage will depend on the design, but most of the wall-mounted TV benches offer shelves and they're available in many different styles to suit your home decor. Since they don't take up any floor space, they can work well in spaces of any size.
How to Choose the Perfect TV Bench
Choosing a type of TV bench from the categories above will narrow down your list of options tremendously. Additionally, knowing what you need will help you zero in on the perfect TV bench for you. Here's what you need to determine:
Size
Your TV bench needs to be the right size, so there are a few things to consider. As a rule of thumb, you need the TV bench to be 20 to 30 centimeters or 7.8 to 11.8 inches wider than your TV. This means that knowing the size of the TV is very important, so make sure to measure it or find the dimensions of your desired TV if you still haven't bought it. Once you have those details, you'll be able to calculate the right size for your needs. Also, consider what else you'll want to place on your TV bench, whether that's a video game console or anything else, and account for the size of that as well.
Height
Of course, you also need to choose the right height for your TV. So, once you know the size of the TV, you'll be able to choose between small, medium, and large TV benches. This is essential because the height of the TV bench will guarantee a comfortable viewing angle. Ideally, your TV should be a tad bit below eye level so you don't have to crane your neck.
Storage
Your TV bench should also offer good storage so you can take full advantage of this piece of furniture. So, think about your storage needs. Do you have a collection of DVDs and Blu-ray discs? What about video game consoles and video game discs? Do you plan on using the extra storage for something else, such as books? Once you know what your storage needs are, you'll be able to choose the right kind of storage. Whether it's shelves, drawers, or cabinets. Every design offers pros and cons, so consider every option carefully.
Cable Management
TV areas can get quite messy due to power, USB, LAN, and HDMI cables, which get tangled very easily. It's not just annoying to untangle them regularly, they also make the space look cluttered. This is why your TV bench should offer built-in cable management features that allow you to keep your cables organized and out of sight. Of course, you can also go the extra mile and get cable ties or cord covers if parts of the cables are still visible.
Design and Color
Once you know your ideal TV bench size and height, and you've determined your storage and cable management needs, you can focus on design and color. When it comes to design, you'll have plenty of styles to choose from. Including modern design, Hamptons-style TV benches, and so much more. While a black TV bench or white TV bench are classic options, you will also be able to find plenty of other colors, including bright or muted tones. Not to mention you'll be able to choose among a variety of materials, such as wood, metal, plastic, glass, and more.
Consider each of these factors and you will be able to narrow down all the TV bench options to the perfect one for you.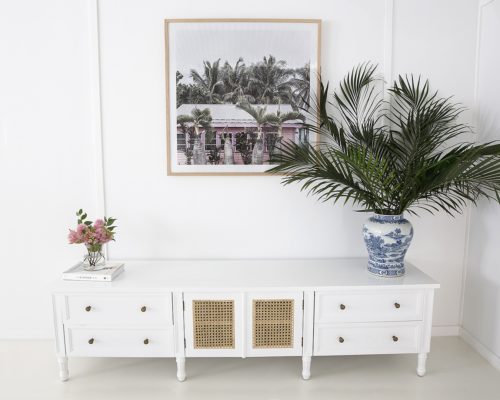 How to Decorate Your TV Bench
Once you have your ideal TV bench, all there's left to do is set up your TV and decorate a little. There are many things you can do depending on the style of the room. For example, you can keep it simple by adding pot plants, a vase of plastic flowers, a stack of books, stylish candles, etc.
You can even decorate the wall around the TV bench, especially if it's a wall-mounted design. Posters, framed photos, wall ornaments, string lights, and LED lights are just a few options. Let your creativity flow and look for inspiration so you can create a nice ambiance with your decor.
If you're looking for TV bench options, browse our store to find some of the best on the market! We offer a variety of designs in different sizes to suit anyone's needs.
or 4 payments of $326.25 with Afterpay
13 left in stock