The Hamptons style of home decor is easily one of the most popular ones. It's the perfect combination of beachy yet sophisticated, elegant, and classic. To achieve this style at home, you need good furniture.
Now, Hamptons-style furniture is easy to spot once you know what you're looking for. Today, we will explore the Hamptons style and share a few tips so you're in the loop. More importantly, we will provide an overview of a variety of furniture to help you make the right choices.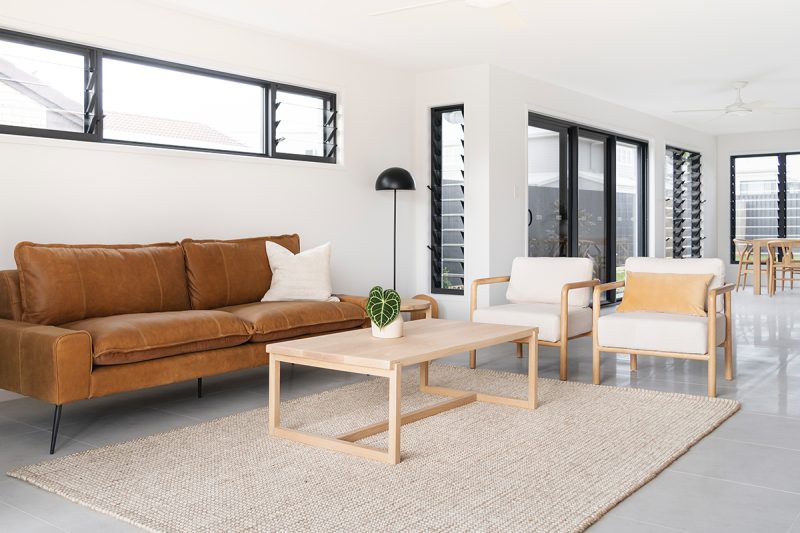 5 Essential Elements of Hamptons Style
Hamptons-style home decor can be boiled down to a few essential elements that will make it easier for you to achieve this vision:
Color palette
One of the most characteristic things about the Hamptons style is its soft and neutral color palette. Creams, whites, off-whites, light shades of gray, beige, and blue are staples. The goal of the color palette is to create a relaxed atmosphere. Additionally, neutral colors reflect light more effectively, which brings us to another essential element: lightning.
Lightning
The very first thing you notice about Hamptons-style homes is how much light there is. Especially natural light, which is emphasized by large windows with sheer curtains, skylights, open spaces, and big doors. Letting the light in is very important to create the clean, crisp look of the Hamptons-style decor.
Accessories
To create that Hamptons-style ambiance, you have to rely on the right kind of accessories. After all, the little details are what will make every space pop and feel different. There's a lot you can do in terms of accessories. The classic options are mirrors, glass vases, chinoiserie, framed artwork of photography, nautical elements like driftwood, and so much more.
Fabrics and textures
The fabrics and textures you use in the space will help you achieve a true Hamptons-style look. The go-to options when it comes to this are linen, cotton, and canvas. If you use these fabrics for curtains, throw pillows, or upholstery, they will help create a beachy, sophisticated feel. Of course, you can play with patterns to make things more eye-catching. Such as stripes, natural designs, checks, and more.
Furniture
Last, but certainly not least, the Hamptons style can't be achieved without the right furniture. Furnishing your home is the most important part of the process and you have to make sure every piece combines functionality, luxury, and comfort. You'll need pieces like a Hamptons style buffet, Hamptons style dining table, Hamptons style bedside tables, and more.
How to Achieve the Hamptons Style Look
To achieve a Hamptons style home, you have to combine all the elements mentioned above. Painting your rooms white on white is one of the easiest ways to get started with the Hamptons style transformation. This will give your space a lot of serenity and it will allow the furniture and accessories to bring everything to life.
Also, you need to focus on bringing natural elements inside. For example, focus on wicker, wooden, and rattan furniture pieces. Cotton cushions, sisal rugs, and linen curtains are also a great way to reflect those natural elements associated with this decor style.
The key to the Hamptons style is not to clutter the space but to combine pieces in a way that's harmonious and elegant. Everything can be tied together with accessories, which also allow you to add pops of color like gray, soft blue, beige, soft green, and more.
It's very important to keep the essential elements of the Hamptons style in mind when creating the vision for each room. Those are your Northern stars! While you can get as creative as you want, making sure those elements are present will help you transform your home to your taste.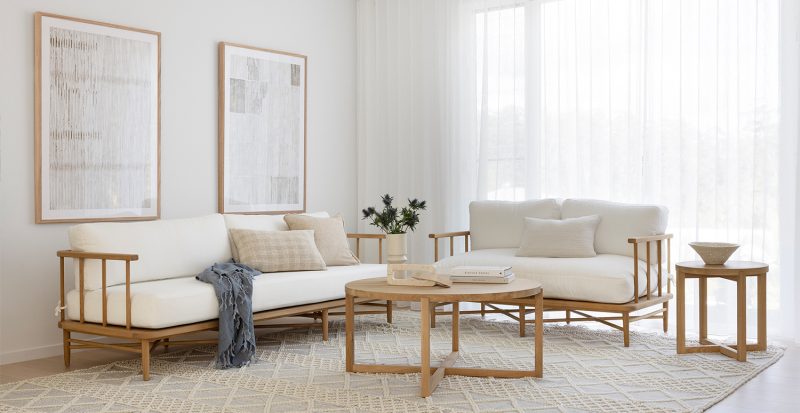 How to Choose the Perfect Furniture for a Hamptons-Style Home
The Hamptons style furniture pieces you choose will depend on what you want to achieve in each space. So, before you start browsing for furniture, make sure you determine what each room or space needs. You should also determine what materials you want the furniture to have in common. This helps you create a cohesive Hamptons-style home. Once you do that, you can focus on each piece individually.
Generally speaking, Hamptons style furniture is very easy to identify. All the pieces are classic, sophisticated, and understated. They have a very timeless feel to them and they're available in neutral tones, mostly white. Overall, the key to finding the perfect Hamptons style furniture is focusing on quality and good craftsmanship.
Let's overview some of the most essential pieces of furniture:
Hamptons style bedside tables. Any Hamptons style bedroom needs a nice set of bedside tables. We have a full guide on how to choose the right bedside tables, so make sure to read it. Overall, stick to natural materials, and good craftsmanship, and make sure the pieces are functional for you.
Bedside Tables, Dressers and Drawers
$

999.00
or 4 payments of $249.75 with Afterpay
Only 1 left in stock
Hamptons style dining table. Your dining room will be defined by your dining table and chairs. So, make sure you get a nice set. We also have a guide for that, check it out for further details.
or 4 payments of $288.75 with Afterpay
Only 8 left in stock
Hamptons style TV unit. If you want to create a nice living room or entertainment space, a TV unit will guarantee a nice viewing experience. If you need a buyer's guide, we have one as well.
or 4 payments of $326.25 with Afterpay
13 left in stock
Hamptons style outdoor furniture. Setting up a comfortable, functional, and versatile outdoor space all comes down to the furniture. This guide will help you with that to accomplish a nice Hamptons-style outdoor area for your needs.
Hamptons style buffet. A buffet can easily complement your dining area or kitchen. Hamptons-style buffets are available in many different designs and sizes to suit your home perfectly.
Coastal Elegance with Hamptons Style Furniture
If you need Hamptons style furniture options that won't disappoint, browse our shop to find everything you need. We offer a wide variety of furniture pieces and if you keep the essential elements of the Hamptons style in mind, you will find the perfect options for your home.