Coffee tables and Console tables serve different purposes, so let's first discuss this.
Coffee Table:
A coffee table is typically positioned centrally, so everyone sitting on a sofa has easy access. Today, a coffee table is considered an essential item of furniture in many living rooms.

Coffee tables are also known as cocktail tables.

Coffee tables are typically constructed from wood, but metal tables are also quite popular.

It's believed that coffee tables were initially constructed in Renaissance England.

Coffee tables are usually constructed to ensure the top of the table sits level with the seat cushions of surrounding chairs and sofas, thus serving as a handy serving place for coffee and tea.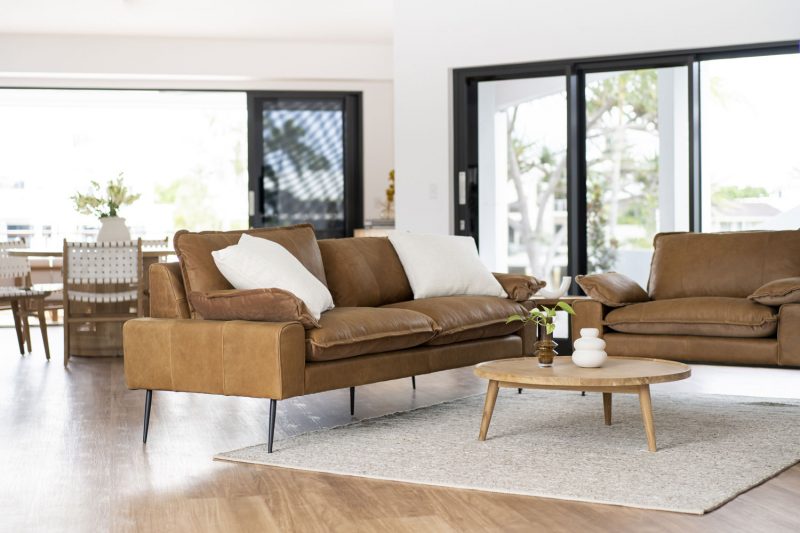 Console Table:
A console table is usually positioned against a wall, either in an entryway or hallway; in fact, a console can be placed in any room in your home. A console is both decorative and functional; it's often a focal point and stands alone.
A console has many other names, like hallway table, buffet, sideboard, and others. When placed by an entry door, it provides handy surface space for hats, keys, scarves, and other items.
A console is not a side table. A side table has a different purpose, that is, to be used by people sitting on chairs, couches, or beds, and to serve as a surface for people to place their small items.
A console table has a front and two sides; the back is normally unornamented and always stands against the wall.
How To Style Coffee Tables and Console Tables
It's not always clear when styling either of these two types of tables just how much styling is enough. We know we can use fresh flowers, art books, travel trinkets, drink coasters and other items, but how do we achieve a good balance between function and form?
Take a look at our guide below for our tips on how to style a usable yet unique coffee table or console table, while capturing the elegance of Hamptons Style interior design.
No. 1: Begin With An Attractive Tray
Prior to doing anything else to your coffee or console table, choose an attractive tray and place it on the surface of the table. The tray you choose will provide instantaneous structure for the rest of the tabletop. Besides creating a contrasting base on which to start building your objects, grouping on the tray also allows for quick and easy exchange or removal of objects, including dusting or cleaning.
A good tip is to choose a tray with handles; this allows you to use your coffee table during the day as a workspace, or during the night as a bar.
For Hamptons Style decorating, we like a rectangular whitewash rattan tray, but the shape will depend on the scale and shape of your table. If you have a rectangular table we suggest using a circular tray and if you have an oblong table we would go with a square tray. At the very minimum, the tray should measure at least a third of the size of your table.
No. 2: Decide On A Colour Palette
If you get the colour palette right, your coffee or console table will look cohesive and very chic. Our suggestion is to draw inspiration from your existing décor and choose a well-defined colour scheme for your table display.
This may come from the framed photos on your mantel, the rug on the floor, the throw blanket on the couch, or artwork around the room. Vary the opaqueness and saturation of each colour to create contrast, even in a monochromatic scheme.
No. 3: The 'Law Of Threes' Applies Here
If you recall from our previous articles, the law of threes is used to make a lasting impression and determines how thematic elements should be grouped. Margaret Everton explained to Houzz how this law applies to interiors. The basic idea behind the rule of threes, she wrote, is that objects and information appearing in threes are more appealing. They're more effective than other numbers of objects and more memorable.
Everton added that, in interior design, the rule of threes serves as a tool for progression and building drama in a space. She believes that rearranging a grouping of threes can dramatically alter the aesthetic and flow of a room. This, she suggests, can have a significant effect on how a viewer feels about a space.
So, by following the rule of threes, to make thematic sense, decorative objects should be arranged on your console table in a grouping of three.
No. 4: Use Items Of Varying Scale
When you vary the size, weight, and height of each item in your grouping of three, you're encouraging the eye to travel from one item to the next. When arranging objects of varying heights, we suggest progressing from high to low. For example, you may be styling a grouping of vases, so encourage the eye to travel by grouping in three and styling from high to low.
We suggest incorporating asymmetry, or irregularity, when styling your coffee or console table. Yes, symmetry offers balance, but it can also be predictable and sometimes boring.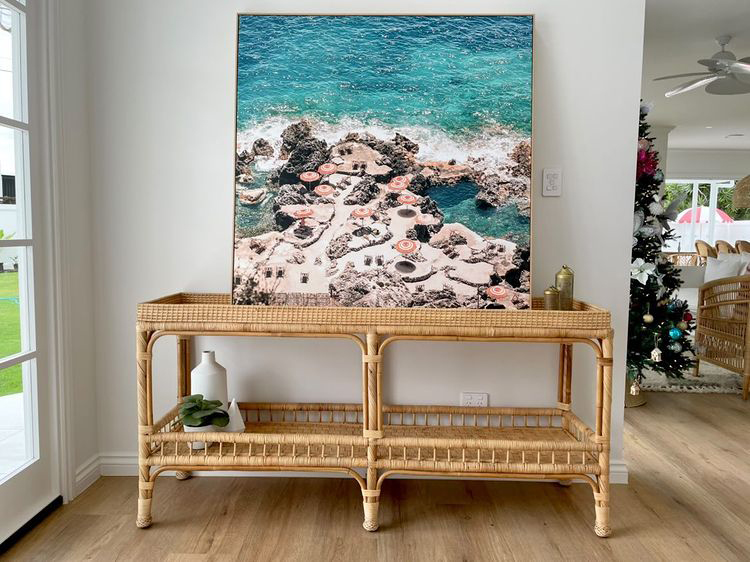 Asymmetry forces your mind to stop for a moment and process the space. Pausing and searching for meaning makes the display more engaging, interesting, and memorable. It also helps make a coffee or console table more useful and functional. It may be that you decide to place a group of objects on one side of the table, thus allowing you or your guests to place their keys and other objects on the other side.
Asymmetry works extremely well with a multilevel coffee table. Try decorating one half of the top level and the opposite half of the bottom level and voila! you have a fascinating display.