One third of our lives are spent in bed. That's an amazing statistic! The level of comfort in your bed decides the nature of your sleep, which is essential for a peaceful and productive way of life. A decent night rest implies you'll work well the entire day. There are various other medical advantages related with getting a great nights sleep. One of the issues that influence the nature of our rest is your partner disturbing you. Despite numerous different elements that can affect your rest, being disturbed by your partner whenever they turn in bed can influence the quality of rest you have. Consequently, having a bed with adequate space would mean you have a superior and progressively tranquil night sleep.
A big bed allows your partner to lie in bed next to you, arms behind your head and the elbows out, without touching each another. This additionally implies while you do this, none of you has their elbows falling out of the bed. There are numerous jumbo beds available to be purchased. King is king, but if you need that extra space, Abide Interiors can offer Super King bedheads or Super King Bed options
1. Couples Sleep Well in a Bigger Bed
A bigger bed ensures that you get the chance to rest well the entire night with no disturbance from your partner. A wider bed implies you can spread out without limitations from them. Another benefit is that in case you're an accomplice who wheezes, sleep talks, thrashes around during the night; a greater bed ought to fathom a lot of these issues.
2. You Spend One-Third of Your Life in Bed
Simply that you spend as much as a third of your life in bed means you should have quality sleep at night. Remember that when you hit 50 years old, you'll have literally spent 16 years of your life in bed. That alone shows the significance of having quality sleep. This begins by ensuring you have a bigger bed to reduce the chances of disturbances that interrupt sleep. Regardless of whether you sleep on the bed alone, more space implies you can spread out with no fear and appreciate a peaceful free night's sleep.
3. Better Sleep
A good bed implies you get the chance to stay asleep for the entire evening peacefully with no interference. This basically means quality sleep, which implies you'll be less crabby, less inclined to illness and more focused for the entire day.
4. It's Good for Your Health
Low quality of sleep has been associated with a few wellbeing complications. Also, getting a bigger bed is a step towards getting quality sleep, it's something essential to consider. The health advantages related with good sleep can't be overlooked.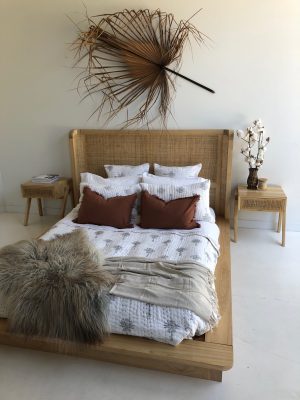 5. Super for Family and Pets
It's always a great feeling to wake up in the morning, just to see your little one snuggle in between you and your partner. However, it turns out to be entirely awkward when there isn't sufficient space to suit every one, a bigger bed is a great way to transform your room into a social zone for the whole family.
6. Comfort
This might be the general motivation behind why you should get a bigger bed. Those few extra centimetres mean total absolute comfort. You can extend your legs and arms as much as you need and stay in bed any position you want. For a superior soft and comfortable mattress we suggest looking no further than The Langham Blissful Bed and Langham Mattress Topper. This mattress and mattress topper is the softest & most enjoyable money you may ever spend.
With all the outlined advantages above, you can't help but think bigger is better.
Check out the Abide Interiors range of King size beds at www.abideinteriors.com.au/?s=king+bed&post_type=product