If you're one of those people who identify with seaside and resort-style living, then you'll probably love the Coastal Boho Style of interior designing. It's a unique and versatile style that captures the charm of Australia's beautiful, endless coastlines; an interior design style that strikes a careful balance between simple design and natural beauty.
Coastal Boho Style conjures up images of relaxed, interesting people with an amazing story to tell. These are people who take great care of themselves – their nutrition, the environment, and their good health. They love pretty things; they're regulars at their local artisan coffee shop, and their homes are diverse – layered with appeal and quirky accents. Doesn't the classic Coastal Boho style sound like an amazing, individual style? No wonder it's become so popular in Australia.
Here are our tips on how to achieve this casual yet beautiful look –
Start by Defining the Coastal Boho Style
This Bohemian style trend is cheerful and pretty, with bright colours and patterns. The laid-back style of the Coastal Boho look embraces natural materials and Bohemian furniture. Textiles, patterns, accessories and fabrics are used to express this casual lifestyle and its values. This is a look of love and laughter which, when mixed with effortless and colourful ascetics, results in our new and popular Coastal Boho trend.
With its airy, light colour palette, Coastal Style is becoming widely popular because designers and homeowners can create a timeless look by simply following this style. In a nutshell, Coastal Boho Style is simply a combination of a coastal look and the fabulous nomadic Bohemian style.
While this trend is quirky and interesting, when it comes to decorating our homes many simply don't have the finances to jump right in. And that's okay, because our recommendation is that you start by selecting a few key pieces of classic furniture, then continue adding to them in your own time.
It's Different to Classic Bohemian Style
Bohemian style was typically a riot of colour, with the idea to be extreme, with a jumble of exotic and rich colours. However, contemporary Bohemian style is based on a foundation of greys and whites, with layers of colour and texture; the appeal being that you end up with a combination of a scaled version of contemporary Bohemian style with the relaxed feel of the beach.
The Muted Colour Palette
The colour palette for Coastal Boho style is definitely restrained, with the emphasis more on texture. This doesn't mean that colours can't be introduced to this style because the styling rules are not set in stone, but there's no attention-seeking shades in this colour story. Your colour palette should be fairly neutral, keeping it airy and light. To this you can add the hint of a coastal vibe by adding soft pastel colours like palms of greenery and mint.
Adding a touch of blue for a coastal style can look amazing, but the emphasis should be on whites and greys from pebbles, driftwood, and even sand colours. So while there is no defined colour palette for this style trend, restraint should be used, with a heavy reliance on whites and neutrals.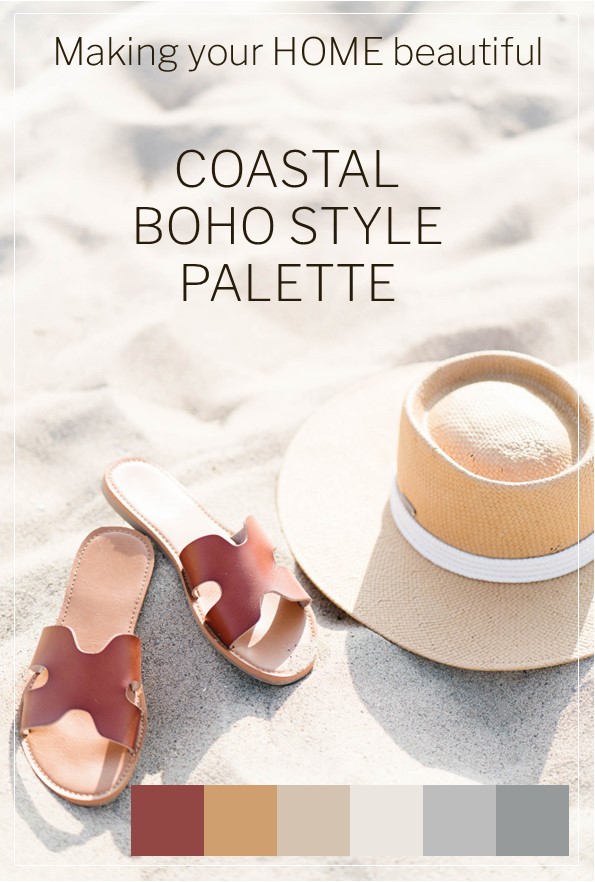 It's All About Texture
Because the colour palette for Coastal Boho Style is restrained, you now have the freedom to go crazy with texture, which is really what this trend is all about. Below we've listed some innovative ways to add a blend of textures to your new interior design –
Distressed furniture

Rattan chairs

Tassels and baubles

Rugs, especially if they're layered on each other

Oversized rattan pendants

Heaps of greenery

Anything textured and natural in materials or colour

Natural elements like jute, wood, and leather.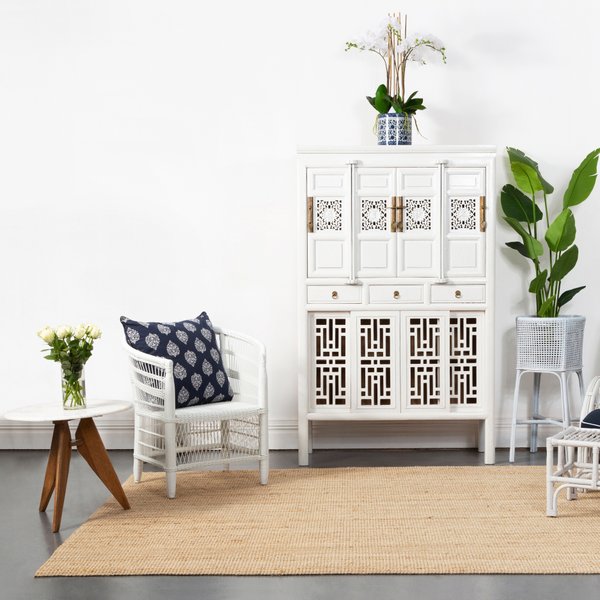 A Coastal Boho Style Kitchen
A coastal Boho kitchen is a blend of an earthy, airy palette. Consider a combination of white, rattan, and timber, with simple finishes. And don't forget some large, rattan pendant lights. These look absolutely beautiful and bring a touch of coastal to your kitchen without having to spend a heap of money.
You'll can add some beach inspired accessories, like shells, driftwood for the shelves, woven baskets, rope detailing for the seating and windows, and fabrics with stripes. Finish off by introducing rattan trays and accessories and oversized timber grazing boards, bowls and platters.
A Coastal Boho Style Bathroom
Bathrooms are usually all porcelain and tiles, but you may be surprised at how easy it is to design a bathroom Bohemian style. Try the following ideas –
To bring some cosy elements of Coastal Boho to your bathroom, try layering textiles by way of towels, bath-mats, and toilet covers.

Walls painted in jewel tones, or bright, bold wallpaper are both great ideas for a Bohemian-inspired bathroom.

By using natural, soft lighting and plants, with designs and patterns from all over the world, your Boho bathroom will make the ideal retreat.

Bright, bold patterns or colours can work beautifully provided they don't clash – they must flow well together.

An abundance of plants and natural elements by way of handmade furniture are great bathroom additions.
Adding the Finishing Touch
Consider the following finishing touches to your new and beautiful Coastal Boho designed home –
Add colour and texture by introducing tribal patterns

Patterned rugs, like Persian rugs

Native American dream catcher

Macramé wall hanging

Authentic handmade woven platters and baskets

Handmade macramé baskets

Ceramic pots

Moroccan inspired accessories, like floor cushions, side tables, mirrors.

Moroccan pendants

Pieces of driftwood.
In Summary
If you're still a little unsure about how to accessorise, simply get your hands on some beautiful, weathered timber, use some rattan, and don't forget lots of greenery!