Barstools are a practical addition to any home, but choosing the right barstool can sometimes be tricky. You need your barstools to be hard-wearing but statement-making; you need them to be on trend, but timeless, and you want to strike the right balance between functionality and ascetics.
So why do barstools work so well and how do you start looking for the right barstools? They work so well because they add a welcome informality to any area, and as to how to start looking for the right barstools – we're going to help you out in this article.
The three main determinations when choosing barstools are the counter height, the chair size, and thigh clearance. This combination of measurements should provide a good range of barstools for what you're looking for. The right barstools will strike a good balance between the appropriate distance from the surface and a comfortable seating position. You're also looking for the stool height, the materials used, the colour, and the style.
We hope the tips below help you make the right choice –
Choosing the Right Size Barstool
Your first consideration must be how tall you want your barstools to be. For seating at a kitchen bench, simply ensure your new barstools are the appropriate height for that surface – this will typically be 30cm between the top of the seat and the bottom of the countertop. The same measurements apply if you already have a bar table.
Note that barstools are typically 65cm tall; but you have many more options if you don't have that starting point. You may require a shorter stool if you're on the shorter side, or you may need taller stools for people with longer legs.
The wrong size barstool can be incredibly uncomfortable, and they look disproportionate. Just keep the following in mind –
Counter stools, where the surface is approximate 36 inches off the ground, should be around 24 inches to 26 inches high.

Standard bars are typically 42 inches, so classic barstools should be no more than 30 inches high.

If you have an unusually high surface, tall bar stools can look really great. These should measure around 34 to 36 inches.
Barstools With a Back – or Not?
There are barstools with backs and there are barstools without backs, so this should be your next determination. A barstool with a back can feel very supportive, and the back does help with posture; which begs the question – why would anyone choose barstools without a back?
There are actually many factors in favour of barstools without a back, perhaps the main one being that they're much easier to stack. This means that when they're not in use they're easy to store and take up less storage room. Another bonus with backless barstools is that they can be quickly and easily tucked underneath benches and tables, opening up floor space for other activities.
Time to Choose the Style of Your Barstool
This may not sound like an important part of your selection process, but barstools come in a range of styles and can certainly add to the ascetics of any room.
The next decision will be whether you want your barstools to be manufactured from wood or metal. With this decision made, it's now time to choose the shape, colour, footrest style, and number of legs you want on your new barstools. Before you start shopping for barstools try to have some of your preferences in mind, and while you may change your mind when you see what's available, it can make your shopping trip a little less stressful.
For example, deep walnut tones in your barstools can enhance a vintage style aesthetic; beach and oak invoke a light contemporary-style into any area; while metallic barstool designs reflect industrial styles.
Consider the Shape of the Seat
A round seat is very flexible because, if you need to face another direction, you simply turn the whole stool around. A molded seat, on the other hand, means that you can settle in and get extremely comfortable on your barstool. Sounds good – right!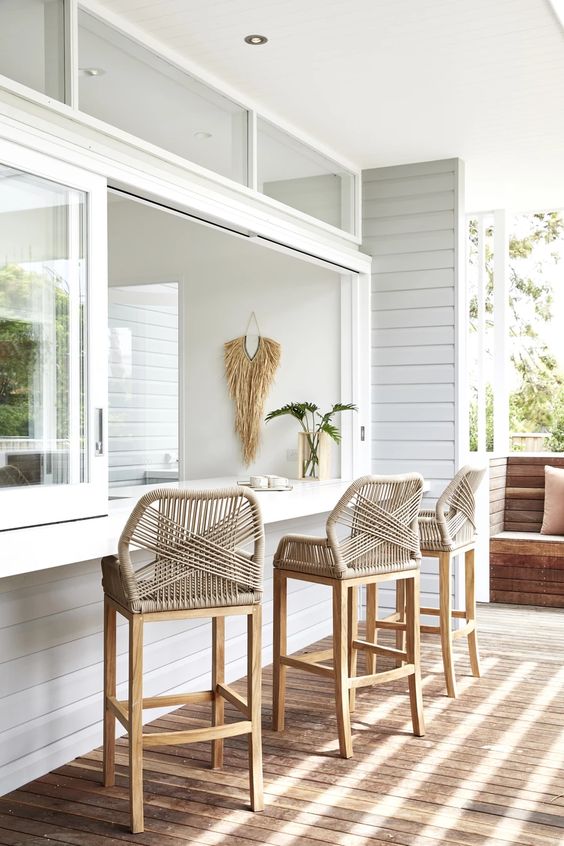 Important Tips to Keep in Mind
If your floors are easily scuffed or marked, make sure there are stoppers on the feet. You could add these yourself, if necessary.

Make sure your feet are easily able to reach the foot-rest.

Make sure the angle of your thighs on the seat is comfortable.
Enjoy shopping for your new barstools 🙂
Related Products
or 4 payments of $117.25 with Afterpay
Only 12 left in stock
$

429.00
or 4 payments of $107.25 with Afterpay
18 left in stock