What Is Hamptons Style?
The Hamptons style is a coastal aesthetic that originated in the New England beach communities called the Hamptons. The Hamptons aesthetic is cultivated, yet casual, which may be why the Hamptons became a lavish vacation destination for many of the rich and famous.
How to Choose the Right Round Table
While the Hamptons Style table is very impressive in formal gatherings, it's equally at home on a Saturday night games night. These tables are skilfully designed and manufactured from solid woods.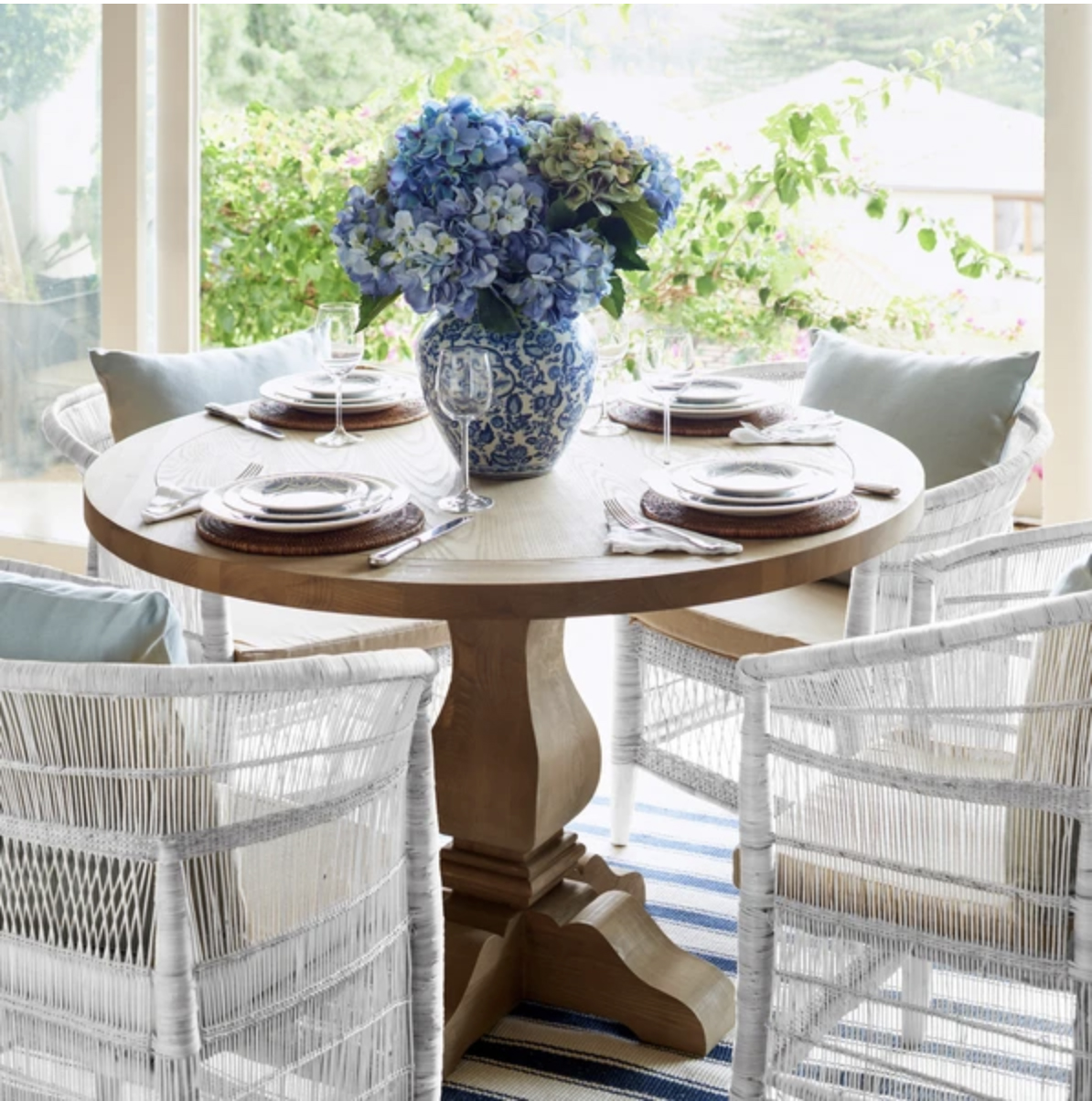 A round dining table provides ease of conversation and a sense of timelessness. There's the classic elegance that comes with the curvature of a round dining table, and no one does this better than Hamptons Style dining tables.
Below we have listed our tips to help you select and style the right dining table for your space –
No 1. Small Spaces
When you're working with a small space, a round dining table can work exceptionally well in terms of proportion and size. You may have a relatively small dining room, or perhaps you're choosing a table for a breakfast nook area.
A round dining table serves a functional purpose, whilst making an elegant impact. A bonus with a round table is that they take up much less space than a rectangular table, while still seating the same number of people. Opting for a pedestal round table means you'll be able to provide more seating and leg-room than a table with legs.
No 2. Easy Conversation
Conversation is so much easier when people are seated at a round table. There's definitely a feeling of familiarity and intimacy – of easy conversation. This configuration means there's no' head-of-the-table' and with everyone seated close to one another there's a sense of warmth and friendliness.
A round Hamptons Style dining table is the perfect setting for an intimate dinner party or a weekend family dinner where everyone recounts the highlights of their week. There's a cosy, casual feel that comes from sharing a round dining table with family and friends.
No 3. Provides a Contrasting Shape
A typical home tends to have a lot of straight lines, especially with the traditional elements that make up the Hamptons aesthetic. A round Hamptons Style dining table serves as a beautiful contrast to these lines. If the lines of a room contain no curves at all, the area can seem a little unbalanced.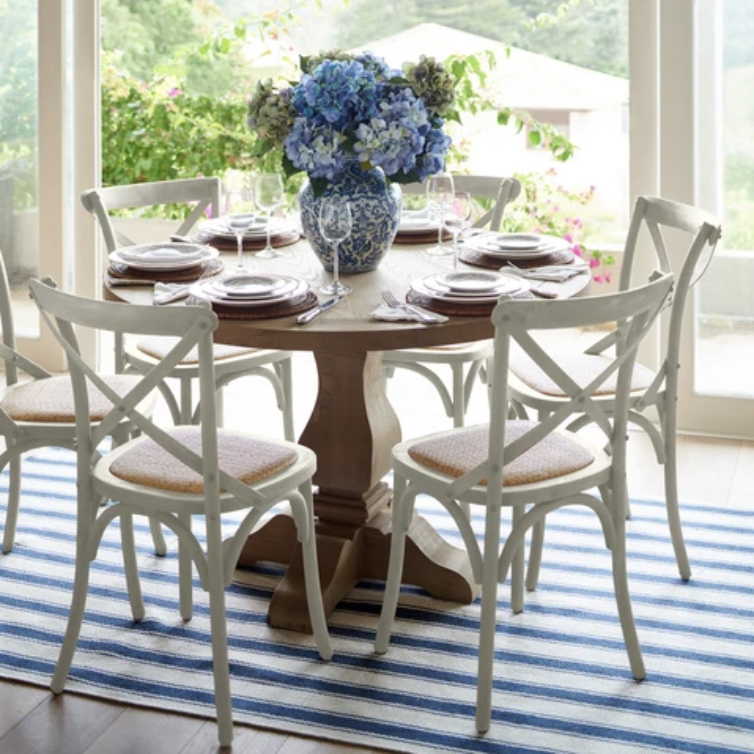 No. 4: How to Style A Round Hamptons Style Dining Table
The following are some ideas on how to design the space surrounding your new round Hamptons Style dining table –
Consider a stunning light fixture that hangs perfectly over the centre of your new dining table. This will ensure the entire space becomes a focal point.

Choose chairs with shapes that contrast with the shape, style, and/or material of the table. Chairs with straight, angular lines would contrast beautifully with the lines of the table.

Another contrasting feature that looks fantastic is a rectangular rug placed under your round Hamptons Style table. This will ensure a layered, contrasting, and appealing look.

Round tables are not only for your dining space. Consider placing a round dining table in a large entrance or foyer where the aim is to make a visual impact.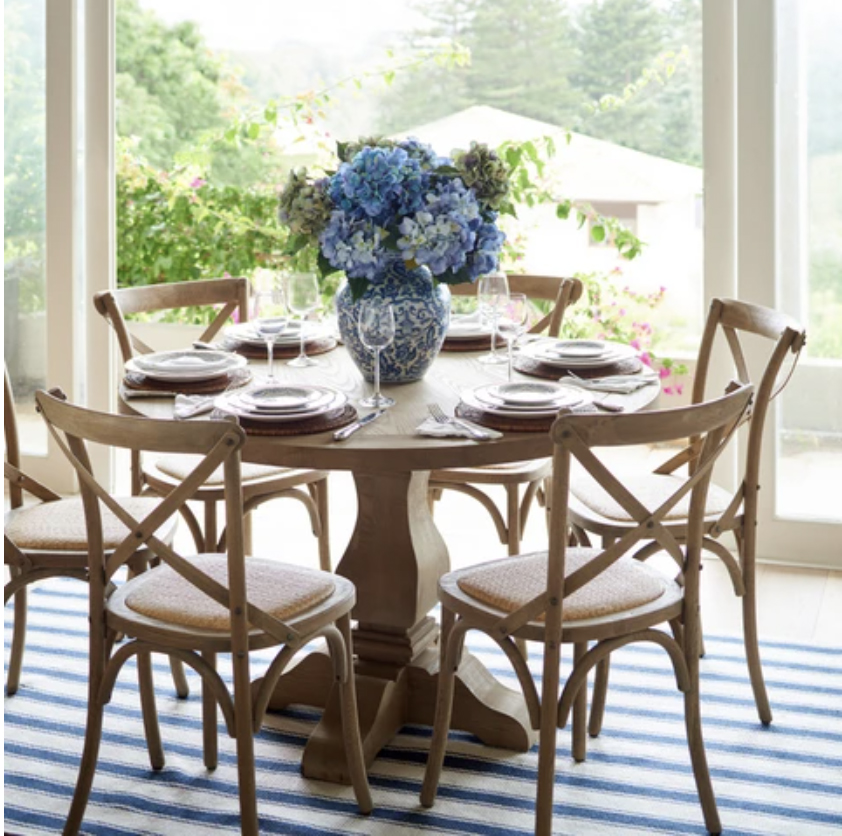 Your dining room is a very important room in your home; it's a communal gathering space that should be sophisticated, yet comfortable. If you like the idea of laid-back refinement, then you need a Hamptons Style table. Hamptons Style tables are designed and manufactured to withstand many years of parties, family dinners, and late-night homework sessions.
Maybe you've never even thought of having a round Hamptons Style dining table in your home. We hope you'll now at least consider this option when choosing your new dining table because they certainly do make a chic and beautiful addition to any home.
or 4 payments of $288.75 with Afterpay
Only 8 left in stock