One of the reasons we love travelling so much is that we get to stay in beautiful hotels with beautiful hotel rooms, each one specifically designed to spoil and pamper us. Coronavirus effectively knocked our travel plans on the head, but that doesn't mean we have to forego that wonderful 5-star luxury experience. Why not transform your own bedroom into a luxurious hotel suite, put your imagination into top gear, and enjoy all the perks of a suite in a 5-star hotel. Unfortunately, the one perk you won't get to experience is having your bed made for you, then turned down ready for a glorious night's sleep – you'll have to do this one for yourself!
Follow our simple tips to feel pampered and enjoy a blissful night's sleep every day –
It All Starts With The Bed
Have you ever noticed that when you walk into a hotel suite the first thing you check out is the bed? That's because the bed is the centrepiece of every world-class hotel.
It's all in the details: a luxurious hotel bed must be perfectly made, with duvet covers tucked in at the front and a cosy throw or comforter draped casually along the top. If you're going for a signature hotel look, we suggest you opt for white linen.
It Wouldn't Be Luxurious Without Bedside Tables
A bedside table serves two functions; to house your essentials and to anchor the bedroom. Storage is very important, so the perfect nightstand will have drawers to store any bedside necessities out of sight, thus ensuring an undistracted night of sleep.
The height of your bedside table is also important; the scale and proportion of your bedside table should match in perfectly with your bed. Make sure the tabletop sits above the mattress, allowing you to easily reach for items when necessary.
Keep Your Linen Fresh
Most of us already know that our bedroom linen should be changed at least once a fortnight, and this is one of the most inexpensive methods of ensuring your bed becomes a welcoming environment. You could even try spritzing your newly made bed with a refreshing floral scent.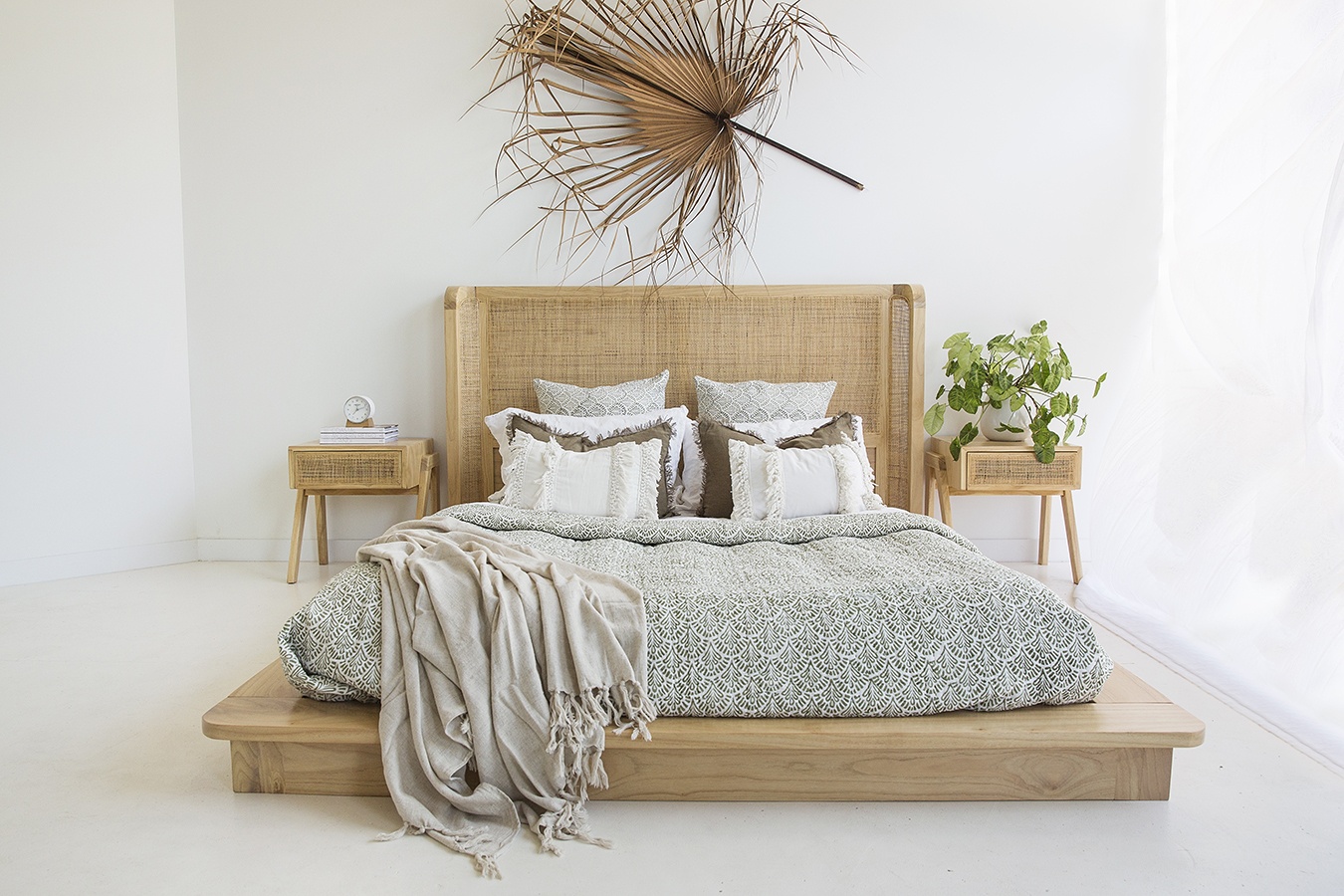 Declutter Your Bedroom and Bathroom
Because the bedroom and bathroom are the spaces we typically enjoy while staying at a luxurious hotel, we need to clear out all clutter from these rooms. Non-essentials should be packed away, and countertops left clean and simple.
Create a Luxurious Bathroom
Don't we all love walking into our own spacious bathroom in a 5-star hotel! Let's face it – we all love being pampered. Regardless of whether you have an ensuite in your home, or not, you can still give your bathroom a luxurious lift. This might be by dressing your bathroom up with elevated amenities, spa products, and even a generous shower pressure. And don't forget plush bathrobes and slippers.
Change Up to Bath Sheets
A soft and fluffy towel is so important, but why not step up to the bigger and more comfy bath sheets?. Bath sheets can be very plush, and they're really absorbent. Now take it one step further by coordinating a pile of handtowels and washcloths in the same line. This will add a whole new level of luxury to your own bathroom.
Let The Outside In
Open your bedroom windows to allow the fresh air in, and consider diffusing some essential oils, like cedarwood, honeydew, clove, or rose, to fill your bedroom with beautiful aromas that help make your bedroom feel just like a luxury hotel.
Table Lamps Add a Dash of Romance
Of course the perfect pairing with your bedside table is a table lamp. Table lamps create low-light ambience, emulating a romantic and relaxing space for you to wind down. This same lamp can act as an accent light and help with night-time reading.
Other Ways To Transform Your Bedroom Into A Luxurious Hotel Suite Are To –
Keep a supply of little bottles of shampoo, conditioner, lotion and body wash in your bathroom.

Provide bathrobes for after-showering.

Leave chocolates on your pillows.

You could even have a coffee make in your room.

Our final piece of advice is to add more pillows – a lot more pillows!