Your dining room table is an integral part of your home and, as such, is one of the most important pieces of furniture you will purchase. Of course sofas and beds are also very important, but it's at the dining table that you'll share meals with your family and guests and enjoy numerous memorable gatherings. Dining tables typically become the centrepiece of a home; it's where people hang out together, talking and enjoying each other's company, playing games, doing arts and crafts, puzzles, homework, and so much more.
The right dining table will turn your house into a home, simply because it plays such an important role in your everyday life. The table you choose should not be an impulse buy; it should be carefully considered. Due to the importance of a dining room table, we suggest investing in a quality table that will grow with your lifestyle and specific needs.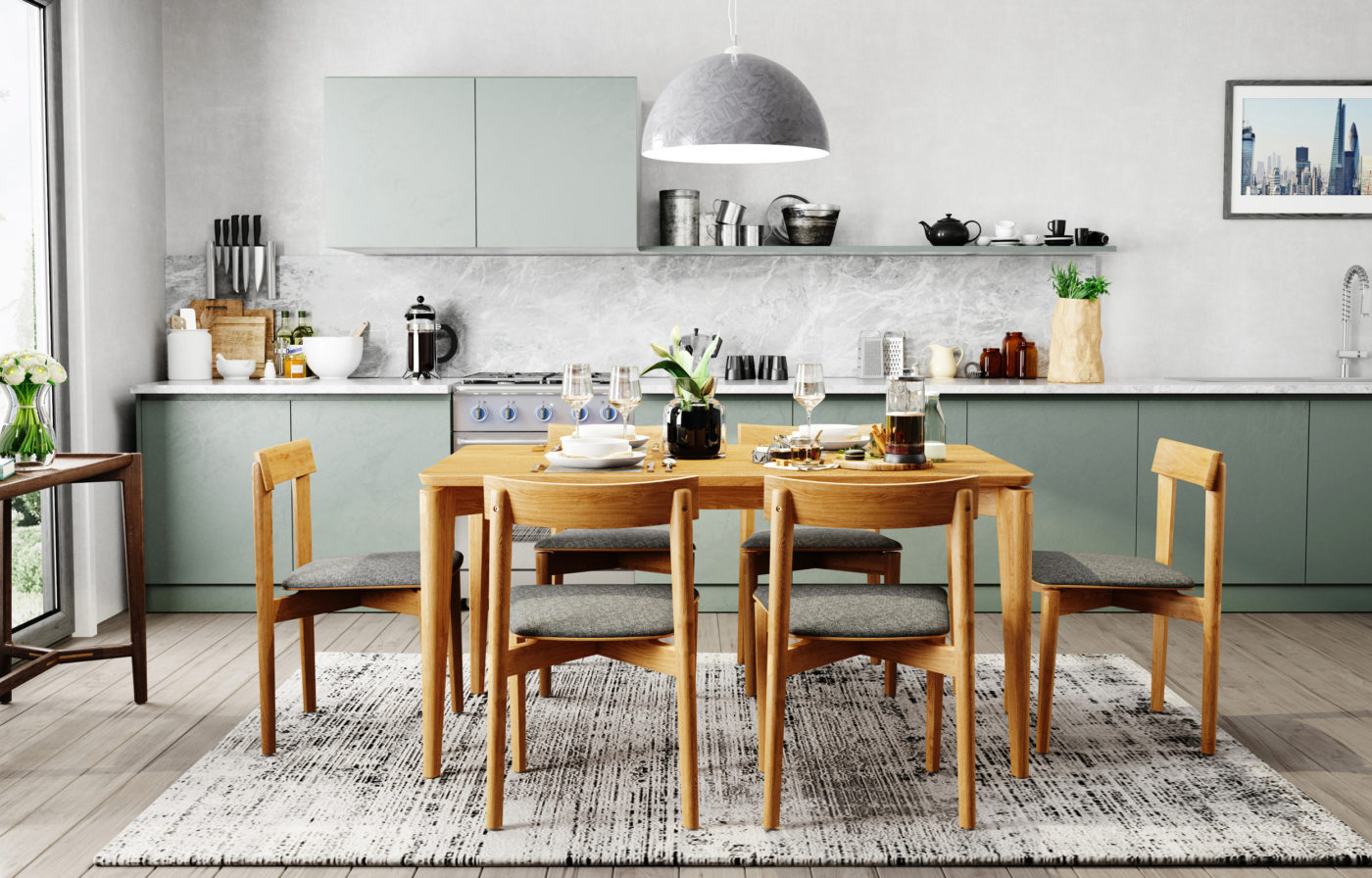 Treat your dining table as an investment, so before you visit the homewares and furniture stores looking for your new dining table, check out these important tips.
Choose a Robust Material
It can be a difficult decision choosing the material for your dining room table. Your final choice will be a balance between personal style, upkeep, the style of your home, and of course the price.
Timber Dining Tables
If you're making the investment of purchasing a dining table, you obviously want it to last a lifetime. Choosing a hardwood over materials like engineered or MDF (medium density fibreboard) timber, which is a reconstituted wood panel product, will certainly stand the test of time. Consider hardwoods like teak, beech, and oak, all of which will age beautifully. If you're looking for a more cost-effective option, consider rubberwood, which is a member of the maple family. It has a beautiful medium-blonde tan colour.
A less expensive option is plywood, and a plywood table can be extremely functional whilst looking very elegant. A good compromise would be a table that mixes composite wood with hardwood – for example, a wood veneer tabletop with solid wooden legs.
Glass Dining Tables
A glass dining table works well in modern spaces and in smaller spaces. If you have a smallish area, a glass dining table will create a felling of openness and allow light to filter through. Visually, the table will look light, and not heavy in your space. Glass tabletops come in many varieties, like tinted, frosted, or clear. The downside of having a glass table is that it can be scratched and there will always be finger marks and watermarks to be wiped off. However, more and more glass tabletops today are being manufactured from tempered glass, which makes them both heat and scratch resistant. A glass dining table will match a range of different décor styles, which is another plus for glass.
Marble Dining Tables
A marble dining table is a simply gorgeous statement piece, but it's bulky and it's heavy, which could be very costly if you're planning on moving and may be too cumbersome if you live in a rental. A marble table will last forever and works well in both traditional and contemporary settings. A cautionary word about the table sealant; red wine could stain, so we suggest using coasters and placemats in case of spills.
Dining Table Styles
Style should definitely play a part in selecting the right dining table for your home. Of course you'll be looking for a table you love but try not to be swayed by 'on-trend' or 'out-there' styles. Go for classic materials and colours that are versatile and will blend seamlessly with other décor and styles of furniture. There's a dining table out there to suit all interior design styles, whether it be Scandinavian, Industrial, Hamptons, or Country and Farmhouse.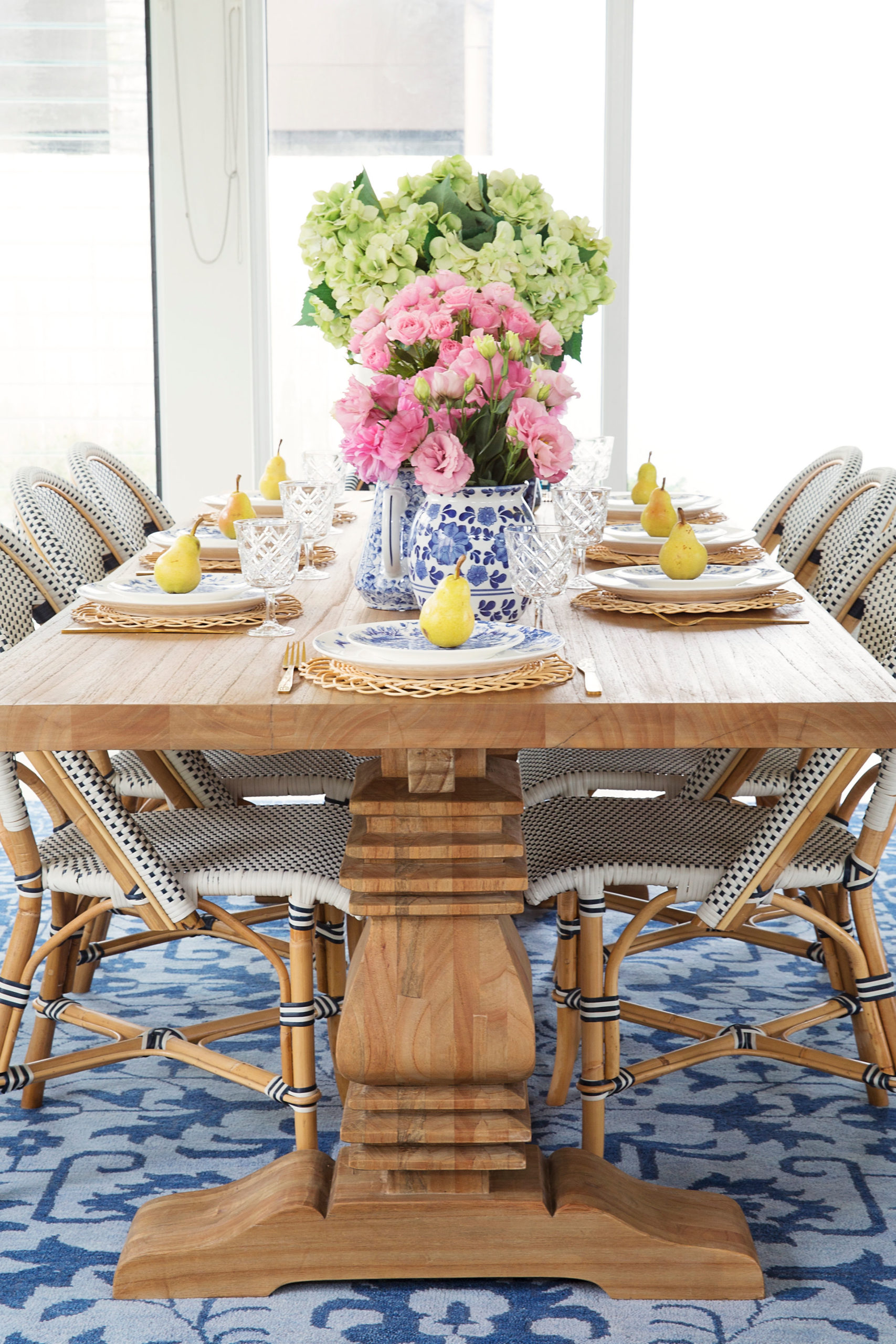 Scandinavian – Simplicity, contemporary, light-coloured wood, streamlined. This design style is about bringing minimalism and functionality together.
Industrial – Urban, rustic, dark metal, or distressed wood. Industrial interior design style is exposed and modern. Look for a metal or wooden dining table in brown, subdued black, white or grey.
Hamptons – This look is relaxed, coastal and elegant. Look for a gorgeous wooden table, classic lines, and carved legs. An oversized table with beachy vibes.
Country and Farmhouse – elegant and classic solid wood.
Sizes and Shapes
Dining room tables are typically square, round, rectangular, or oval shaped. If you're purchasing a table for the long-term, consider a shape and size that will match your needs and lifestyle for years to come. We suggest going as big as your space permits. An extendable dining table is the perfect choice if you don't entertain on a regular basis but would still like the option of creating more room when necessary.
Rectangular Dining Table: This is the most common shape of dining room table, and you'll find that the rectangular shaped table comes in more sizes, styles, and even extendable options as well. This shape is the ideal table for a narrow or long room. Remember to factor in the width of the table, especially if you love entertaining, because this will allow additional space for platters, glasses, and so on.
Square Dining Table: We suggest purchasing a square table if you have a square room. A square table brings people closer together, thus creating a more intimate dining experience. Just remember that the larger the table, the harder it will be to reach the food. If you're planning on entertaining more than eight guests you may be better choosing a square extension table.
Round and Oval Tables: Both of these shapes are best for smaller rooms because they take up less room while still offering a good surface area to place food and drinks. They're certainly the best solution for intimate dining, plus they're flexible in-as-much-as you can seat many people around an oval or round table. The larger the table the more people you can entertain.