Boho-Chic has become one of today's popular styling ideas for homes, especially in nurseries.
What is Boho?
The word 'Boho' is short for bohemian, which in broad terms refers to someone who's a non-conformist; they typically wear different or unique clothing and are focused on art above everything else. Their behaviour and tastes are unconventional. Boho has been closely associated with the 60s and 70s hippies, but while the hippie fashion was politically driven, Boho style is more of an aesthetic statement.
We first noticed Boho fashion gaining traction in Europe in the late 19th century, not to create a fashionable statement, but to make an artistic statement and to enjoy the imagined freedom. For many people, Boho style is blatant self-expression, with an added focus on environmental and social consciousness.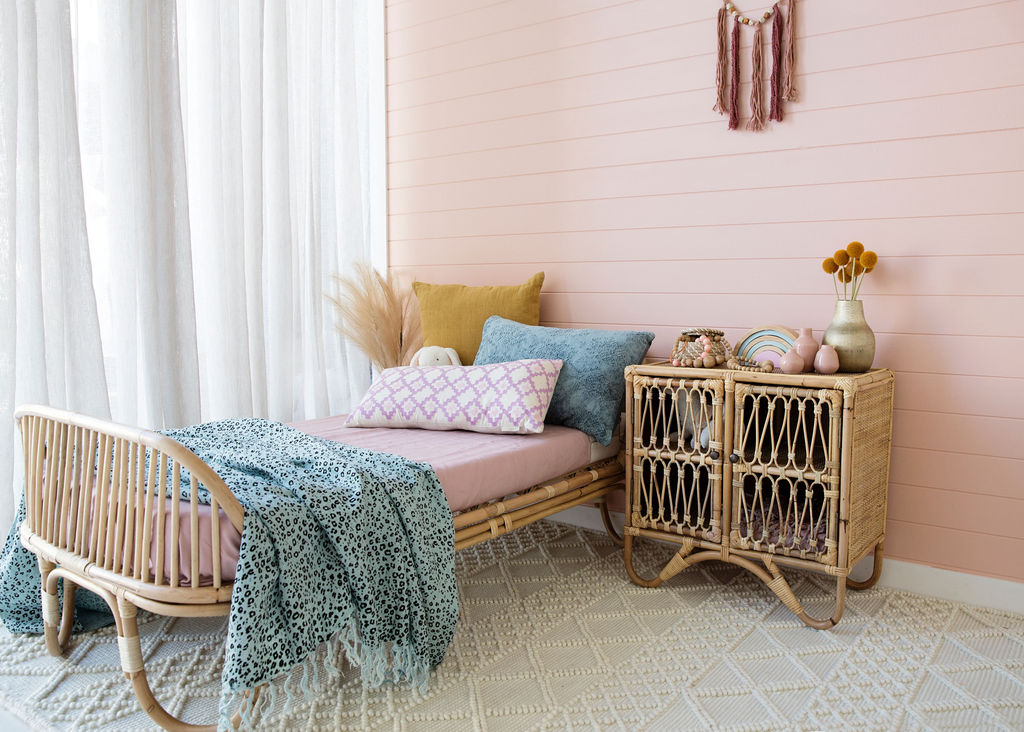 Boho and Interior Design
Today we're seeing a lot of bohemian touches in interior design, and it looks like they're here to stay. This style of designing is commonly referred to as Boho Chic; it's welcoming, relaxed, and it's catchy. Boho Chic can be incorporated everywhere in the home, from the bathroom and bedrooms right through to the kitchen.
Describing Boho Chic
Boho Chic could be described as an elevated, upgraded bohemian aesthetic. It's a merging of bohemian and chic styles, resulting in a more sophisticated level of classic bohemian. Boho Chic is urban focussed, finding its roots in old eras, rustic settings and nature.
Boho Style and Nurseries
The casual and layered style of globally-inspired Boho interiors is becoming more and more popular in homes today, but it's only quite recently that we've started seeing this particular decorating style in nurseries and kids spaces. Of course Boho-style is the ideal choice for children's areas because its neutral colours, handcrafted touches, and rich textures deliver a light-filled, warm, and folksy vibe.
This is a style that looks just as good toned up high for a complete Mother Earth overhaul or toned down for a minimalist approach. Because Boho style has a soothing, gender-neutral colour palette, we're not surprised at all that nurseries and children's areas are now being styled this way.
If you love the Boho look and are considering decorating your child's room, here are some tips on how to start.
Start By Choosing Your Own Boho Style
Before you do anything else, we suggest you create a wish list, or mood board, of products you love. Do this before you even begin shopping for homewares or furniture. Pay special attention to any recurring patterns that come up. For inspiration and unique ideas you might like to check out #bohonursery on Instagram. You'll probably notice that a lot of Boho-styled nurseries are dominated by neutrals like greys, creams, and beiges – and whites. These could be your base colours, and all you need to do now is inject some colour into the palette; colours like earthy yellows, muted greens, browns, and blush pinks, will all create a soothing and calm space and work beautifully in a baby or child's room.
Now that you've chosen your palette, you can build your décor collection and furniture items around these colours. Make sure the Boho look you choose suits your own specific tastes; you might decide to try a black and white theme; keep it minimal and natural; choose a 70s-style interior with lots of rattan; add a feminine touch and softness with shades of pink; or go eclectic with global and vintage items. Remember, this is your own version of Boho-style for your own home! Take your time when layering your décor, as this will help manage any over-styling or clashing pieces.

Nurseries should be soothing and neutral, and that's precisely what Boho style delivers; you can be sure this style will never date. Combine a linen upholstered armchair with soft rugs in natural fibres and you'll be creating a beautiful, soothing, and comfortable space.

​Use a Range Of Different Materials
Boho and nature go hand-in-hand, which is why many items are manufactured from natural materials. The favourite and most popular material would have to be rattan, simply because it's so versatile. It's used to produce décor items like storage baskets and pendant lights, and furniture items like baby's changing tables and cots. Other favourites include unfinished wood, bamboo, leather, jute, and linen; all of which work beautifully to create a relaxing atmosphere.
You might choose a plush rug like a faux fur or shag, or even a soft natural fibre rug to add comfort and warmth underfoot; a bohemian pattern or tasselled ends will add visual interest to the room.
Putting It All Together
Always keep in mind that Boho style is about self-expression so it's important to add your own personal touches, but there are certain techniques to achieving an Insta-worthy Boho look.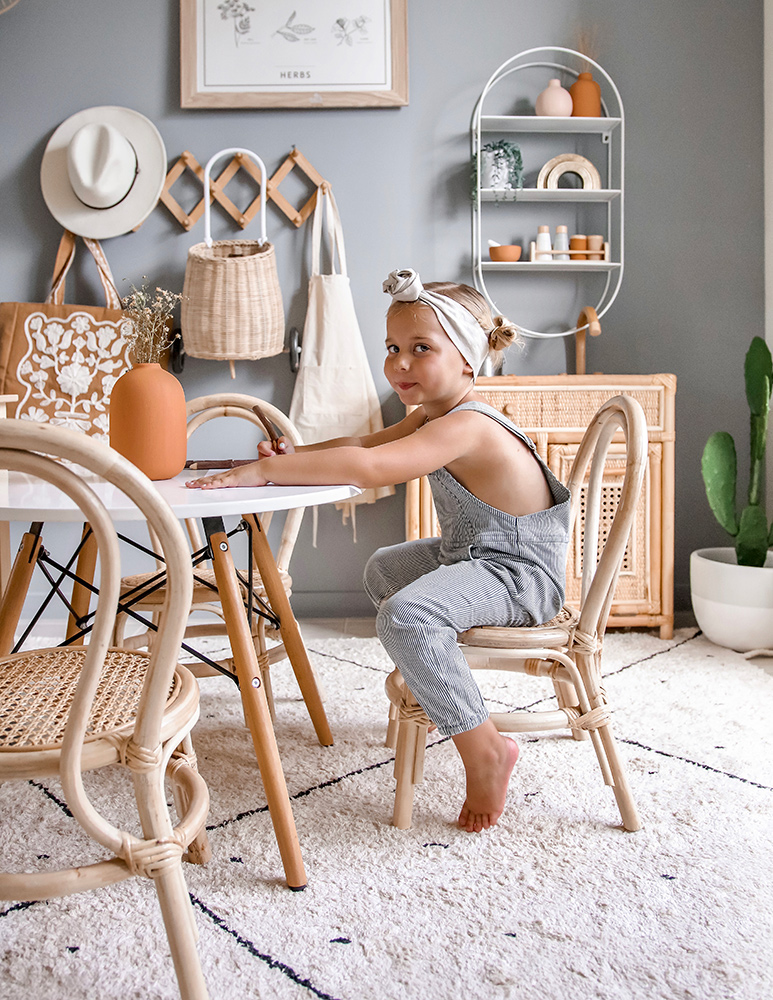 Consider incorporating vintage items that you'd like your child to grow up with, like a cowboy hat or a specific art print. Boho is all about texture, so don't be limited to art on walls. For tonal décor decorate with macrame wall hangings or dried flora – you can't get back to nature without some plant life so add some greenery for a little 'pop'. This could be real or faux plants – it really doesn't matter.
A feeding and reading nook will add to the serenity of the nursery, and while your child is still small don't forget a child's bookcase, a hanging chair or rocking chair, and a cosy warm
or 4 payments of $57.80 with Afterpay
Only 1 left in stock