In both todays and yesterday's homes the dining room has always been the most communal room in the house. Regardless whether it's part of an open-plan zone or a stand-alone room, your dining room should be functional, practical, and beautiful. Get the design right and your dining room will become the most frequented room in your house. A functional and stylish dining room should work perfectly for both your family and your guests.
When it comes to interior design articles and guides it does seem that the humble dining room is left out to a degree, which is a shame because this space is possibly the most social space in our homes.
A Dining Room Promotes Healthy Eating Habits
Perhaps one of the reasons we enjoy our dining room space so much is that it's a room where families come together and a room where (hopefully) technology is left out. If you can, create just this one room in your home where smartphones and other devices are not welcome, a room where people can take a moment away from social media to relax and enjoy each other's company.
Eating carelessly, or fast, makes it easy to consume more calories than our body requires.
A study carried out in 2013 discovered that when we don't concentrate on what we're eating, it can lead to weight gain and other digestion issues. Sharing family meals together in a beautifully styled dining room is the perfect and age-old answer to this potential issue.
A Dining Room Encourages Families To Bond Together
Many people consider their dining room to be a crucial part of their home; to them it symbolises status, strength, unity, and power – it's a place where family and friends come together to bond and share experiences that they perhaps would not have shared elsewhere. Their dining room is not a place to be used just a handful of times each year, like Christmas and the odd birthday celebration.
Ideally, your dining room will be a well-designed, one-of-a-kind space that leads to conversation among all people in the room. You can reflect your own lifestyle and personality in this room through the colour palette, gorgeous artwork, or the furnishings you choose.
We'll Help You Redecorate
Some people find redecorating a room challenging, others love every moment of it, and others find redecorating a complete mystery! Even for experienced interior designers, it's not always clear how one should start decorating and how to do it effectively and efficiently.
In this post we'll take a look at how to make the most of your dining room. Maybe your dining space doesn't need a complete overhaul and you're just looking for new and inspiring ideas to change things up a bit. Take a look at our tips below and hopefully you'll find the inspiration you need to make that small or big change you're looking for.
No. 1: Consider a New Layout
Take a closer look at the furniture placement in your dining space. Can you make your furniture items stand out more with a different placement?
No. 2: Add To Or Change Your Tabletop Décor
Changing the items that live on your dining tabletop is a simple way to redecorate your dining room. Source new inexpensive items, change them around, or simply rotate them for a small change. Sometimes we're inclined to get stuck and we leave our decorations in the same place for months or even years.
No. 3: Introduce Art
Adding just one vibrant piece of art will promote a sense of relaxed elegance, giving your dining space depth and an interesting sense of drama.
No. 4: Mix It Up
You don't need everything to match perfectly in this space. Create a mix of various objects and furnishings and neither you nor your guests will ever tire of this interesting environment.
No. 5: Layer Your Accessories
Layer your accessories, like rugs, art, even your place settings, so your family can enjoy a relaxed yet inspiring space.
No. 6: Make It Intimate
The more you make your dining room comfortable, relaxed, and intimate, the more time you'll want to spend there. Consider what this would mean to you; we're thinking lovely hues and a small grouping of furnishings with plush surfaces.
No. 7: Mix and Match Wood Tones
Regardless of the size of your dining room, wood tones add a warm and polished vibe. Most interior designers agree that it's not necessary to match your wood tones because small nuances between furnishings and flooring encourages the eyes to travel.
No. 8: Use Past Memories
There's a deep connection between our culinary experiences and our memories, so use these memories to transport your family members and guests to moments from your past. We love the idea of finding comfort in the familiar, so think about injecting elements of your past through either a grand gesture or a vintage quirk.
No. 9: Good Lighting Is Essential
The lighting elements you choose for your dining room are essential to a stylishly designed space. Consider romantic, mood enhancing, and ultra-bright – these three stages of lighting will support your dining room right throughout the day.
No. 10: A Dramatic Gesture
It's actually quite easy to add drama to your dining room, regardless whether your space is contemporary or traditional. Consider oversized palm fronds, large scale floral arrangements, or sculptural decorative objects. There's a wide choice here, so you can choose very dramatic or just a small sense of drama.
No. 11: A Mirror Is A Must!
No dining space is complete without at least one mirror. Add a glamorous, timeless touch by adding a smart, framed mirror to your room, and watch your space change completely.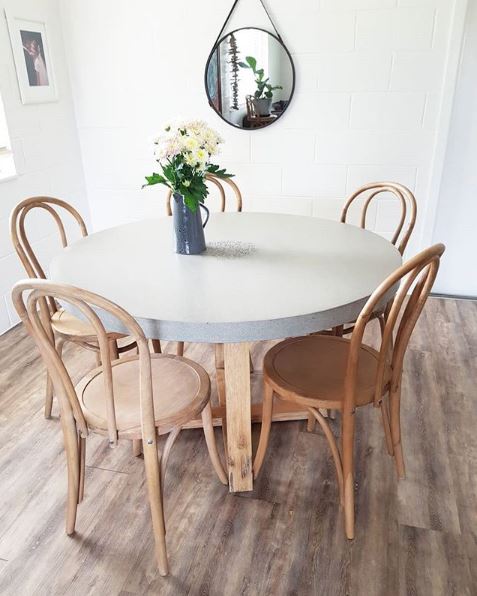 Some pieces you may like