TV provides us with a window to the world and has become one of the most important pieces of furniture in our homes. We can watch TV in our living room, bedroom, and even the kitchen. TV has something for everyone; from our favourite shows, movies, and sports teams, to staying informed about current affairs and the world around us. We can learn about what's happening in other countries, we can laugh at our favourite sitcoms, or be scared by a horror movie. More importantly, TV is a great way to relax after a busy day. Most of us look forward to unwinding in front of the TV after a long day at work.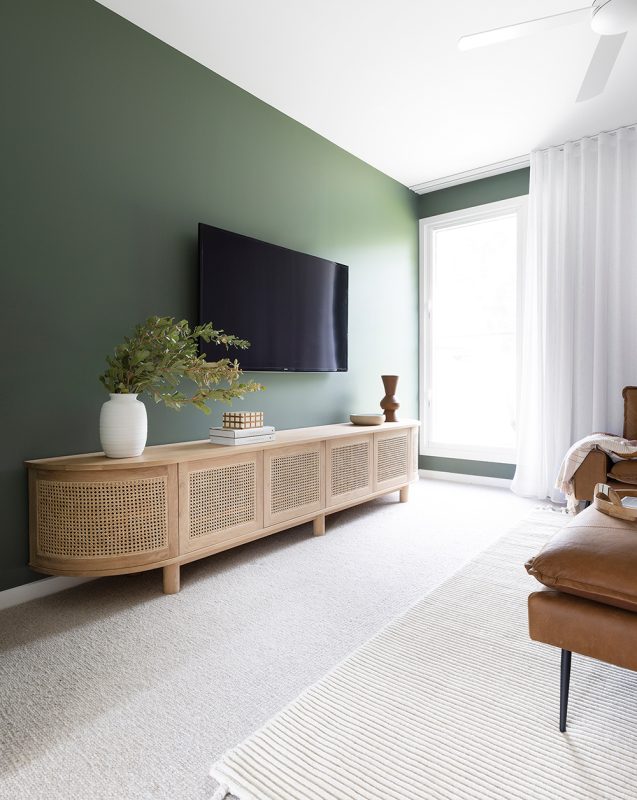 How To Choose The Right TV
TV units come in all shapes and sizes, which can make it tricky to find one that fits perfectly into your home. Before you start shopping, it's important to measure the space where you want to put the TV unit and make a note of the dimensions. This will help narrow down your options and make sure that you don't end up with a unit that's too big or too small. It's also worth considering the style of TV unit that you want. Do you want a sleek and minimal design or something more traditional? And what kind of finish do you prefer? Once you've got a good idea of what you're looking for it will be easier to find a TV unit that meets all of your needs.
Consider the resolution you want. HDTVs have much higher resolutions than standard TVs, so if you want the best possible picture quality, HD is the way to go. However, HDTVs can be more expensive than standard TVs, so it's important to factor this into your budget when making your decision.
Finally, think about what kind of TV would best suit your needs. If you plan on using your TV for gaming, you'll want to make sure it has a high refresh rate. If you just want to watch movies and TV shows, a standard TV will suffice.
Let's go through Abide Interior's entertainment unit size guide, including some tips on how to select the right television set for your home.
Your New TV
No. 1: Choose The Size and Weight
TV buyers today are faced with more choices than ever before. Not only do they have to decide on the make and model of their TV, they also have to choose the right size and weight TV for their needs.
The first step in choosing the right TV is to determine the size of the TV unit. This can be done by measuring the width, height, and depth of the TV unit. Once you have determined the size of the TV unit, you can then begin to look at the different sizes and weights of TVs that are available on the market.
It's important to remember that TV sizes are not always proportional to their weight. A heavy TV may not necessarily be a large TV, and a lightweight TV may not be a small TV. As such, it's important to take both size and weight into consideration when choosing a new TV.
In Australia, the average TV size is 65 inches. This is significantly larger than the global average of 55 inches. Of course, there are a variety of factors to consider when choosing a TV, including resolution, contrast ratio, and refresh rate. However, size is also an important consideration. If your living room is quite small, you may not want a TV that takes up a lot of space. Conversely, if your living room is large, you may want a TV that provides a more immersive experience. Ultimately, the best TV size for your home depends on your personal preferences and the layout of your living space.
TV units come in all shapes and sizes, so it's important to determine exactly where the TV will be placed. If you're putting it in a corner, for example, you'll want to make sure you get a TV unit that's the right size and has the right number of shelves. You also need to ensure that the TV unit is stable and won't tip over easily. Alternatively, if you're putting the TV on a stand, you need to make sure the stand is the right height and has enough space for all your TV equipment.
No. 2: Choose The Height Of Your Unit
Once you've found the perfect TV unit, there's one more important step to take: making sure that your TV is positioned at the correct height. The centre of your TV screen should be positioned at eye level for the best viewing experience. By taking a few minutes to adjust the height of your TV unit you'll be able to enjoy your favourite shows and movies in comfort.
Our sitting down height is typically half of our standing height, so you can use this figure to determine the perfect height for your TV so that it easily sits in your eye line. If you're going to be using a soundbar or other speaker system with your TV, make sure that the system will fit on your chosen stand with enough space for the cables to go round the back.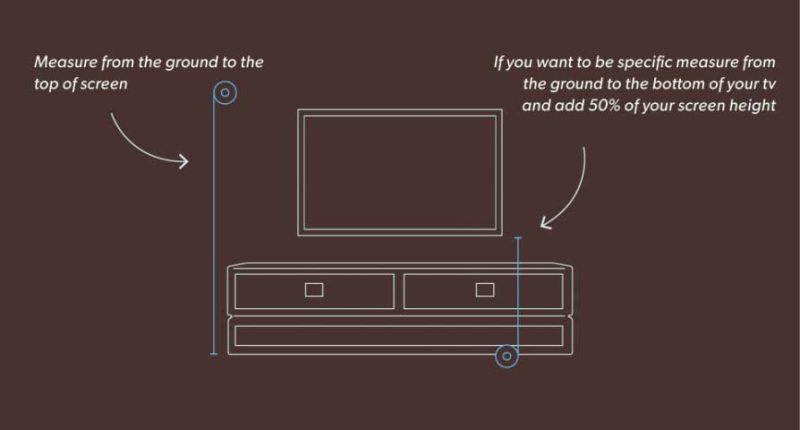 When deciding on the perfect TV stand for your home, there are several things you need to take into account.
The first is the size of your TV. You should ensure that the stand you choose is big enough to accommodate your TV.

The second is the height of your TV. You need to make sure that the stand is tall enough so that you can comfortably watch TV at eye level.

The third is the weight of your TV. The stand you choose must be able to support the weight of your TV.

The fourth is the type of TV you have. If you have a plasma TV, you need to ensure that the stand you choose is made specifically for plasma TVs.

Finally, you need to take the price into account. You want to make sure that you find a stand that fits your budget.
When it comes to choosing the perfect TV stand, there's no one-size-fits-all solution. You should take into account the size, height, and weight of your TV, and the type of TV you have. Once you have all of this information, you can start shopping around for the perfect TV stand for your home.
No. 3: Measure The Width Of Your Unit
There are a few things to keep in mind when choosing the right TV for your space –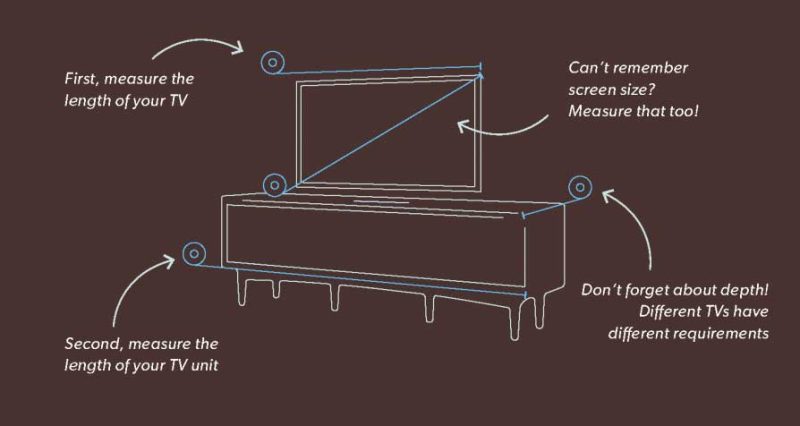 If your TV is too wide it will look disproportionate in the space. If it's too narrow, it may not completely fill your vision when you're watching. We suggest looking for a TV that's either as long as, or narrower than your entertainment unit. For a cleaner, more minimalistic look, keep the lengths even. However, if you leave spaces on either end of the unit it will provide space for some fancy decorating!
No. 4: Compare Dimensions Of Popular Units
Here's our handy guide to help you choose the right entertainment unit. Listed are the most popular sizes of TV units.
| | | |
| --- | --- | --- |
| TV Unit Width (cm) | Recommended Minimum TV Size (diagonal) | Recommended Maximum TV Size (diagonal) |
| 75cm  | 30 inches | 45 inches  |
| 87cm  | 35 inches  | 50 inches |
| 100cm | 40 inches  | 55 inches |
| 140-160cm | 45 inches | 60 inches |
| 160-180cm | 50 inches | 65 inches |
| 180cm+ | 55 inches | 70 inches |
No. 5: Measure From Couch To TV 
The next step to ensure optimal viewing is to determine the distance between the TV and your sofa. This is very easy to do! Simply know the screen size and multiply it by 1.2. Let's say your screen size is 40", this means you should be sitting 1.3m or 48 inches away. Have a look at this guide –
| | |
| --- | --- |
| Screen Size | Viewing Distance |
| 30" | 0.94m |
| 35" | 1.1m |
| 40" | 1.3m |
| 45" | 1.4m |
| 50" | 1.6m |
| 55" | 1.7m |
| 60" | 1.9m |
| 65" | 2m |
No. 6: Now To The Fun Part – Choose A Material and Finish
This is the best part! Now you get to decide the finish, material, and overall aesthetic of your new unit. As you probably already know, there's a wide range of TV units and cabinets available on the market today, and they come in all different styles.
You probably want your new furniture item to blend seamlessly into your space, so have a think about the construction of your new unit. What material is it made from? If your space currently includes timber furniture items in a certain tone, it could be worthwhile selecting something that easily matches this aesthetic. Perhaps your space is sleeker and more industrial; in this case, you might want to consider a metal construction or timber in black and white. Coordinating your furniture items in this room will create a cohesive, elegant space.
There are other more practical reasons to consider the material and finish of your new entertainment unit. The right choices will determine the wear and tear of the unit over time. More expensive finishes like marble, stone, and top-quality wood will certainly last longer, whereas lesser quality woods and vinyl will be less expensive, but also less durable. A good choice would be metal due to its lasting power, but metal doesn't always match with existing furniture items.
Below we've listed our own favourite styles of entertainment units –
Hamptons: Entertainment units come in all shapes and sizes, but when it comes to Hamptons-style homes there are a few key things to look for. First, the unit should be relatively simple and uncluttered in design. This is in keeping with the overall Hamptons aesthetic of understated elegance. Second, the unit should be made from natural materials such as light wood or stone. Ideally, Hamptons-style furnishings will be light, clean, and bright. This ties in with the Hamptons preference for earthy and organic materials. Finally, the unit should be sturdy and proportionate to the size of the room.
Coastal: When we think coastal design, we think rattan, which is both trendy and timeless. Rattan is so on-trend today that it's hard to think of a more perfect material for your coastal-inspired TV unit. A fabulous rattan entertainment unit will introduce a laid-back beachy vibe into your space.
Scandinavian: Entertainment units are the cornerstone of any Scandinavian-design-inspired space. And it's easy to see why: their simple clean lines and light colours pair perfectly with the relaxed aesthetic that's so characteristic of this style. Entertainment units are usually crafted from natural materials like wood and stone, which helps to create a warm and inviting ambience. In terms of design, entertainment units typically have clean, straight lines and a minimalist aesthetic. This allows them to blend in seamlessly with the rest of the Scandinavian-inspired décor.
In Conclusion
Abide Interiors is a leading provider of entertainment units that combine style with functionality. Entertainment units provide the perfect way to display your television, DVD player, and other media equipment. They are available in a variety of styles, including contemporary and traditional, to suit any décor. Abide Interiors offers a wide range of entertainment units that are sure to meet your needs. Whether you're looking for a small unit for your bedroom or a large unit for your living room, Abide Interiors has the perfect solution for you.
or 4 payments of $326.25 with Afterpay
13 left in stock