Sideboards are essential to most homes and they're more than just decorative. This type of table is taller than a coffee table and lower than a counter. They're available in different sizes and styles as well, so they can be easily integrated into any home. Today, we will help you choose the right modern sideboards for your needs and provide a few styling tips!
How to Choose the Right Sideboards
As always, choosing any piece of furniture requires you to consider a few key elements. Here are the ones you need to consider to choose the right sideboards for you:
Determine the Function of Your Sideboards
The first you need to decide is what the function of your sideboards will be, so you can know what your priorities are. For example, if you only want it to be decorative, your priority will be having enough display room for the items you have in mind. Whether that's art pieces, vases, etc. If you need extra storage, you'll want to focus on designs that have cabinets, drawers, or shelves.
You could also use a sideboards as an extension of your workspace at home. If that's the case, you need to make sure there's enough room for a laptop and everything else you need to have. Plus, the height should allow for a chair and a comfortable sitting position. Sideboards can also work as room dividers if you have open areas. In that case, you should consider style and length, depending on how you want to divide the space.
Size Your Sideboards
Size is easily the most important factor to consider when choosing a sideboards. You want this piece of furniture to complement the space instead of overpowering it. There's a great variety of heights and lengths to choose from. To get the right one, you just have to consider how much space you're working with and your own personal preferences.
Now, the standard height for a sideboards ranges between 28 to 32 inches or 71 to 81 centimeters. However, there are shorter and taller options to cater to everyone. We recommend you consider the available space, the height of the other furniture in the space, and the function of the sideboards.
For example, if it's for decorative purposes, going with a taller option will highlight the piece. Tall sideboards will also work great if the space you're working with is quite generous. If you prefer functionality, a lower sideboard will be more comfortable to use. Low sideboards are also the right option if your space is compact and you don't want this piece to dominate the space.
Choose a Style that Suits You
Sideboards are available in many different styles, so you'll have a lot of options to consider. Here's a short overview of the most popular sideboards styles:
Modern Sideboard: Modern sideboards are sleek and minimalist. They often feature geometric shapes and they're often made of materials like metal, wood, and glass.
Timber Sideboard: These types of sideboards are made of solid wood and they suit rustic or farmhouse decor styles. They can be made of a variety of woods and they add a lot of warmth to any space.
Stone Sideboards: Made of granite, marble, or limestone, stone sideboards are durable and they can look very luxurious. They're also available in different kinds of designs.
Wood Sideboard: Wood Sideboards are made of solid or veneered wood. They're available in many different styles, including modern style. They're very versatile and you can easily find one to suit any room in your home.
Hamptons Sideboards: Hamptons-style sideboards are sophisticated but also coastal. So, they're available in different kinds of designs. Most of them are made in neutral colors and they're very easy to decorate for a beachy yet elegant vibe.
White Sideboards: White sideboards are very classic and versatile. They can be added to any space and they're made of many different materials. They're also very easy to accessorize.
Rattan Sideboards: Made of rattan, this type of sideboards is durable and perfect to create a warm, casual, or tropical space. They're available in different designs and the beauty of the rattan material will stand out.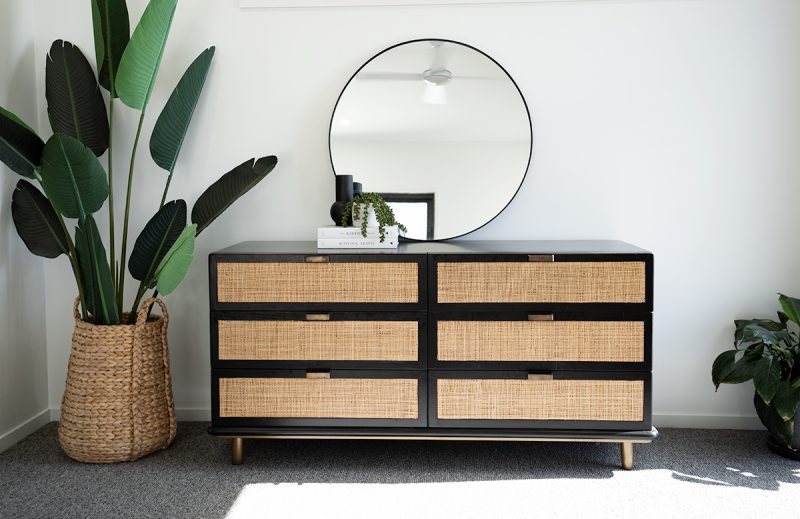 Black Sideboards: Black sideboards are as popular as the white ones because they're very versatile as well. They look sleek and modern, they're available in different designs and materials, and they add a touch of drama to any room.
Consider each of these sideboards styles carefully along with your own style to find the right path.
Styling Guide: How to Style a Sideboard
Once you have a sideboard, you can have a lot of fun styling it. Now, there are many different things you can do, so consider:
Adding a focal piece and building around it. If you have something like an interesting vase, an art piece, a lamp, a sculpture, a mirror, or anything else you want to highlight, that can be your focal piece. It will catch the eye very quickly and spruce up the space.
Playing with item heights. If you use pieces of different heights, you'll be able to create a nice composition of decorations. For example, using candle sets or stacking books of different sizes makes for a simple yet effective styling option.
Mix and match. Mixing and matching different kinds of items can help you add layers to the sideboards decoration. It will make it look more interesting, just make sure you don't overdo it. Otherwise, it will look cluttered.
Final Words
Sideboards are very much in style and if you want to add one to your home, following today's guide will help you make the right choice. If you need inspiration, browse our shop to see some of the best Sideboards options in a variety of styles!