If you knew that your entrance or hallway gives guests a hint at what lies beyond, do you think you would style this small but important area with more thoughtful and practical decorating items? Many people do of course, but way too many of us use our entrance or hallway as a drop-zone for absolutely everything – from kids shoes and schoolbags right through to coats, parcels, umbrellas, and shopping bags – and we forget just how lasting first impressions are.
Your entryway sets the tone for the rest of your home, so if you have failed to use this area to accommodate the daily traffic of your household, it will very quickly become chaotic. What a shame, especially when this area is the very first thing your guests see when they enter your home. And, of course, you have to look at this clutter every day too!
Whether you have a dedicated foyer area, have a soaring ceiling, or are working with a cramped corner, you can still transform your space into a stylish entrance. Why not make a clear statement of your home's style by following the following practical and thoughtful decorating ideas for hallways and entranceways. Read on to discover how to style a small hallway to make a great first impression.
No. 1: Brighten Up The Space With Colour
When you're working with a dark hallway or small entryway, we suggest that the most effective ways to make it appear larger are to use pale neutral tones and maximise natural light. Consider using pale furniture with white walls. Of course you can still be creative; why not make a feature of your hallway by giving it a distinctive pattern or colour. Perhaps wallpaper one section, try colour blocking, or either hang a statement piece or art or place a cluster of smaller art pieces together to add vibrance and colour.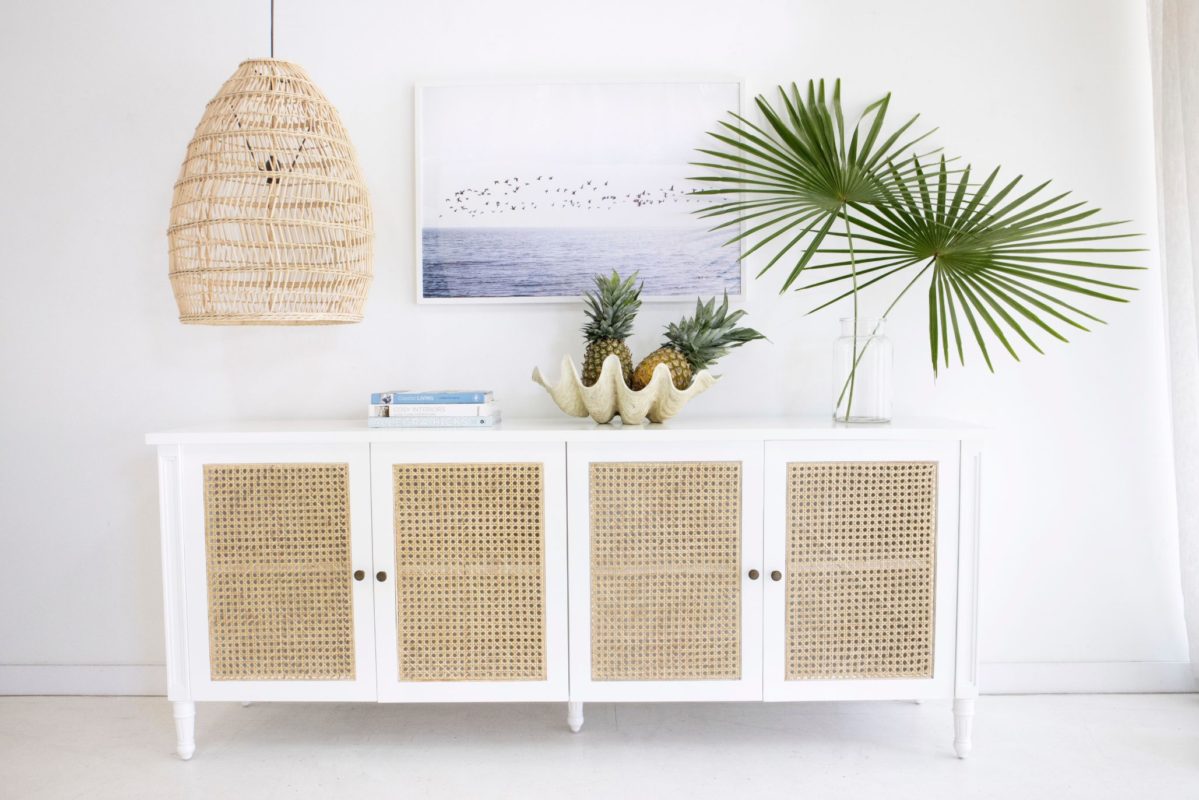 No. 2: Be Careful When Choosing Hallway Storage
Small spaces can be tricky when selecting furniture items; keep storage pieces minimal and remember that 'less is more'. Both hallways and entrances benefit from carefully placed furniture. A hall table should not become the spot to drop keys and other odds and ends, it should be somewhere to place flowers, a lamp, or a lovely piece of artwork. In fact, your hallway is the ideal place to showcase a statement mirror, a sleek console table, a sculpture or bold painting, or a beautifully tiled floor with a vibrant colour palette. Any of these will lift the overall ambience of your home.
There are a wide range of slimline solutions for you to choose from, including shoe cabinets, halls stands, and console tables. If you have a tricky corner to work with try a hall tree or coat rack for parking jackets, scarves, and umbrellas. If you decide to go with a console table, choose one with clean, simple lines and slim legs – place storage baskets underneath to make good use of the space.
No. 3: Create the Illusion of Space by Adding a Floor Runner
The most effective way to add texture to a space is to lay a rug or floor runner. Not only do they absorb noise, they also protect your flooring. Floor runners specifically are great for smaller entryways because they create parallel lines along the floor and automatically draw your eye to follow the entire length of the hall, thus creating the impression of space. Having a bright runner is also a lovely greeting for guests as you open the door.
No. 4: Strategically Placed Mirrors Can Work Wonders!
Another fantastic way of creating the illusion of space is to use a mirror, or mirrors. They can brighten up any dark area, at the same time adding both width and length. And mirrors have a practical purpose; you can quickly check yourself as you dash out the door.
No. 5: Add Mood and Task Lighting to Your Space
Perhaps there's already an overhead light in your space to avoiding stumbling around in the dark, but why not consider a statement pendant light. It will add a point of interest to your space. A lovely, shaped pendant or shade will guide eyes upward, taking the emphasis away from the smallness or narrowness of the entranceway. If you have a console table and like the idea of adding mood lighting, you now have a perfect base for a table lamp.
or 4 payments of $237.25 with Afterpay
Only 1 left in stock
or 4 payments of $137.25 with Afterpay
Only 2 left in stock