For some of us our sofa is what we daydream about during our stressful days; we visualise relaxing in comfort on our beautiful sofa when all our chores are completed and we're free to sit back and enjoy the magic of complete and total luxury. For many of us, our sofa is the most important and valued piece of furniture in our home. It's where we relax, watch television, and enjoy family get-togethers, so no wonder we place such importance on this one furniture item.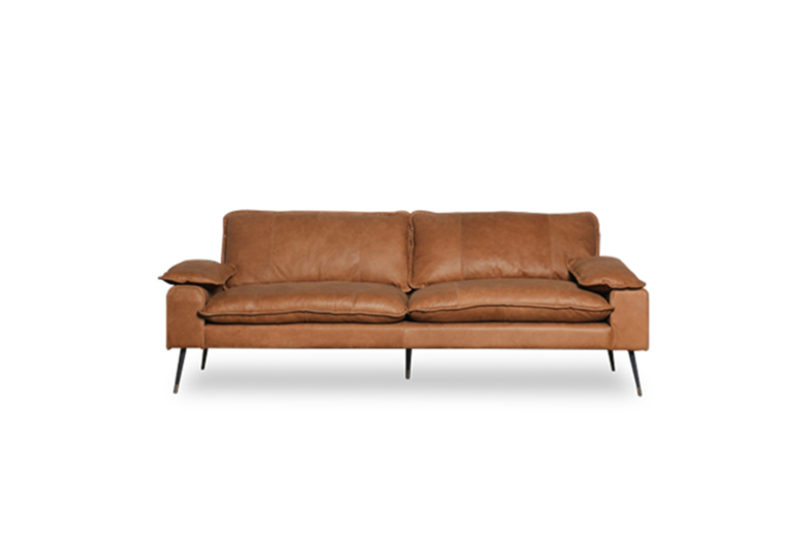 So, how do we choose the right sofa for our home? It shouldn't be the most difficult decision we have to make, but there are a few points to consider when looking for the perfect mix of style and comfort.
Points to Consider When Choosing The Right Sofa
The first question to ask is how many people will typically be sitting on the sofa.

How do these people relax? Do they sit curled up, straight, or with their feet tucked up underneath their body?

Are you considering a sofa that fully reclines?

How much space do you have for this sofa?

Are there children and/or pets in your home?

Have you considered how you will handle spills?
All the above points are vital when determining the durability and comfort levels of the sofa and how it will be located in your space. Family members who like to read, or take a nap, may prefer a little more luxury than families with small children and pets who may choose a sofa that's more practical and easy to clean. While it's important that you choose a sofa you love, it must also suit your lifestyle. If it doesn't, you could end up wishing you had made a different choice.
Sofa Length Is Very Important
The length of the sofa you ultimately choose should be determined by how much space is available and how many people you anticipate using the sofa on a regular basis. If you have limited space and there's only one or two people living in your home, a 2-seater or loveseat would be ample. In this case, you should probably have additional seating available, perhaps an ottoman, if you think you'll be hosting guests. Alternatively, if you have sufficient space and there's just the two of you, why not consider a 3-seater sofa. Now you'll have plenty of room to relax and snuggle up together.
If you have a family and host on a regular basis, we suggest a chaise, sectional, or modular sofa. These are all a bit bigger and they're a great social sofa; they provide enough space for people to sit together or for some to lie down. These types of sofas are also the ideal furniture piece for sectioning off an open plan room – use it to separate your living space from the dining space or from the kitchen. Just make sure to measure accurately and ensure there's actually sufficient room for this type of sofa – you'll need to allow for the arms of the sofa, plus allow extra space for the coffee table and/or side tables.
Another great option for those who live in a small space but enjoy stretching out is a reclining sofa. There are two and three seater sofas that come with a range of reclining options, so it's not hard to choose your own comfort level. Again, measure carefully and ensure there's sufficient space between the edge of the seat and other furniture pieces, like a coffee table or side table, so that when the footrest is lifted up no feet or legs are injured.
Another alternative to consider is a sofa bed, which you can usually purchase in two or three seater lengths. If you don't have a guest room in your house, a sofa bed can be the ideal choice; plus they're great for cosying up together on movie night!
How to Determine Sofa Seat Depth
Note that there's a difference between the seat depth of your sofa and the overall depth. Seat depth is the space you occupy when seated – it's the measurement from the front of the seat cushion to the back of the cushion, not the back of the sofa. Maximum seat comfort means you should easily be able to sit on the seat without having to support your back; your knees should be at a 90-degree angle and your thighs should be completely supported.
The depth of an average sofa seat typically measures between 53 and 60cm. If you prefer to sit in a more upright position, we suggest choosing a seat depth between 50 and 55cm, but if you like to lie down or slump down into the cushions, we suggest a seat depth of between 58 and 66cm. Note that decorative cushions will reduce the depth of the seat.
How to Determine the Right Seat Height
When we say seat height we're referring to the distance between the top of the seat cushion and the floor – this figure will range between 38 and 50cm. This is an important measurement because your feet should reach the floor and your thighs should be resting easily on the cushion. Of course, the firmness of the cushion should be factored into this measurement. If the cushion is soft you'll sink into it, which means the height while seated will be lower than originally thought. Also consider the depth, because the lower the sofa is the harder it is to get out of it.
How Important is Back Height?
Back height is very important when choosing the right sofa. Consider your torso height, how you sit on the cushions, and the location of the sofa in your space. If you plan on putting the sofa in the centre of an open plan room, a sofa with a tall back could obstruct the view of the space, making the space appear smaller than it actually is. On the other hand, a smaller sofa with a lower back height might not be as comfortable, especially if you find that your neck and head remain unsupported.
Various Sofa Styles
Let's now get down to the nitty-gritty of choosing the perfect style of sofa to suit your home and your personal requirements. Consider the room or space where the sofa will be placed and the general theme of your home. Is your home contemporary Hamptons, or is it more mid-century? Both of these styles have quite specific aesthetics, so try not to deviate from your particular style. Your sofa could end up looking completely out of place.
Think about being daring and adding a gorgeous green velvet sofa to your space; or perhaps you would prefer using neutral colours to create a calming space – think white and tan. Alternatively, go for formal elegance with a leather chesterfield. Whichever sofa you purchase, it will induce a certain feeling, so be sure of the feeling you wish to invoke when selecting your perfect sofa.
Various Sofa Fabrics
Every sofa fabric has its drawbacks and it's benefits, but what's most important is that you choose a sofa that's practical for your space and fulfills the feeling and comfort you're looking for.
​Fabric Sofa: Fabric sofas are amazingly and instantly comfortable, and they're very cost-effective. The downside is how to recover a fabric sofa from spills and stains. These types of sofas are quite durable, but over time you will begin to notice some thinning and fading due to general wear and tear.
Slipcover: Slipcovers are a great idea; they're also the perfect alternative if you would really like a fabric sofa but you're concerned about keeping it clean and fresh. Slipcovers are quick and easy to remove and put in the washing machine. The casual, carefree look of slipcovers promote a soft and relaxed feel to any room.
Leather: Leather sofas are elegant and long lasting. In fact, as they age the leather becomes more supple, simply adding more luxury to what's already a lovely piece of furniture. You do still need to care for your leather sofa but they're incredibly quick and easy to wipe down and they don't retain pet hair or odours. The downside to a leather sofa is that it can be scratched or torn by pet claws, the leather can be damaged over time by sunlight exposure, and the leather can stick to your skin when the weather is muggy or hot.
For further information on leather and faux leather sofas please check out our handy guide to purchasing a leather sofa.
Click here to view our wide range of sofas.
or 4 payments of $389.75 with Afterpay
Only 4 left in stock
or 4 payments of $297.25 with Afterpay
6 left in stock
or 4 payments of $406.25 with Afterpay
Only 2 left in stock