While your backyard can truly be a welcoming oasis, it simply won't have the right effect unless you select the right furniture in the right fabrics. Our aim with this buying guide is to help point you in the right direction when it comes to measuring up, choosing the right material, and the right furniture pieces for your little piece of paradise. We'd love to help you create an outdoor area with all your comforts; a little space of outdoor heaven you'll be proud to share with family and friends for years to come. Regardless of whether you plan on hosting fabulous outdoor parties or you're just planning your own private space for some quiet time-out, we want to help you make the very best investment.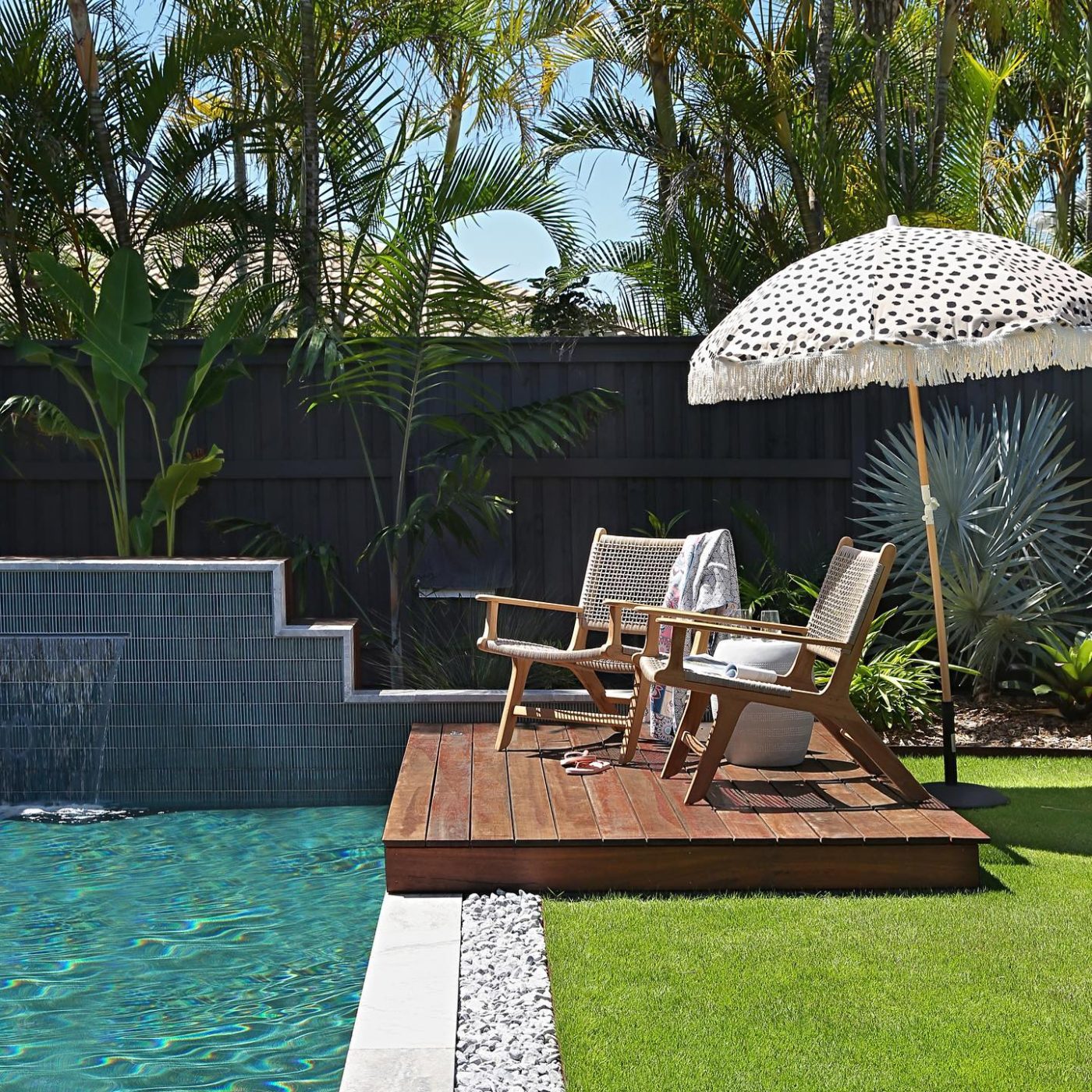 Set a Budget
Before you do anything else, we suggest taking inventory of the furniture items you already have, what you think you'll need to purchase, and how much space you have to work with. Indulge yourself when it comes to larger foundations pieces, like lounge seating and a dining setting that can stay outdoors throughout the year.
** Abide Interiors Can Help! Navigate your way through Abide Interior's huge range of products by price range. This will help you determine which options work best for you.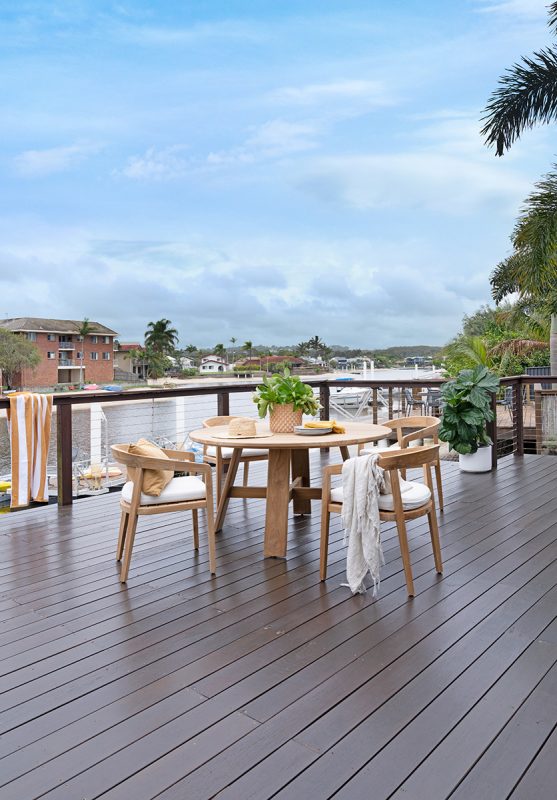 Start By Measuring Up
How much space do you actually have? Are you working with a small balcony or do you have heaps of room for lounging and having fun with the kids? Decide what type of space you're trying to create, then make a list of the practicalities you really want to include, such as shade, comfort, lighting, specific materials, and so on.
Now that you've determined the theme of your space, measure up very carefully, including the complete space, paying close attention to the dimensions of the furniture that will suit this area. Every centimetre counts, so be quite specific with your measurements. It's always a good idea to mark out the dimensions in newspaper; this will give you an idea of how the furniture will ultimately look.


If you'll be moving items through doorways, measure these too. You don't want to damage the walls and front/back door manoeuvring furniture items around. These measurements should also include narrow points, like bannisters on stairs and doorknobs/handles.
If the moving space is very limited, try rotating items on the diagonal to help get through narrower spaces. And if things are still a little tight, you may need to take your door off the hinges. It's always a good idea to prepare your space beforehand and remove items that could get in the way, things like shoes, pet beds, or kids toys. Also, pay attention to lighting fixtures and wall art to ensure nothing gets damaged while you're moving things around.


Choosing the Right Materials for Outdoor Furniture
Let's now go through the appropriate materials for your outdoor items; materials that will resist moisture if you live near the ocean, withstand wind if it's typically breezy in your area, and materials capable of handling rough use if you have pets or children. We always suggest that the best way to ensure the longevity of your outdoor furniture is to store it undercover when not in use. It may be in a shed, under a patio cover, or even just using some furniture sheets to drape over the items.

Aluminium: Aluminium is typically the common choice for a contemporary look. It's lightweight, rust-resistant, and easy to rearrange when required. The most lightweight option is tubular aluminium, while cast and wrought aluminium are still easy enough to manoeuvre for storage but are strong enough to withstand wind.

Powder Coating: Powder coating is a term you'll often see when describing outdoor furniture; sometimes even with indoor furniture items. Many aluminium furniture items come powder-coated, which is great because it makes the items easy to clean, they require very little care, and it provides additional protection against the elements. Powder-coating is non-toxic, which not only provides a durable and tough finish to the furniture items, it 's also safe for both you and the environment. Powder-coated metal outdoor furniture will definitely stand the test of time much better than items not powder-coated.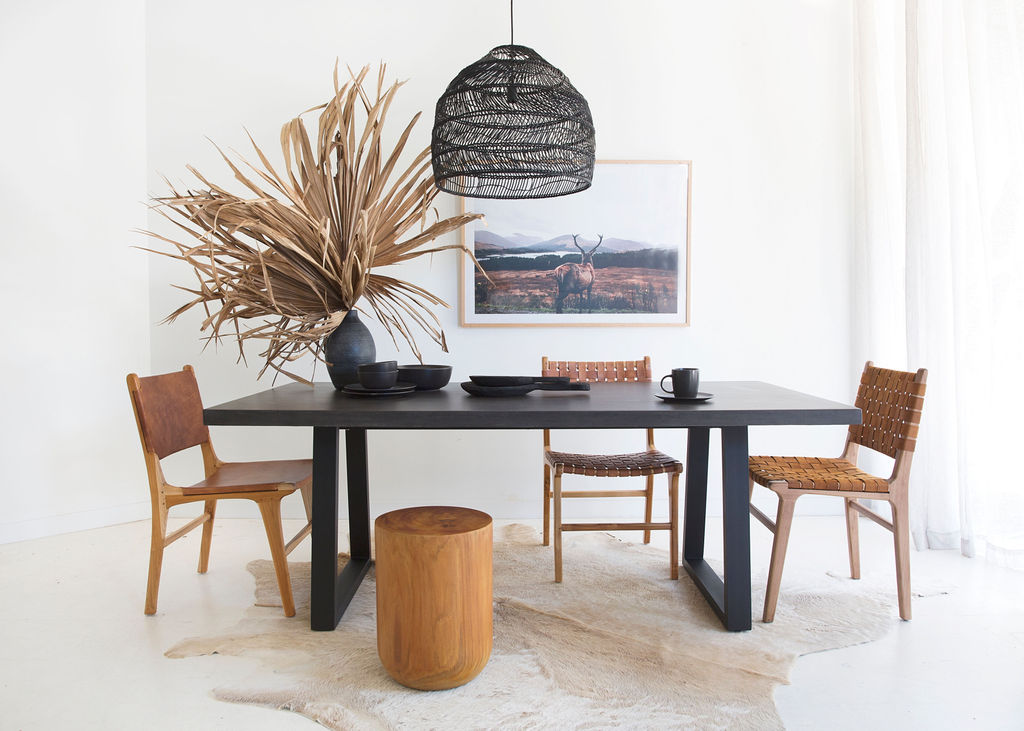 Polyethylene Rattan/Wicker: Let's first determine what these two are, and the difference between them.
Rattan is made from the fibres of palm-like plants, which makes it a natural material. Rattan is quite similar to bamboo and cane. Rattan is the name of the material used for weaving.
Wicker, on the other hand, is the woven construction of a product.
Rattan doesn't fare very well when subjected to rain and other weather conditions, which is why synthetic rattan, known as PE or polyethylene rattan, was created – to look like natural rattan but able to withstand tougher weather conditions.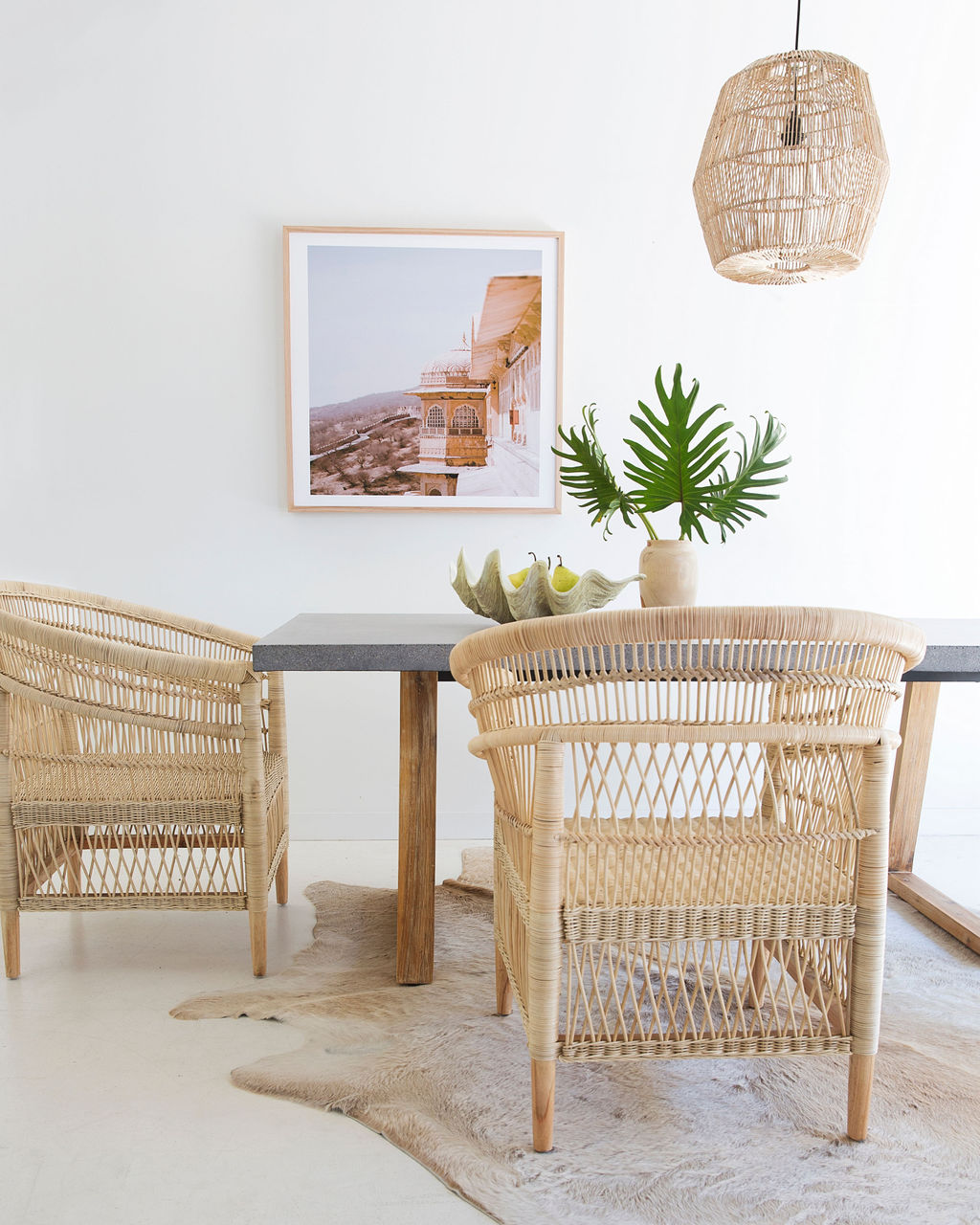 The Benefits of Choosing Polyethylene Rattan (PE Rattan)
PE Rattan, or Polyethylene Rattan, is easy to care for, easy to clean, and extremely durable. It offers great resistance to sun exposure, mould and mildew, extreme temperatures, and inclement weather, making it the ideal choice if your outdoor area is exposed to the hot Australian summers. You'll often find polyethylene rattan wrapped around an aluminium frame, which makes it lightweight and easy to move around ready for storage.


How To Clean Polyethylene Rattan
Cleaning is a breeze! Simply use a soft brush to remove any dust or loose dirt, then wipe using a damp cloth with warm, soapy water. Rinse with cold water. Cushions should be removed prior to cleaning to protect against any moisture.

Have a look at Abide Interior's range of gorgeous, practical outdoor wicker furniture.
Timbers at a Glance
*Normal maintenance, with a standard fabric cover to protect against harsh weather.

Timbers Explained
Gorgeous and versatile timber furniture, able to withstand the harsh elements and the test of time, will be the highlight of your outdoor area. Note that all outdoor timber furniture will need oiling to maintain its original colour for longer, and for protection against the elements.

Teak: If you love the traditional look of slatted wooden tabletops, then you'll love the idea of teak for your outdoor furniture. Its naturally high oil content and tight grain mean that Teak is termite and weather-resistant, and it's highly durable. Due to its mineral content, it resists cracking and rotting, regardless of how wet the conditions may be. This is why you may have noticed Teak being used for bathroom accessories.
While it's true that Teak requires very little maintenance, it will age to a silver-grey colour when left outdoors. This can be managed by treating the wood with a teak wood sealant that slows down this greying process. For all these reasons, Teak is widely referred to as the 'King of Timbers,' even though it's a more expensive option than most others.

Oak: A strong and hard wood, Oak is also rot-resistant. Because it's cheaper than Teak wood it's abundantly available. It requires painting or protection with a topcoat or water-resistant sealer because it lacks the oil content of Teak. While this might appear to be additional maintenance, there are significant cost savings. Oak furniture can last for decades when properly cared for.
Cedar: Just like Teak, Cedar ages to a beautiful silver-grey colour. Because Cedar is a lightweight material, furniture items manufactured from Cedar are easier than other timber items to move around. It relishes being stained and painted, and because it's quite a dry timber you can alter its finish and appearance much easier than other materials. Cedar timber items should be cleaned at least once a year because it has a soft grain that's likely to become rough over time if left untreated. In addition, when compared to harder words like Teak or Shorea, Cedar tends to dent and scratch more easily. On the other hand, because of the softness of the wood, it does tend to retain moisture. Cedar doesn't dry out easily which makes it more resistant to cracks than a lot of other timbers.
Acacia: While Acacia has a lower natural oil content and is not as durable, it's typically a cheaper option than Teak. But it is still water and mildew resistant, and it's a very durable hardwood. Acacia provides a smooth finish and it has a fine grain with a lovely reddish hue. While Teak feels a little oily to the touch, Acacia feels noticeable drier. Acacia is a rather heavy, strong wood. To extend the life of your Acacia timber items they will need sanding, cleaning, and oiling at least once every year.
Please see here for Abide Interior's amazing range of outdoor timber furniture.

Creating an Outdoor Lounge Space

What's Your Interior Style?
A great idea is to extend your interior design style to your outdoor area, thus creating a cohesive look throughout your interior and outdoor living areas. You'll find this will create a strong emotional connection, and the move from indoors to outdoors will feel natural and seamless. Try to maintain a cohesive look with the lighting as well.
​
Choosing The Right Lounge For Your Space
Modular designs and compact lounges are ideal choices for small spaces. We love modular options because each piece can be uniquely arranged, which is great for mixing up the look or for unusual ground layouts. You can make yourself very comfortable outdoors with modular set-ups, which often includes coffee tables and ottomans. If space is unlimited, you have an even greater range of choices, like outdoor lounges, chairs, and sofas. Don't forget to personalise the lounge with cushions, and if your outdoor furniture includes a set with a coffee table, then you may like to choose other types of décor, like a lantern.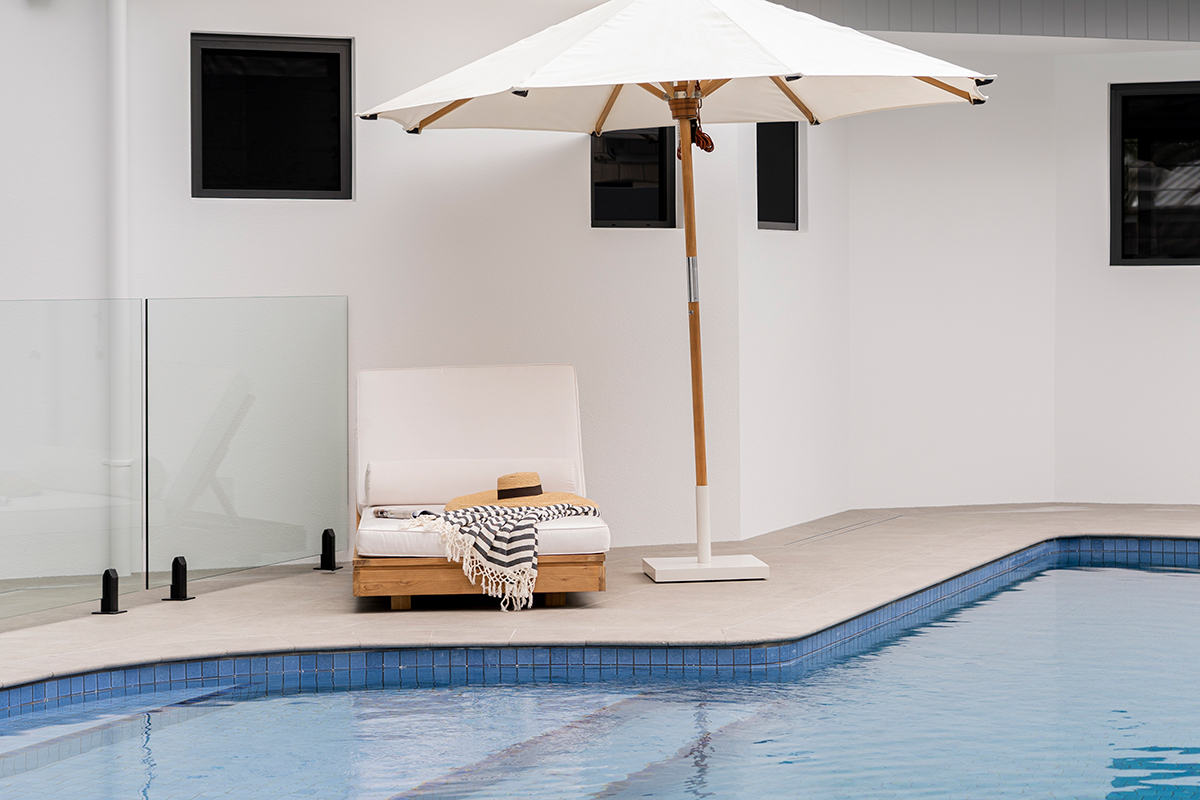 Relaxing with a Sun Lounger
Who doesn't love putting their feet up and reclining on a sun lounger? In fact, two sun loungers are better than one, especially when they're on the patio or angled near the pool. Most sun loungers are adjustable, and the backrests can be angled for reading or laid flat for extreme relaxation. If you have the space, go for a three-piece set which will include a side table for resting important items on, like your book and/or a cool beverage!
Outdoor beanbags are still a great option for outside areas. They come in practical fabrics with study seams, making them perfectly suitable for the great outdoors, plus they're a comfortable and fun option for casual lounging.
And don't forget about hammocks; they epitomise comfort and relaxation. They come free-standing or can be attached to a tree. Visualise gently rocking on a traditional long-length hammock or an individual hammock chair.


Creating Shady Spaces
Every outdoor area needs shade, so unless you're fortunate enough to have access to a balcony, hedge, or existing trees, you'll need to consider how you can create a shady area. Without shade, you'll only be able to spend a maximum of five minutes in an outdoor area before becoming entirely uncomfortable – even less if you're accompanied by children. The following shady solutions will not only provide you with a reprieve from the glare, but each will protect you and your loved ones from the sun's damaging UV rays.
A retractable awning is the perfect solution from an open balcony or a small courtyard. Not only will a retractable awning give you the essential sun cover you need, but it will also provide a level of privacy – essential in an inner-city area.
Market umbrellas are typically either square or round and feature a supporting pole in the centre.
Cantilever umbrellas are supported from the side rather than the centre, and for this reason, are typically square (or, less commonly, another shape with straight edges). The side support gives the appearance of the canopy being suspended in the air – a modern take on the more traditional market umbrella.
A gazebo traditionally took the form of an octagonal-shaped wooden structure, but today can be purchased in a variety of different shapes, designs, and construction. Some gazebos are fully-enclosed, others contain three sides, and others still are little more than a suspended roof on poles.
A simple shade solution – and one that works well in both small and large outdoor areas alike – is to install a swing seat with an in-built canopy.
A utilitarian sail shade is the ideal solution for situations where you need to be able to customize the height and/or angle of the provided shade. Available in a variety of sizes, shapes, and designs, utilitarian sail shades can be affixed to any nearby secure structure, such as a tree, wall, or post.
Creating An Outdoor Dining Space

Al Fresco Dining
What are you planning on using your al fresco dining area for? Is it to be the centre of your friends and family gatherings or are you looking for something smaller, like a cute little two-seater where you can enjoy a lazy outdoor breakfast? Whatever you're looking for, Abide Interiors have a range of options for creating the perfect outdoor dining space.
A bar table can work very well if you have a compact space and want to fit a few people around the table. These are narrower than typical dining tables and make great use of height.





If it's party time, then there are a range of options for when you need to get more people seated. Abide Interiors have a choice of longer outdoor dining tables, capable of seating 6-people or more; but perhaps the right choice here might be an extendable table, which will suit most people's needs.
And of course, benches are the ideal way of squeezing in that extra person.
Foldable or stackable chairs are the easiest to store away when not in use, so keep these in mind for those extra guests.




Making Your Outdoor Area More Inviting
Have you now created the perfect outdoor area for your needs? Even if it's just a thought in your mind at the moment, at least you have somewhere to start.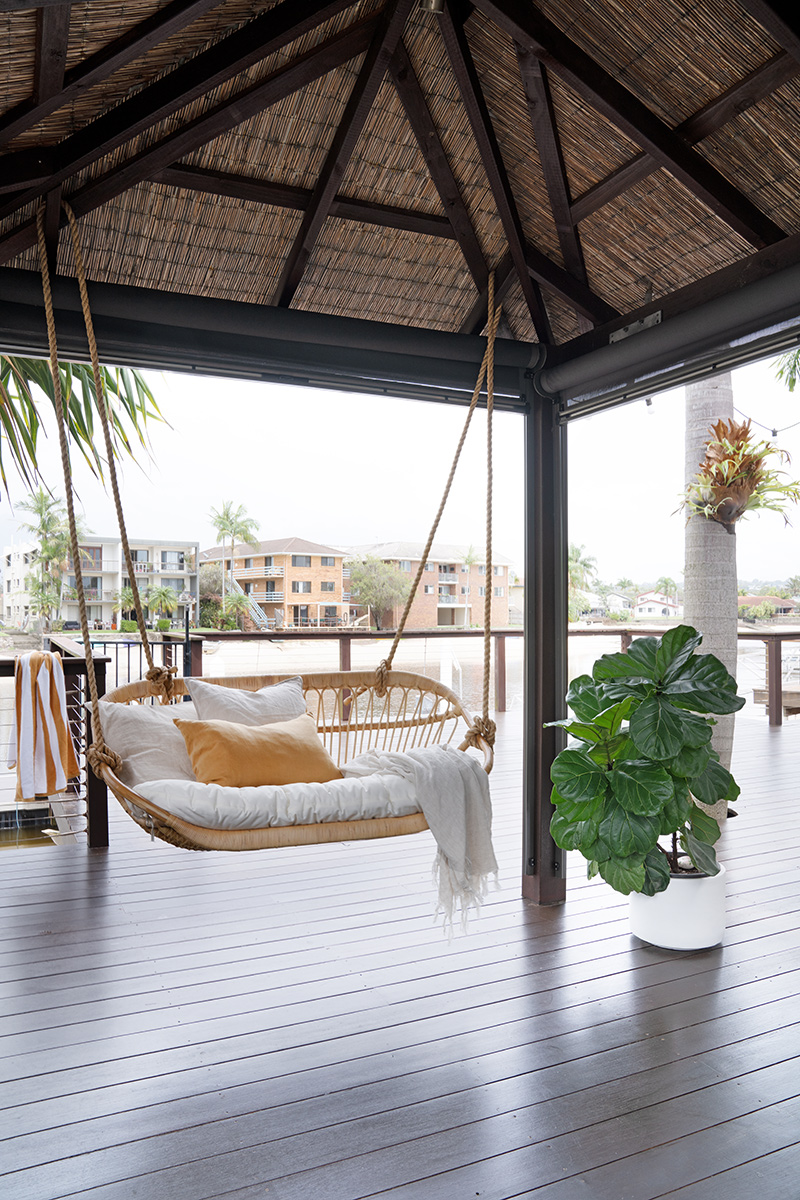 All that's left to do now is to add some finishing touches, like some comfortable accents and personal artful touches. This might be simply adding a plant to your outdoor coffee table, which may have to be an artificial plant if the space is a sun trap. Also, add an insect-repelling candle to your coffee table for added personal protection.
We love the idea of wall panels, which create the idea of a private, cosy space with lots of green foliage.