If you're having trouble sleeping, you're probably not using the right mattress.
At Abide Interiors, we know that there's nothing quite like sinking into a cozy bed after a long day. But did you know that your mattress can have a huge impact on the quality of your sleep? If you're tossing and turning all night, it might be time to rethink your bedding situation.
There are many mattress brands available in the market, and it can be overwhelming to choose the right one. At Abide Interiors, we don't sell mattresses, but we can help you select the perfect bed for your bedroom based on your personal preferences and style.
Whether you're looking for a king, queen, double, or single-size bed, we have a wide selection of beds to choose from. Our expert team can assist you in finding the right bed that not only meets your sleep needs but also complements your home decor.
Here are the seven most common Australian bed sizes with mattress dimensions in metric.
| Bed Type | Metric | Imperial |
| --- | --- | --- |
| Single | 92 x 188 cm | 3'0″ x 6'2″ |
| King Single | 107 x 203 cm | 3'6″ x 6'8″ |
| Double | 138 x 188 cm | 4'6″ x 6'2″ |
| Queen | 153 x 203 cm | 5'0″ x 6'8″ |
| King | 183 x 203 cm | 6'0″ x 6'8″ |
| Super King | 203 x 203 cm |   |
Let's explore the various size options in more detail below:
Single-Size Mattress
The single-size mattress is 92cm wide x 188cm long.
A single bed is big enough to support a child or adult, making it suitable for people of all ages. Of course, a child would have more room on a single bed than an adult. But if you're an adult looking for an economical mattress option, the single-size mattress is perfect.
Two people couldn't comfortably share a single-size mattress as they could with a king-size bed. But if you sleep by yourself and need to conserve space in your room, you have two more reasons to choose the single-size mattress. The single-size mattress should fit most bedrooms in apartments and houses.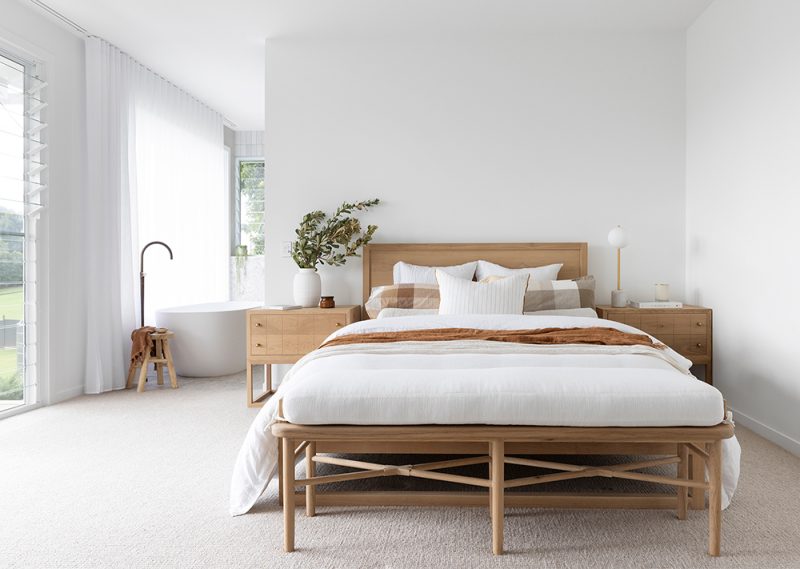 King Single-Size Mattress
The King Single mattress is 107cm wide x 203cm long. 
Tall adults and big teenagers are most suited for the King Single bed. It is also a great choice if you don't have enough space in your bedroom to accommodate a queen-size or double-size mattress.
You can save money if you purchase a King Single bed for your child early on. That way, you won't have to buy a larger bed when they grow taller throughout their teenage years.
The King Single mattress is economical and a space saver while providing plenty of comfortable legroom. It is the best alternative to a queen-size or double-size mattress.
Double-Size Mattress
The double-size mattress is 138cm wide x 188cm long.
A double bed is just wide enough to hold two teenagers or adults. Either that or you can use a double bed to provide lots of space for one teenager or adult. Some Australians use double-size mattresses as guest beds too.
It is best to test the double bed at your local mattress store if you want to use it for two people. If the bed feels too cramped for two people, you may want to go one size higher by trying the queen-size bed.
Queen-Size Mattress
The queen-size mattress is 153cm wide x 203cm long.
The queen bed is one of Australia's most popular mattress sizes because it can comfortably accommodate couples and individuals. Two people sharing a queen bed should have enough legroom to stay comfortable and get a good night's sleep. It should also be able to fit inside most people's bedrooms without any issues.
The queen-size mattress is excellent for couples, singles, and growing children who love having legroom. The comfort level will remain throughout the year, whether it is summer or winter.
King-Size Mattress
The king-size mattress is 183cm wide x 203cm long.
Do you need even more space than what a queen bed can provide? If so, the king-size mattress gives you 30 cm of additional width. More width will ensure you get a decent night's sleep when lying beside another person.
Two individual bases are placed on the floor before the mattress is installed. The bases secure the mattress and help prevent disturbing your partner when you get up from the bed. Anyone who has trouble sleeping or needs undisturbed sleep will appreciate the benefits of king-size mattress.  
Make sure there is enough space in your bedroom to fit a king-size mattress.
Super King-Size Mattress
The super king-size mattress is 203cm wide x 203cm long.
The Super King mattress is the biggest mattress available. As a result, couples can sleep beside each other and stretch their legs comfortably without crowding one another. They will wake up feeling refreshed and energetic in the morning.
The extra 20cm of width enhances the comfort level beyond anything you can imagine. You and your partner can spread out on the mattress and avoid disturbing each other at night. It is guaranteed to maximize the quality of your sleep.
Check your bedroom space to see if you have enough room to accommodate the super king-size bed. The bed also requires two bases to keep it secure and avoid disturbing your partner.
or 4 payments of $487.31 with Afterpay
Only 5 left in stock