Hamptons style is one of the most popular home decor styles. It's known for its coastal sophistication and relaxed elegance, which resonates with a lot of people. The Hamptons aesthetic embraces classic refinement and casual comfort to mirror the beauty of coastal living. If that's the vibe you want to create in your home, but don't know where to start, this article will clear things up.
8 Essential Elements to Achieve the Hamptons Style
In a nutshell, the Hamptons style is a classic and timeless interior design aesthetic that embodies the casual elegance and coastal charm of the Hamptons. It's characterized by the use of crisp whites, soft colors, natural materials, and relaxed furnishings. To help you recreate this style in your home, let's explore 8 essential elements to achieve it:
Neutral Color Palette
One of the main elements of the Hamptons style is a neutral and harmonious color palette. Some of the most common shades are white, blue, green taupe, sand, and soft gray. These colors help recreate the serenity of the coastline and it provides you with a canvas where the furniture, wall art, and other accents can shine more.
Tasteful Use of Wall Art
Wall art is often a main feature in Hampton-style homes because it's a great way to express your taste. Nautical wall art is preferred, but pieces like botanical prints, flowers, corals, beach prints, and more are quite popular as well. The goal is to create a cohesive aesthetic. So, make sure that your wall wart complements your color palette and overall ambiance.
Hamptons Style Furniture
Of course, furniture is one of the most important elements to achieve the Hamptons style. Hamptons style furniture is characterized by natural materials like wood, rattan, and linen. It's also characterized by relaxed silhouettes for comfort, coastal-inspired details like seashell accents, and neutral colors like whites, beiges, and soft blues. Weather finishes are also very popular, so keep these things in mind when selecting your furniture.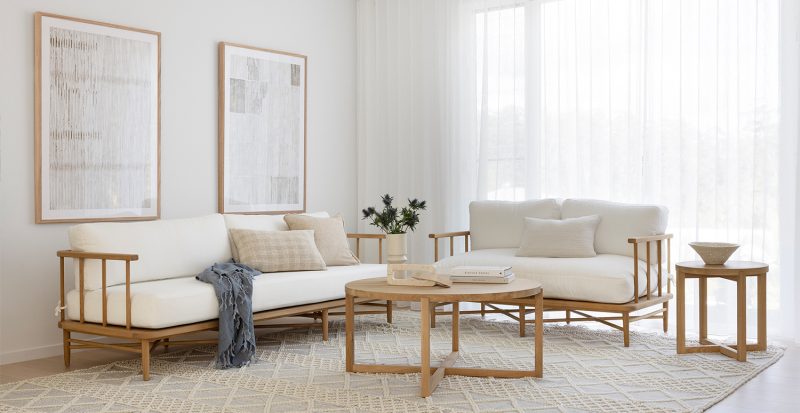 Thoughtful Accessorizing
Accessories add a lot of finesse and detail. So, accessorizing is a great way to take things up a notch without sacrificing sophistication and elegance. Consider using items such as driftwood pieces, antique mirrors, shells, corals, and nautical art to customize each room in your home.
Hamptons Flooring Choices
If you're open to re-doing your floors or are doing a complete renovation to achieve the Hamptons style, the flooring choice is very important. Some of the best options are timber floors, limestone tiles, whitewashed hardwood, travertine tiles, and laminate flooring. It's a very personal choice, so we recommend considering the options carefully because it's a big decision.
Lighting and Ambiance
Soft ambient lighting through wall sconces, pendant lights, and table lamps in antique brass, polished nickel, or black complements the relaxed elegance of Hampton style. Harsh, cool-toned downlights will not fit the Hamptons style aesthetic, so we recommend you avoid them.
Plus Fabrics
Plus fabrics are a must, so you should consider soft furnishings in a blend of stripes, geometrics, florals, and block prints to introduce color and texture without overwhelming the relaxed vibe. Of course, you should maintain the Hamptons' color palette of blues, creams, whites, greens, and soft yellows, which evoke the image of coastal landscapes.
Sprucing Up the Home Exterior
The outside of your home is also something you should pay attention to when creating a Hamptons style aesthetic. Consider elements like hydrangeas, box hedges, and statement front doors. You should also make sure the outdoor lighting and furniture for outdoor areas also have the quintessential Hamptons look.
Incorporating Hamptons Style: Furniture Essentials
Speaking of furniture… If you're ready to incorporate the Hamptons style into your home, here are some of the furniture essentials you need to consider: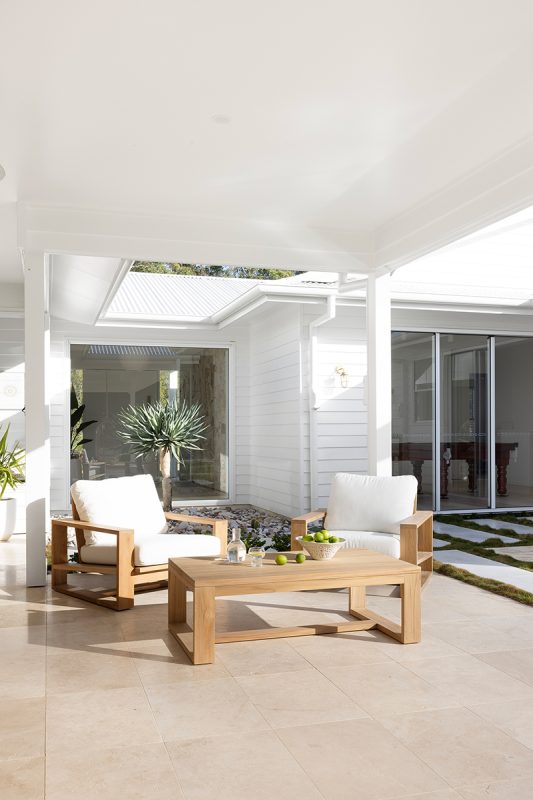 Hamptons Style TV Unit
A Hamptons style TV unit usually features classic design elements like soft colors, natural textures, and wooden features. This aligns with the overall coastal-inspired aesthetic. Additionally, you can choose elements like shuttered cabinets or subtle detailing to enhance the Hampton's vibe.
Bedside Table Hamptons Style
Hamptons style bedside tables often feature a fusion of wood and white finishes, incorporating elements of rattan or cane for that coastal touch. Clean lines, simplicity, and functionality are key elements when choosing a bedside table in this style.
Hamptons Style Bar Stools
Hamptons style bar stools will often have clean lines and incorporate elements like wood, wicker, or rattan. The relaxed coastal vibe is reflected in their design, ensuring they seamlessly integrate into the overall aesthetic of the space.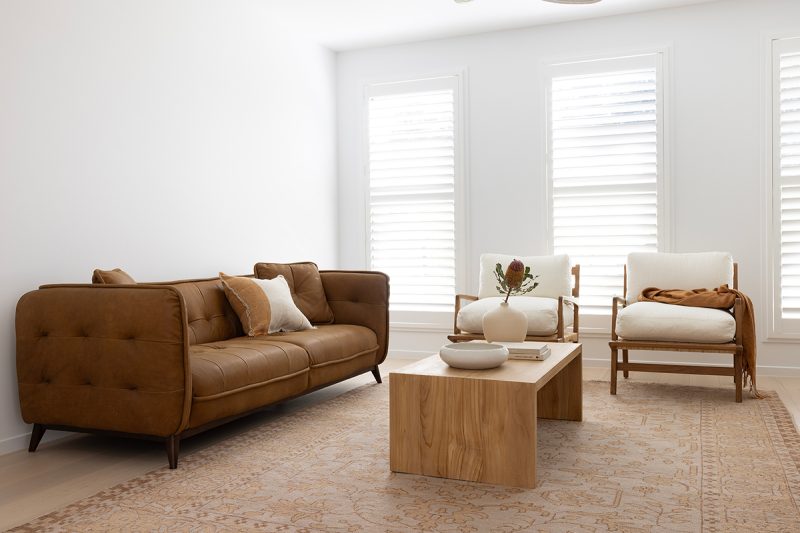 Hamptons Style Bedroom Furniture
A bedroom styled in Hampton fashion embraces soft colors, comfortable fabrics, and a blend of classic and coastal-inspired furnishings. Go for furniture pieces like a bed frame with gentle curves or shuttered cabinets to infuse the coastal charm into your bedroom.
Hamptons Style Dining Table
Lastly, a Hamptons style dining table will usually feature clean lines, possibly with wooden or whitewashed finishes. It serves as the centerpiece in the dining area, harmonizing with the overall aesthetic while providing functionality.
Hamptons Style Sideboards
Sideboards offer a ton of storage and they usually have short or no legs. They also feature design elements like glass or wooden doors, which look very elegant. Overall, they offer more storage and they adapt effortlessly to different rooms, not just the dining room.
Hamptons Style Buffet
Hamptons style buffet furniture is taller than sideboards and they often have long legs. So, they're a good option if you have space. They come with drawers, compartments, and display areas, so they offer a lot of storage. They're ideal for storing dining essentials while maintaining an open look.
Hamptons Style Console Table
Console tables don't offer as much storage as the other two options, but they have an open design. They feature small drawers and shelves, so they're a good option if you have limited space or if you don't need much storage. Console tables are primarily decorative and they go on hallways to display accessories or decor pieces.
Overall, the Hamptons style is a perfect blend of elegance and coastal allure. Now that you know what elements to look for, browse our shop to find the perfect Hamptons style furniture pieces!