Choosing a bar stool shouldn't be a hard task – after all, a bar stool is a bar stool, right?  Many people are surprised that choosing the right stool for their bar, club, home, or café is not as easy as it sounds. That's because there are a few important facts you need to know, and if you haven't done your homework you could well end up buying the wrong product.
For starters, what height should your bar stool be; does it need to swivel; do you need upholstered or cushions; do you want the bar stool to contrast with the bar counter, or match it?
Doing some quick research and a few measurements can save you the time and hassle of having to return stools, or alternatively, having to put up with stools that are a bad fit for your area. There are plenty of bar stools to choose from, so do your homework and you'll have no problems at all finding the perfect stools to suit your room.
Bar stools are great because they add informality to any space, and they can work in many different scenarios. The days of formal dining rooms with their delicate china and fancy cutlery are very quickly becoming a thing of the past. Today, most people don't have the time nor the inclination to host elaborate dinner parties.
Whether you're enjoying a drink at your home bar or grabbing a quick breakfast at the kitchen counter, the heigh of your bar stool should allow you to relax and sit comfortably.  It's important to remember that kitchen counters, tables, and bar tops vary a lot in height, which means they require different seating heights.
There are three figures involved when it comes to choosing the right bar stool for your space, and these are –
the chair size,

the counter height, and

thigh clearance.
A combination of the above three measurements will provide you with a clear range of the perfect bar stool for you. Different companies refer to bar stools in different terms, which can make it quite confusing for consumers to determine the type and size of bar stools.  For example, there are bar stool chairs, bench height bar stools, standard bar stools, counter stools, and island bar stools. Heights on these can range from 45cm for a chair-height bar stool that might be used around a dining table and anywhere up to 80cm for commercial and restaurant-style barstools. There's a lot of variation in standard sizes for bar stools so you must measure carefully to ensure your final choice is the right fit for your space.
Below we've considered in detail each of the measurements you need to easily make the right choice.
Bar Stool Sizes
Your first measurement is from the floor to the top of the chair. Bar stools come in three standard sizes, with most people being familiar with the Linda Low, or counter stool. These are the stools you may see at your local bar counter. These stools have a range of between 60cm right up to 73cm.
The Goldilocks, or bar stool, is usually around 76cm, but they can go right up to 91cm. These stools usually have high-tops, and they're the ones you see at your local pub. Then there's the Henry High, or stadium/spectator chair, with the tallest of these stools ranging from between 86cm and 91cm.
Counter Height
Now that we've determined the size of your bar chair, we now need to look at the height of the table-top or counter, because that's what will give you the perfect fit. It stands to reason that different bar stools work best with different sized tables.
For tops between 95cm and 192cm, a counter stool probably works best. It also works well for thick benches up to 105cm, which are becoming more common today.

For tops between 102cm and 108cm, right up to thick bench tops up to 110cm, bar stools are typically a great fit.

For tops between 102cm and 108cm, including 110cm-thick bench tops, the stadium chair offers those extra few centimetres you sometimes need when doing things like watching television.
Thigh Clearance
We've now sorted out two of the three essential measurements, so let's now consider legroom for your thighs. The perfect bar stool for your space will ensure that you're able to sit comfortably, with plenty of space between you and the bar table. Ideally, the clearance will be between 18cm and 32cm – for most people 20cm to 30cm is perfect. With this amount of space you should have sufficient room to sit down, and even cross your legs if you wish.
Note that more space is not necessarily a good thing. If there's too much space it could feel too roomy and awkward. In fact, it could well feel just as uncomfortable as sitting in a chair with a tight fit.
Finalising the Calculations
Now it's time to put all these measurements together.
Start by taking the measurement figure of the bar stool height from the floor. Now measure the distance between the bottom of your counter to the floor. Take this measurement twice just to make sure it's accurate. The bar top height and thigh clearance are now accounted for. This now gives you a range of each bar stool size.
Another way of checking these measurements is to measure from the top of the bar counter to the floor, then, from that figure, subtract 25cm. This way of measuring differs from the first method because it also considers the height of your table. So, while this number may seem small, we need to remember that height can adversely affect the comfort of a bar stool.
When using the first method, a counter bar stool works more effectively when the bar top measures between 82cm and 93cm – giving a thigh clearance of 84cm to 91cm.

The bar stool is between 91cm and 102cm, with thigh clearance between 93cm and 101cm.

The stadium stool is between 97cm and 108cm, with thigh clearance between 99cm and 107cm.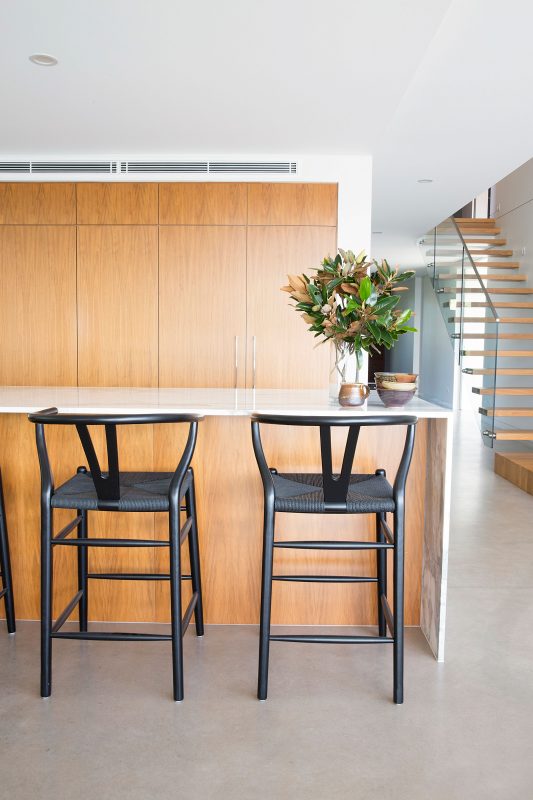 What About the Overlap Between Sizes?
Yes, there is an overlap between different sizes, and this is to allow for your own personal preferences. The figures offered above are simply suggestions. You may want to try a bar stool with a wider or narrower clearance, and so on, just to see which fit works best for you. Once you start shopping for bar stools you'll soon discover that there are many different styles and many variations within those styles.
Other Factors To Consider
Please use the above figures as a guide only. We've provided these to show what might deliver the most comfortable seating option for an average adult. How you use your bar stools will also play an important role in selecting the right stools for your space. If you're eating at a bar you may feel that a counter bar stool does not provide a comfortable height; and of course these measurements may be completely impractical for shorter people (like children) or taller people.
Adjustable Bar Stools: You may also like to consider an adjustable bar stool. These are becoming very popular and they're a practical purchase in the event you may be considering purchasing a new counter or table in the future. Different models of adjustable bar stools offer a wide range of heights, suitable for almost any situation. Take space at the counter level into consideration, leaving between 66cm and 76cm between place settings to allow people to easily move onto and away from their stool, and to provide enough room for people to comfortable eat or drink.

Backrests: You'll find that there are bar stools with and without back rests. Obviously, a seat with a back rest will be more comfortable, but it will also take up more space than one without a back rest.

Armrests: There are bar stools with or without armrests, so if you have a smaller area it might be advisable to choose chairs without armrests to allow the seat to slide under the countertop.
In Conclusion
When shopping for bar stools, keep the above range of measurements in mind. Also keep in mind that a comfortable bar stool can become an ill-fitting chair if you add a seat cushion. We suggest that you choose a bar stool that already has good padding to prevent issues like this.
Bar stools have been designed to provide comfortable seating options for people seated at tables and countertops, so we hope that the calculations we've provided above will help you make the right choice for your space. Either way, your decision will rest entirely on your décor and which bar stool fits and looks best in your home.
$

429.00
or 4 payments of $107.25 with Afterpay
18 left in stock
$

419.00
or 4 payments of $104.75 with Afterpay
Only 1 left in stock
or 4 payments of $117.25 with Afterpay
Only 12 left in stock