Bedheads, also referred to by some people as headboards, is a board or other material, like wicker, timber, tufted upholstery or other fabric, which is affixed to the top of a bed behind your head. They're decorative panels which are placed at the head of a bed to provide comfort and style.
Today we're seeing a resurgence in the popularity of bedheads, with many designers and retailers showing new interest in this bedroom mainstay. Creating a faux headboard or affixing a chic bedhead to your current ensemble is the easiest way to re-style your bedroom.
A stylish bedhead creates a focal point and instantly transforms a bedroom. In fact, many interior designers believe that no bedroom is complete without a bedhead. A bedroom without a bedhead is likely to look unfinished and perhaps a little unloved, so whether you're looking to update your existing bedhead or adding to an ensemble (bed base and mattress), let's take a closer look at the options available to you.
How Are Bedheads Attached?
The answer to this questions is dependent on the style of bedhead you choose, but basically, a bedhead can sit on the floor (it's held in place by the weight of the bed), or it can be attached to either the bed or the wall behind the bed. The most common method is to use a bracket slotting system and attach the bedhead to the bed base; however, the bedhead and bed must be compatible in size.
Tip: If you simply have no space at all for a bedhead, you can create a similar effect by hanging a statement piece of artwork above your bed. Alternatively, a floating shelf above the bed can hold pot-plants or books, a decorative mirror could be affixed, or you could even paint your own wall feature.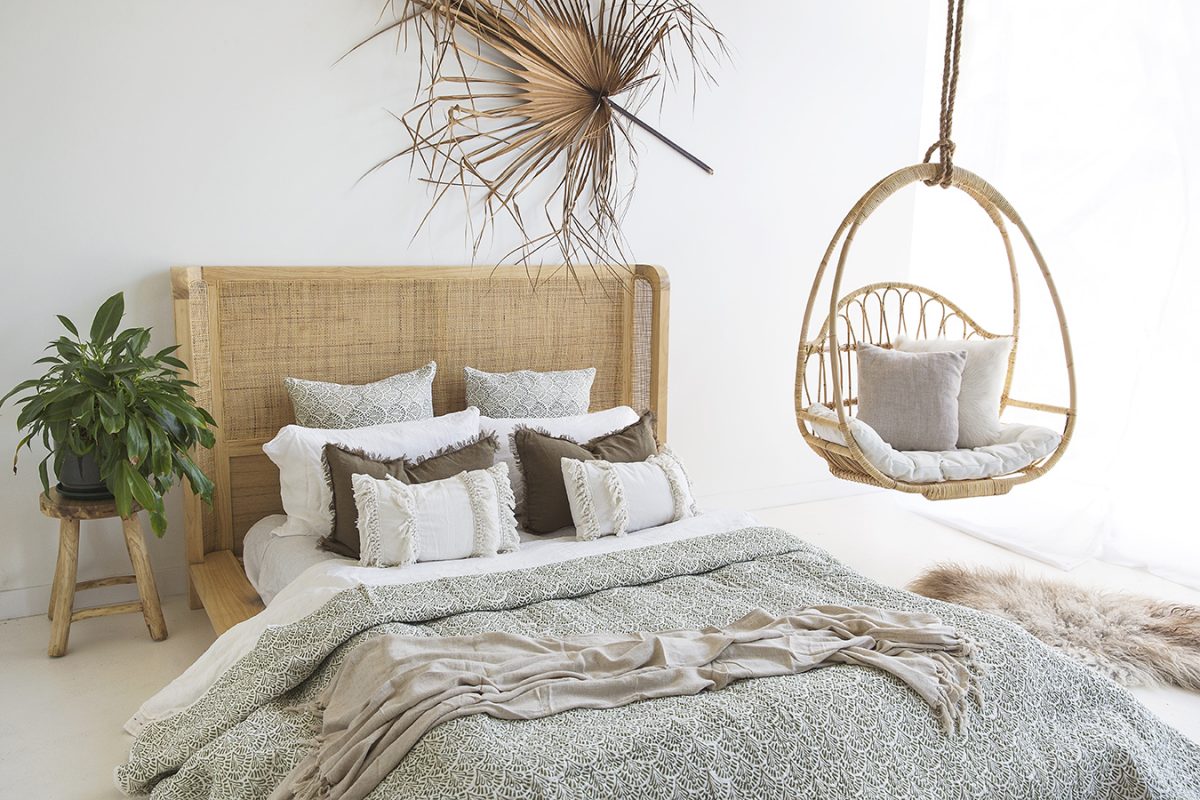 Statement Piece or Subtle Décor?
You may be wondering if a bedhead should blend in or stand out. It really depends on the ambience of your bedroom and the look you're going for. Here are some questions to ask yourself if you're not sure how to proceed –
Are you trying to work in with wallpaper or a wall colour? If so, do you want your bedhead to contrast or complement it?

Do you want your new bedhead to match the materials, styles, and shapes of your other bedroom furniture?

Do you have bedside tables and are they tall and bulky? If so, an extra-large bedhead would be perfect; it would complement your tall and wide bedside tables.

Consider the other focal points in your bedroom, like windows, mirrors, windows, etc. To you want your new bedhead to stand out, or create a backdrop for these other features?

You Want Your Bedhead To Steal The Show!
Here are some ideas for creating a bedroom where the bedhead is the main attraction –
If you have a light-coloured wall, choose a dark-coloured bedhead; if you have a dark-coloured wall, choose a light-coloured bedhead.

Choose a unique colour for your bedhead, like blush pink or a jewel tone.

Consider the ceiling height and wall width of your bedroom before choosing an oversized bedhead. If the bedhead is too big for your room it will create an overcrowded and claustrophobic feeling. Before making a purchase, mark out the measurements on the wall.

Choose a fabric or material to contrast against your wall, for example, velvet against an exposed brick wall.
Types of Bedheads
There are many styles of bedheads to choose from.
Consider the existing decorating style of your home and bedroom, then choose a bedhead that ties in with your bedroom's style.
There are a range of upholstered bedheads you can buy off the shelf; alternatively you could have a new or second-hand bedhead upholstered to match in with your current colour palette.
If an upholstered bedhead is not your style, a timber bedhead can add charm, character, and natural warmth to your room.
If you've taken a minimalistic approach to your bedroom design you might like to consider an intricately patterned bedhead – it will be a dramatic feature for your room and exactly what your room needs.
We love the idea of having an upholstered bedhead, with cushions, pillows, and/or side chairs upholstered in the same fabric to create a formal, yet classic bedroom style.
Tip: If you've seen a bedhead you love, you can decorate your bedroom around the bedhead. Alternatively, you can paint your walls and choose your furniture and décor, then choose your bedhead. Keep in mind that the bedhead will be the feature of your room, so it's just a matter of whether it's a prominent feature or a subtle one.
Bedhead Styles
To help out with your decision making, we've divided our bedhead category into different styles –
Modern: think of bold, upholstered, and oversized.

French Provincial: think of tufted with stud details.

Simple and Casual: think easy maintenance with linen slipcovers.

Exotic: think vibes of a tropical island resort.

Rustic and Country: think neutral and classic.
Bedhead Shapes
Now that you've chosen your bedhead style, let's consider the right bedhead shape for your bedroom. The shape you choose might complement other shapes in your room, or alternatively, it might bring its own personality to what's currently a rather uniform space.
Consider the following bedhead shapes –
Rectangular: traditional, bold, and streamlined.

Arched: a hugely popular shape, an arched bedhead is all fluid curves with no corners.

Circle or Half-Moon: great retro touch.

Scooped: create a classical look with scalloped edges at the corners.

Camelback: an elegant look with gentle sloping sides.
In Conclusion: A Bedhead completes a bedroom, so consider the look you want in your bedroom and choose a bedhead from the many shapes, colours, and styles available. And as we mentioned before, if you simply don't have the room for a bedhead, use the wall space at the top of your bed for a special art piece, a fancy mirror, or even just a shelf for displaying special objects, books, etc.
or 4 payments of $133.75 with Afterpay
5 left in stock
or 4 payments of $157.25 with Afterpay
4 left in stock