Have you noticed that dining rooms in new homes and apartments are getting smaller and smaller? This is probably because builders are aware that 'formal' dining rooms are not often used anymore, and the extra area is now needed in either the kitchen or family room. And while these smaller dining rooms are typically square, or almost square, most dining tables in retail stores are rectangular, which is great if you have a rectangular room!
Rectangular dining room tables can seat many guests, it's true, but what purpose does a long table serve if it barely fits in a small square dining room?
Our dining rooms today have become a lot more than just a place to eat; they've become the social centre of a household. In fact, the dining room table has probably become the most versatile piece of furniture in our home; it's where we entertain family and friends, it's where our kids do their homework, it's where we play games and do puzzles and art and craft, and where our family gathers together at the end of a long and tiring day.
You may have a great decorating style, but if the layout of your furniture doesn't suit the proportion and function of your space, the 'feeling' of the room can be dramatically compromised.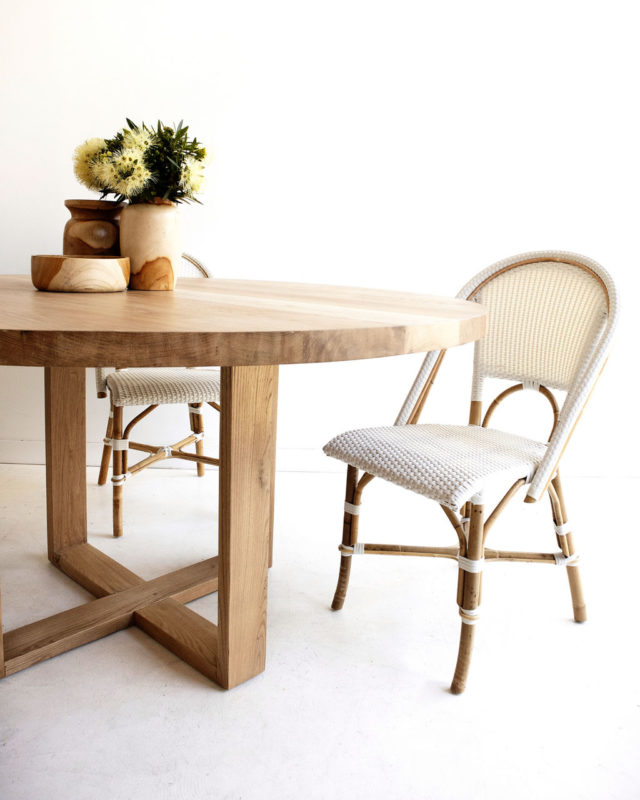 Most people lean towards a traditional rectangular design for their dining table, but have you ever considered that a round table could well suit your space better? Let's have a closer look at why a round table might be the best option for your home –
They Create 'Flow' and 'Space'
A round dining table creates flow because it allows people to easily move around. Add a rug underneath the table to define the dining area if you're worried the table will get lost in the space. If you're very short on space, ensure the rug is slightly bigger than your dining table, but don't be concerned if the chair legs are not sitting on the rug.
If you have young children, you'll be comforted knowing you don't have to watch out for sharp edges.
The enhanced flow will not only give those who sit at your dining table the space for eating, games, homework, etc., but it also provides space around the table for people to comfortably move around to the place they want to sit. We often see rectangular dining tables in rectangular rooms where there's just not enough room for people to comfortably find a place to sit.
Improved Personal Interaction


Are you one of those people who always seems to be seated at the very end of a rectangular table, where you're completely left out of everything that's going on? This can't happen with a round table! Regardless of where you sit at a round table, everyone is facing the centre and can clearly see and hear their fellow diners. It's easy to catch someone's attention, and everyone is able to participate.
Sharing food is also much easier – all dishes are placed in the middle of the table instead of having to continually pass platters and bowls up and down the table.

Ideal For Smaller Spaces

A round dining table has a smaller footprint than a rectangular table, simply because there's no wasted space with corners. And, because you can sit anywhere on the perimeter of the table, everyone is at a slight angle to the person next to them, which means you can fit an extra person if you have additional guests. It's certainly a less crowded feeling than when you sit shoulder-to-shoulder at a rectangular table.

Defining Your Round Table
The easiest way to define your round table is with a round accent rug. Keep in mind that the rug doesn't have to be much bigger than your table, and it's fine if the chair legs sit off the rug. In fact, if you have an open plan home, the double circle shape looks very effective; it ensures the eyes acknowledge the dining area as its own zone.

Further Tips:
Use a measuring tape to determine the required shape and size of a dining table. Carefully mark up all important features like windows, doors, furniture, cupboards, and power points.

Map out the dining table shape using masking tape or butchers paper to ensure there's plenty of space to move around the table. Allow 60cm of free space behind each chair so it can easily be pulled out.

We suggest eliminating a round table that has legs on the perimeter of the table. They will encroach onto your chair space and make it awkward to squeeze in extra guests. Instead, choose a pedestal table that has the main support in the middle of the table.

When choosing chairs for your round dining table, go for chairs without arms. This should allow plenty of room for six or eight chairs.