Australians, and Queenslanders in particular, have welcomed Hamptons Style with open arms, simply because it's such a good fit with both our glorious climate and our casual living style.
When you hear that Hamptons Style is defined as 'a classic look with a relaxed feel', is there anything more Australian than that?  In Queensland we're so blessed to have an abundance of prime real estate locations, the best climate in the world, and an ongoing feed of gorgeous Hamptons visuals via all types of media, so it's no wonder many people are embracing the Hamptons Style – it just 'fits' the Australian lifestyle. This interior style has been prominent in the home design market for a few years now.
What Does 'Hamptons Style' Mean?
In New York State on the eastern end of Long Island there is a group of hamlets, villages, and towns, known as The Hamptons. It's famously known as a popular getaway destination for people from New York City and is constantly associated with celebrity sightings. Many rich and famous people escape to the large estates located along this beautiful stretch of the Atlantic Ocean, while others travel across the nation and even around the globe to holiday in this pristine location.
Why The Hamptons Are So Popular
The Hamptons are very popular because there's something for everyone; at The Hamptons you'll find the perfect combination of historic charm, rural atmosphere, oceanside locale, and of course exclusivity – and it's all within driving distance of New York City.
The Hamptons were originally a simple colony providing a much-needed escape for the busyness of daily life, and still today you'll find that this same attitude prevails. Another attraction of The Hamptons is there's no paparazzi hiding in bushes vying for that perfect shot, which is why society's elite feel relaxed, and safe, when holidaying (or living) in The Hamptons.
Hamptons Homes
Hamptons homes are typically designed to match the beachy feel of the area. Hamptons Style is a specific style that's welcoming and encourages relaxation, entertaining, and indoor-outdoor living. This style of home is showered in light, due mainly to the large windows, which people find very calming. These homes are light, bright, and whitewashed – they're a relaxing and casual style of home that's welcoming but also makes you feel close to nature. When you're in a Hamptons home you feel like you're on holiday, permanently!
Hampton's Homes the Australian Way
Australian designers have approached Hamptons Style in their own unique way; they have combined modern interior design with the best parts of coastal living. The result is a beachy yet sophisticated vibe that comes across as calming and effortless. Hamptons interiors are typically holiday home-like, nautical-inspired, and spacious with generous proportions. Entertaining in a Hamptons Style home is a breeze.
Hamptons Style homes could be described as light and breezy, coastal-inspired, with a crisp white linen feel; and while the colour palette of this style of home is usually white with a dash of cobalt blue, you'll also find complementary items found in a seaside village or on the beach. But don't be fooled by this carefree approach to home design because there's also a touch of elegance to Hamptons Style, with a hint of understated affluence of the owner. This combination of elegance and casualness is why Hamptons Style is so sought after; in fact, this interior design style has become extremely popular in Queensland and other parts of Australia.
Another benefit of this design style is that, when done properly, Hamptons Style can work really well in any home, whether it be an inner city apartment, a suburban dwelling, or on a rural estate – it doesn't have to be a seaside home.
When it comes to furniture Sunshine Coast buyers are very discerning and they know the professionals at (business name) have all the items they need for their Hamptons Style home.
So let's take a closer look at how all homeowners can enjoy this casual yet elegant style of living –
Let Blue Be Your Friend
As mentioned above, there's a signature crisp whiteness in Hamptons Style designing, but there's also an important accent colour, and that's one of the blue hues – primary, cobalt, or nautical. It's entirely up to you how you incorporate this essential colour – it might be cushions, bold stripes, oversized vases, decorative hurricane lamps, in addition to coastal accents like coral, starfish, shells, and other nautical themed items. Cement this look by hanging some gorgeous beach house art.
Another effortless way to break up the crispy whiteness and incorporate the trademark blue is with chinoiserie items in white and blue, like teapots, ginger jars, and ornamental plates. Consider a bunch of blue agapanthus, dahlias, or hydrangeas to add a beautiful complementary touch.
The Hamptons Style Hallmark Feature
The main feature of Hamptons Style interior design has to be the overstuffed white couch. In addition to the white couch, we suggest other must-haves for your home including sideboards, ottomans, coffee tables, occasional tables, or anything that sets off that 'relaxation' vibe. Give a chaise a new lease on life by covering with a white slipcover, which can easily be removed for cleaning.
You can't go past (business name) for all your Hamptons Style interior furniture and décor items when shopping for furniture Sunshine Coast.
Hamptons Style LOVES Wood!
There's no doubt that the hues found naturally in driftwood add class and character to Hamptons Style. You'll notice these colours in cupboards, sideboards, and of course in timber floorboards. You'll often see these same hues in exposed ceiling beams in a Hamptons home.
Maintain the fresh, coastal outdoor look by artfully placing a piece of driftwood, or alternatively, to keep the seaside influence you could try incorporating thick rope as a design accent for hanging shelves or pot plants, for tying back curtains, or for lining mirrors. How about some macrame art?
Don't Forget The Bathroom
Hamptons Style interior design in not just for the main living areas of your home; your bathroom would love to be included too! This style can be incorporated throughout all areas of your home, including the laundry.
To keep the coastal theme going, opt for timber venetian blinds, shaker style doors, classic mirrors, traditional wall sconces, and white or black country homestead tapware in the bathroom.
Do you have a beach view from your bathroom window? If so, ensure you make the most of this feature by ensuring the view is unobstructed.
The colour palette should be designer white, enhanced with reflective tiles or marble countertops. The coastal vibe can be captured with some soothing coastal art, which can look amazing in Hamptons Style bathrooms.
When looking for Hamptons Style furniture Sunshine Coast residents know that (business name) has everything they need, plus some great styling ideas!
Rattan and Hamptons Style
You can't say Hamptons Style without mentioning rattan. Buy heaps of rattan baskets in all different sizes and shapes. Place them on the floor, perhaps a large one for storing unused cushions and throw rugs, and a small one for your keys and knick-knacks on the kitchen bench.
Consider rattan when buying pendant light shades, low coffee tables, and single chairs, and if you truly love your white, then choose painted wicker to complete the look. What about a rattan bar cart? Alternatively, you may prefer the natural fibres of a sisal or jute floor rug, in stone and sand hues to create a rustic edge to your decorating.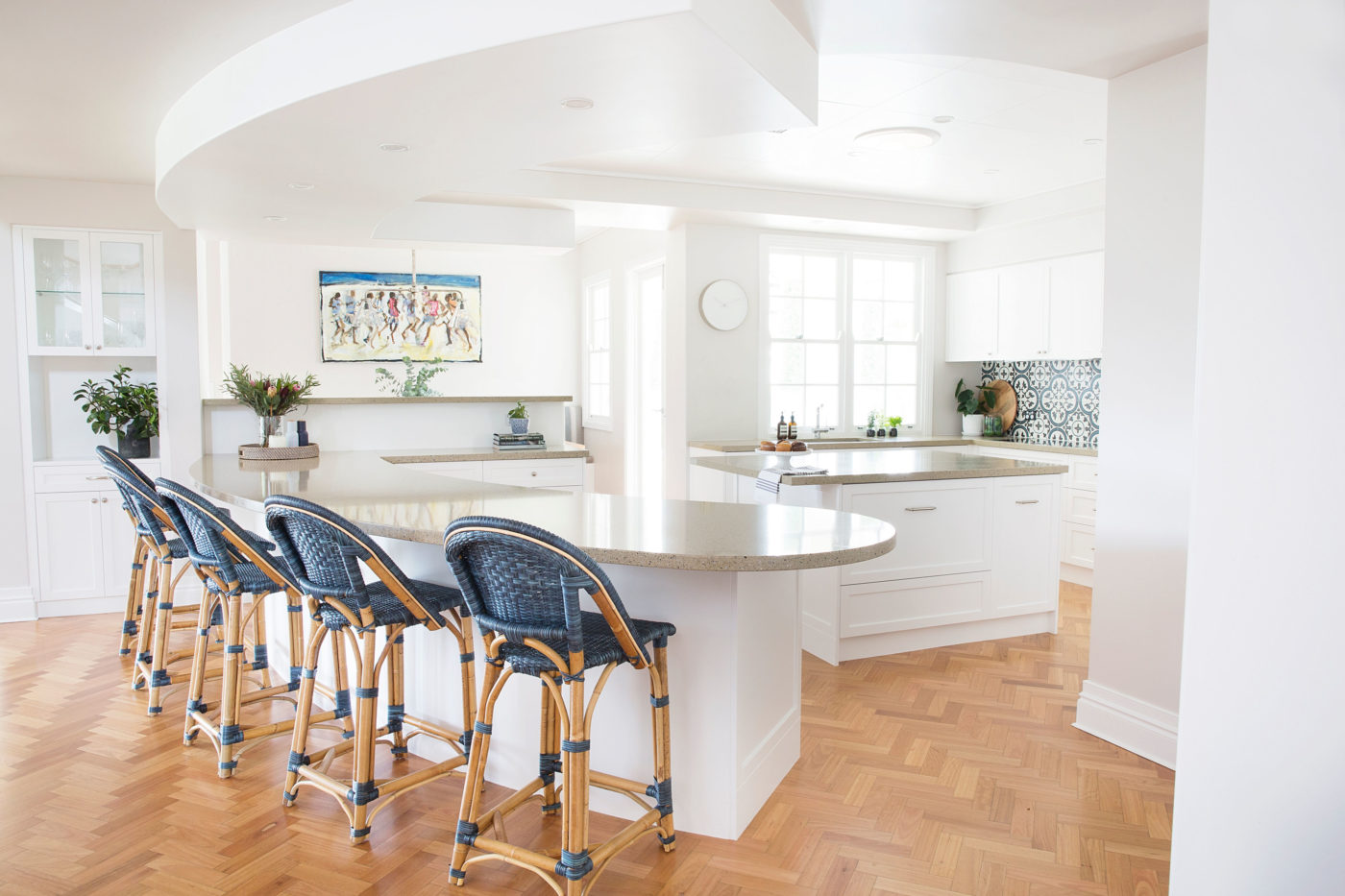 This style of furniture can be complemented by the softness of watercolour paintings.
It's All About The White
Hamptons Style is all about white – and more white. Floorboards, cupboards, ceilings, walls, and furniture – it needs to be a nice, clean white to reflect cleanliness, freedom, peace, and harmony. White highlights adds a sense of space, making rooms appear larger than they actually are. This is the décor style that Hamptons capitalizes on.
Pendant lighting and louvred buffets, including finishings like white tapware, doorknobs, and ornaments, are definitely the way to go with Hamptons Style.
You can still add your own colour touches to this interior design style, but we generally suggest staying with low sheen finishes in wicker white, vivid white, designer white, natural white, and absolute white. And don't forget that glass fronted cabinets look fabulous when you have a white colour palette.