The sleek and refined, warm and cosy, charismatic interior design style Australian's have fallen in love with.
Modern farmhouse style has become a very popular and highly coveted interior design style, so in this article we aim to provide a comprehensive look at what Modern Farmhouse décor is and why Australians love it.
We like describing modern farmhouse décor as going back to our roots and bringing elements from a simpler time back into our fast-paced lives. It's a cosy, humble, and nostalgic style that takes us back to the days before smart homes, fast cars, and a globalised world, all the while embracing our current way of life by creating a gorgeous décor style that brings both worlds together.
The typical concept of an Australian farmhouse revolves around practicality, functionality, and simplicity; a home that's designed with lots of outdoor space for barbecues, parties, and social gatherings. These homes are usually located in rural or suburban areas and are constructed with square or rectangular floor plans. The exterior is often light-coloured and wood is used as the main element.
Modern farmhouses have changed the old farmhouse style into something a little more refined and trendier. Modern Farmhouse décor is a combination of comfort and style, and while many of the traditional elements are still there, todays modern farmhouse gives off a different vibe. Perhaps one of the reasons for this is because, while they still have similar wooden interiors and exterior elements like stones in light shades, a modern farmhouse features stream-lined furniture, stainless steel appliances, and smooth lined countertops.
Therefore, Modern Farmhouse is basically a contemporary variation of the traditional farmhouse. It uses the clean lines of modern design and accentuates it with countryside finishes, making it homey with just a little bit of rustic.
Adding a Casual Finish to Modern Farmhouse Décor
When we consider Modern Farmhouse décor we think of the words 'sleek' and 'rustic'. If you're fascinated with this style of décor and want to add a touch of minimalism with a sense of personality, character, and warmth to your home, this is probably the right design style for you.
In this post we're going to offer our ideas on how to add a touch of farmhouse interior design with a modern aesthetic throughout your home. Our tried-and-true interior design practices will result in an exciting design, with just the right balance between the comfort of country living and an amazing contemporary flair.
Why You Might Love Modern Farmhouse Interior Design Décor In Your Own Home
Perhaps you already have a love of all things farm-fresh and organic; maybe you're looking for ways to disconnect from the material world during what has become a challenging time in our lives, or it could be that you want to return to traditionalism when it comes to your interior design. Whatever your reason, you're not alone! We have many, many clients who can't get enough, and we're happy to see that the modern farmhouse design movement comes with a relaxed vibe that's inviting and warm, yet without any pretension whatsoever.
The great thing about this décor style is that you can easily create this style yourself.
Our Definition of Modern Farmhouse Décor
Today's Modern Farmhouse style has industrial elements similar to Scandinavian interior design combined with old rustic charm and a touch of warm minimalism. We suggest putting a fresh spin on the rustic element when cultivating your own version of modern farmhouse décor so that your home feels unique to you.
Modern Farmhouse décor strikes the perfect balance of refined and pastoral, emphasizing casual living with comfort. It's design characteristics are sophisticated, practical and functional, refined yet natural, country yet eclectic.
In design terms we don't often hear of 'farmhouse' and 'modern' going together, yet this design style has become very popular in Australia, and for good reasons. Modern Farmhouse décor is a stylised approach to comfort with a simple design, suggesting a warm and inviting spirit even though you may be nowhere near a farm.
Where To Begin!
Don't listen to the sceptics; you can create this design style yourself, in your own home, and still maintain a good balance of modern flair and classic comfort.
When we consider modern farm life with it's many highs and lows, it stands to reason that everything with this style must begin and end with practicality. Usage and functionality are the major points of consideration with modern farmhouse décor, and this is true for most design styles. And like other design styles, it's all about the planning.
Start your project by surveying your space; every element and detail must be considered, from the scale and placement of furniture, to lighting, and the flow of a room. Decide what will and won't work for you, and what the alternatives are. Decide that this will be a successful project for you.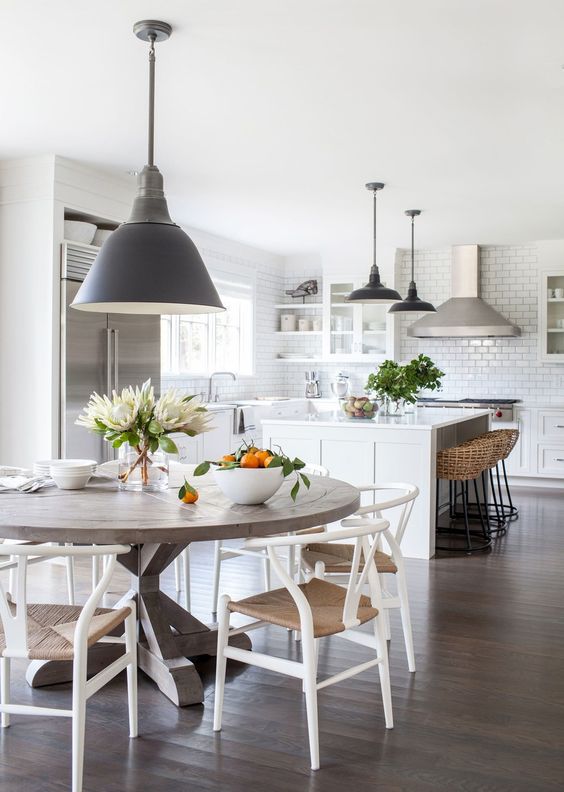 And when you're ready to start, try to always keep function and practicality in mind. Before you start introducing decorative elements, make sure that furnishings and storage solutions take priority in every room.
Considerations for Creating a Modern Farmhouse Interior
We know that the approach to modern farmhouse décor is a low-key combination of country chic elements and stark minimalism, so try to be as explorative as possible and have fun with this project because farmhouse interiors are a celebration of individuality and freedom.
This décor style is a vibrant combination of the old and the new, designed to promote a soothing, comfortable vibe. If you have heirloom hand-me-downs, unique finds, and arty decorative add-ons, all the better for keeping things interesting. Don't hesitate to mix elements and eras to allow this combination to emanate plays on texture and alluring features.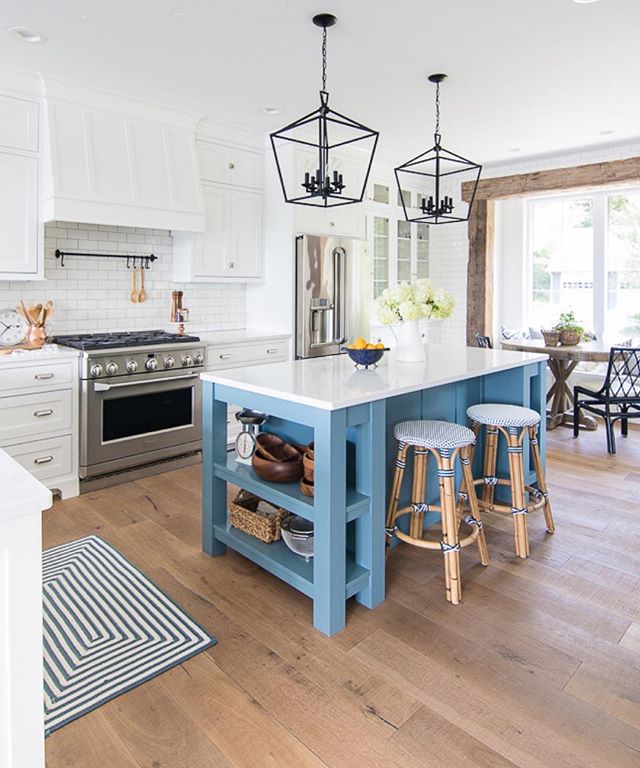 Materials Used in Modern Farmhouses
The foundation of Modern Farmhouse décor is natural and organic materials. For Modern Farmhouse kitchen décor we suggest sourcing a mix of industrial metals, counterbalancing this with a large farmhouse sink and sleek white marble countertops. It's all about simple sophistication; try to introduce natural elements to create your own personal modern farmhouse interior. Use matte finishes and other low-sheen materials to promote a sense of casual, well-planned, everyday glamour.
There's a big emphasis on natural and reclaimed materials with Modern Farmhouse design, with the obvious (and most popular) being wood. Wooden furniture, exposed timber beams, and timber accents are always indicative of this style. A reclaimed or distressed wooden dining table is often the focal point of a Modern Farmhouse home.
Of course this style is not limited to wood; incorporate rattan and wicker pieces, like occasional hanging chairs, and baskets, and use natural textures like cotton, burlap, and wool for your soft furnishings. And, to introduce the industrial look, incorporate various metals like brass tapware, doorknobs and other fittings.
For your lighting there are a range of materials to use, like steel, glass, copper, and brass – all of which will complement and accentuate the Modern Farmhouse style.
Don't Go Overboard With This Décor Style
You need to use a certain amount of restraint when realizing modern farmhouse interior design. Yes, there are endless possibilities with this style, but it's all too easy to go overboard and end up creating a heavy-handed Modern Farmhouse interior, which could result in a cluttered home. Be cautious with decorating and ask yourself how 'this item' will serve a purpose in your home: will it enhance what you're trying to achieve? Your space must be easy on the eye and appear effortless, so eliminate, edit, and reconsider all items in your space.
About Colours
We always suggest taking your cue from Scandinavian design and sticking with clean, neutral design palettes for both soothing contrasts and a mix of decorative items. Use Bright Optic White for highlighting your statement pieces; it also makes the perfect foundation colour for tying everything together. Keep in mind that heavier furnishings will make any small space appear cramped and even smaller, so white walls will combat both these issues when used in conjunction with lots of mirrors and reflective surfaces.
Playing With Contrasts
For a Modern Farmhouse interior that evokes low-key luxury and a pared down, relaxed style, mix old and new and high and low. Remember to edit carefully, and keep in mind the old but true mantra that 'less is more'.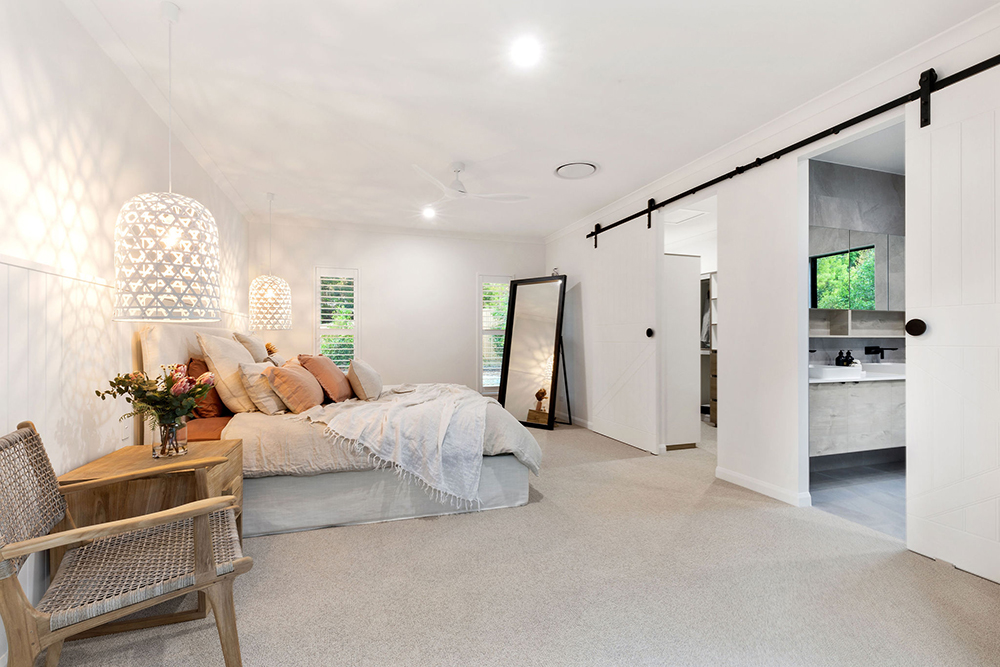 However, don't be shy about introducing interesting objects and challenging finds, because you just need smart placement and some creativity to bring everything together without the heavy-handed look. This is how to create a space that's unique to only you!
Choose Natural Fibres
One of the great things about Modern Farmhouse interior style is it's dynamic mix of textures and materials. This is what makes it such a liveable style, not to mention children and pet friendly. Natural textures and materials like leather, jute, hemp fabrications and finishes, and linen are key to this gorgeous look, and of course there's natural wood, metal, and stone. Whichever materials you decide to go with, it's all about tactile and visual texture.
(image from pinterest)
Incorporate pops of unexpected materials like velvet and brass to give this style a modern edge. Avoid plastic, lucite, and other unnatural materials as they're not part of Modern Farmhouse décor. To stay on theme, try to incorporate as many handcrafted and organic finds and features as possible.
Source Unique Fixtures
There's a wide range of extras that can be used to highlight this beautiful interior design style, from oversized pendant lights to weathered faucets. We suggest introducing dramatic light fixtures and rustic sconces for a sophisticated and dramatic effect in one of your most used rooms. Alternatively, update your cabinet and drawer facades with fresh, affordable farmhouse-inspired hardware and pulls.
We're Loving Imperfections
Because Modern Farmhouse décor is about mixing eras with a little bit of country and a touch of contemporary minimalism, this gorgeous style can be approached by introducing and celebrating irregular and slightly imperfect unique one-offs, which will add a sense of charm and personality to any room in your home. However, if you're working with limited space, make sure your imperfect decorative objects are small in scale because they'll overpower a room and spoil the look you're going for.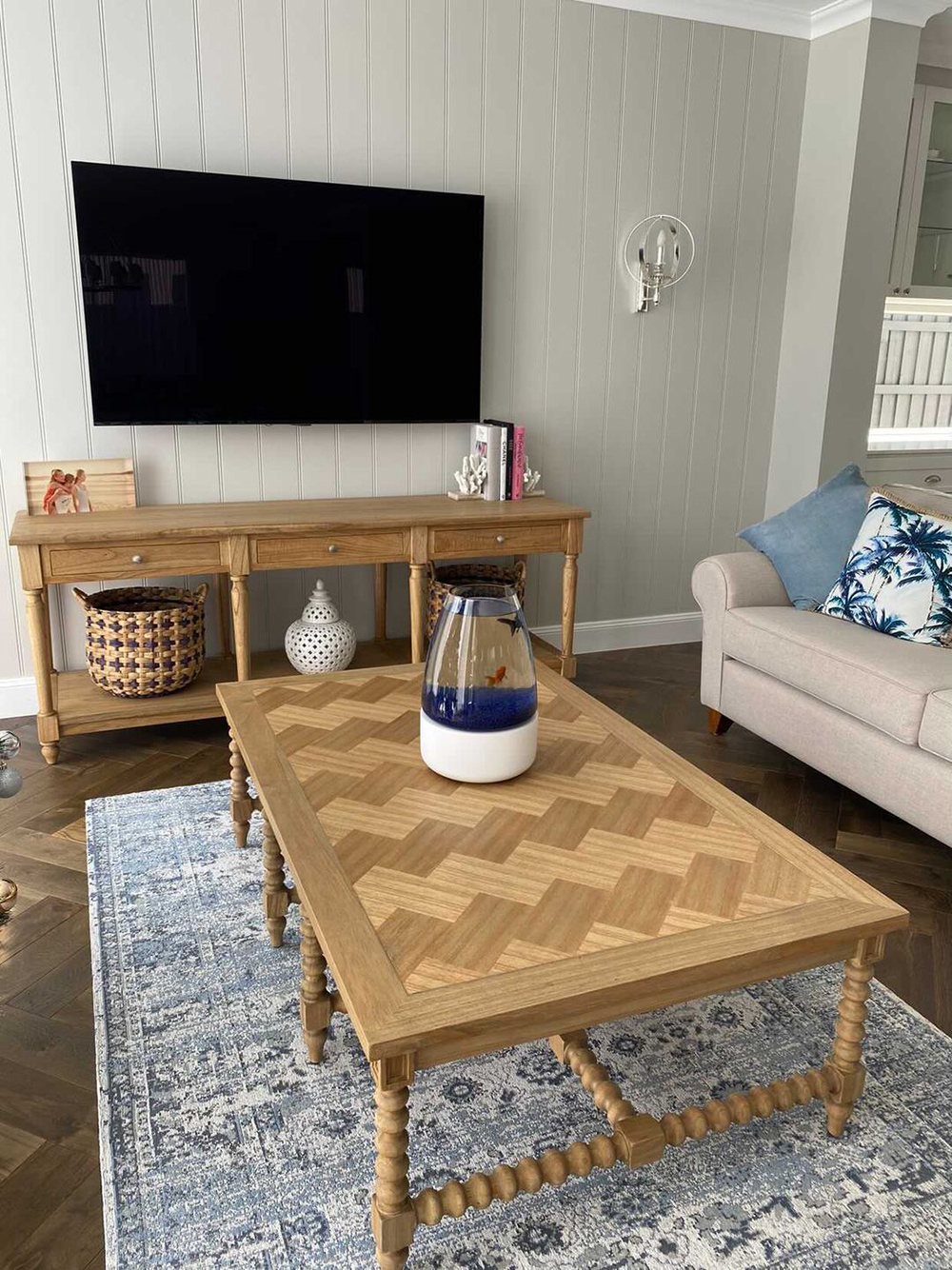 Design Ideas To AVOID in Modern Farmhouse Interior Design
Prop-Like Objects: Adding country chic elements to your home does not include props like saxophones, tricycles and so on – they definitely have no place in your Modern Farmhouse interior. The aim of Modern Farmhouse interior is to create a sophisticated, modern, and purposeful space.
Mason Jars: Mason jars are too common and too literal for your Modern Farmhouse interior. We suggest searching for more traditional décor elements like an iron kettle, classic enamelled metal plates, and copper pots.
Vintage Signage: Signage is too country for your Modern Farmhouse wall décor, especially signage that we've all seen before, so we suggest thinking of alternatives like pastoral and unusual art objects that will become conversation starters in your Modern Farmhouse interior. Try to keep your theme natural and don't overextend your vision of what your interior should look like.
Limit Distressed Furnishings and Finishes: We love the beauty of distressed furnishings and finishes, but be careful not to overdo it. Leave out any item that's on its last legs because it won't create a good first impression and will spoil the overall appeal of your new décor.
Is Modern Farmhouse Interior Style Right For You?
If you love the idea of a comfortable farmhouse and you also love modern, trendy aesthetics, then you'll probably love Modern Farmhouse décor. The combination of comfortable foundations, sculptural, geometric design elements, and sleek modern shapes is the ideal look for families who typically sit somewhere between the elements of modern design and practical comfort. This décor style is a compromise between traditional country-inspired design and modern design elements, and when done just right, it looks fantastic.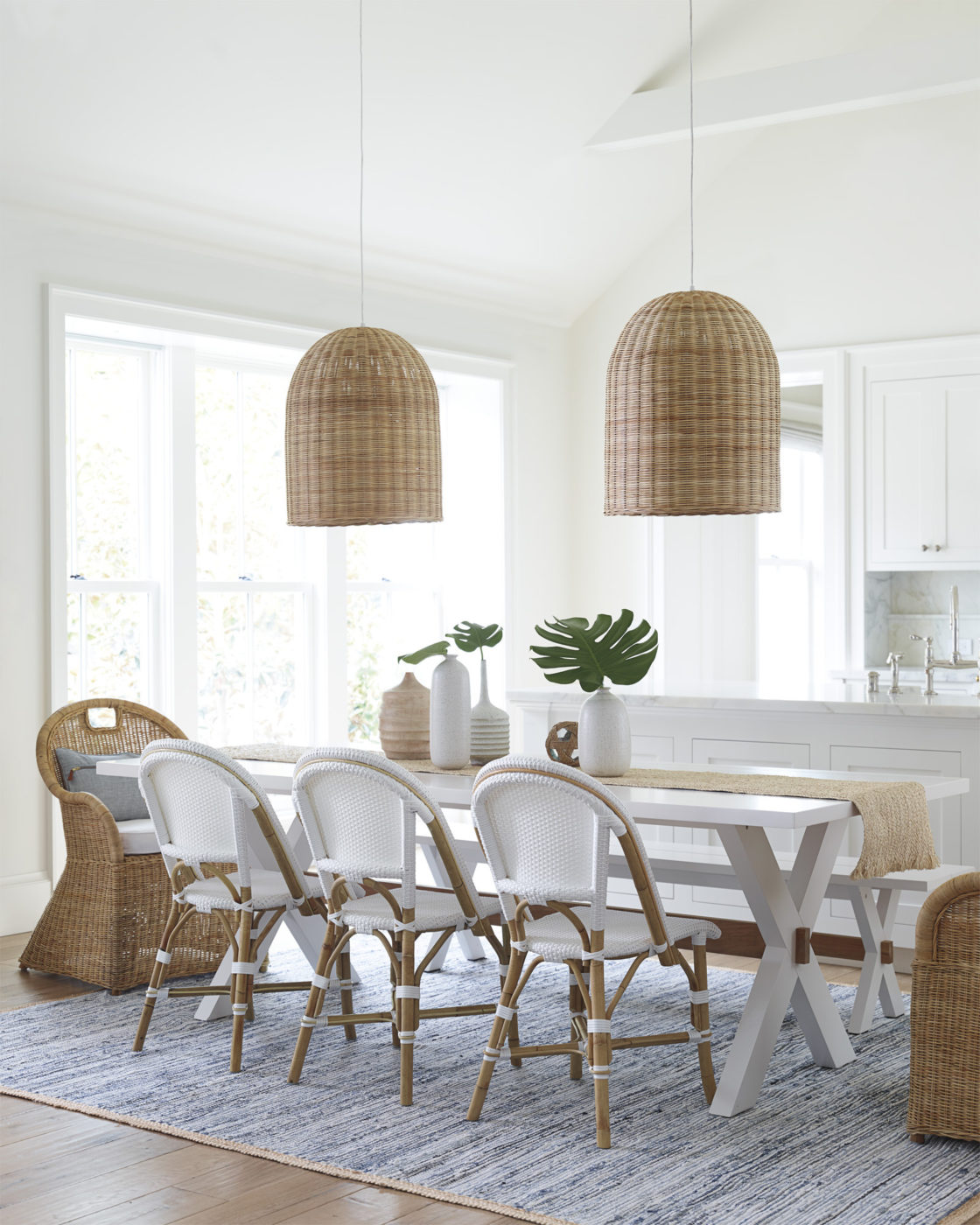 Modern Farmhouse décor is a minimal approach to decorating. It's a cleaner aesthetic that allows your few chosen display items to really shine.
Perhaps the best thing about Modern Farmhouse interior design is that there's no one way to create this look; however, using a neutral and cohesive colour palette is pretty standard. Use a range of neutral tones throughout the area for added warmth and contrast, and to ground the look we suggest keeping all the tones in the same colour family. Consider whites, neutrals, beiges, or greys in different shades.