What does your bedside table look like? Is it covered in clutter? Is there a pile of books on top that you've been meaning to read but never seem to get to? Or is it where you do all your charging for your smartphone, smartwatch, Fitbit, and other devices – even your electric toothbrush?
Your bedside table should complement your bed, ensuring the entire ambiance of your bedroom gives an uncluttered, comfortable, and inviting vibe; it should be a place where you can safely go to rest at the end of a long and busy day. A cluttered bedside table is definitely not conducive to comfort and relaxation.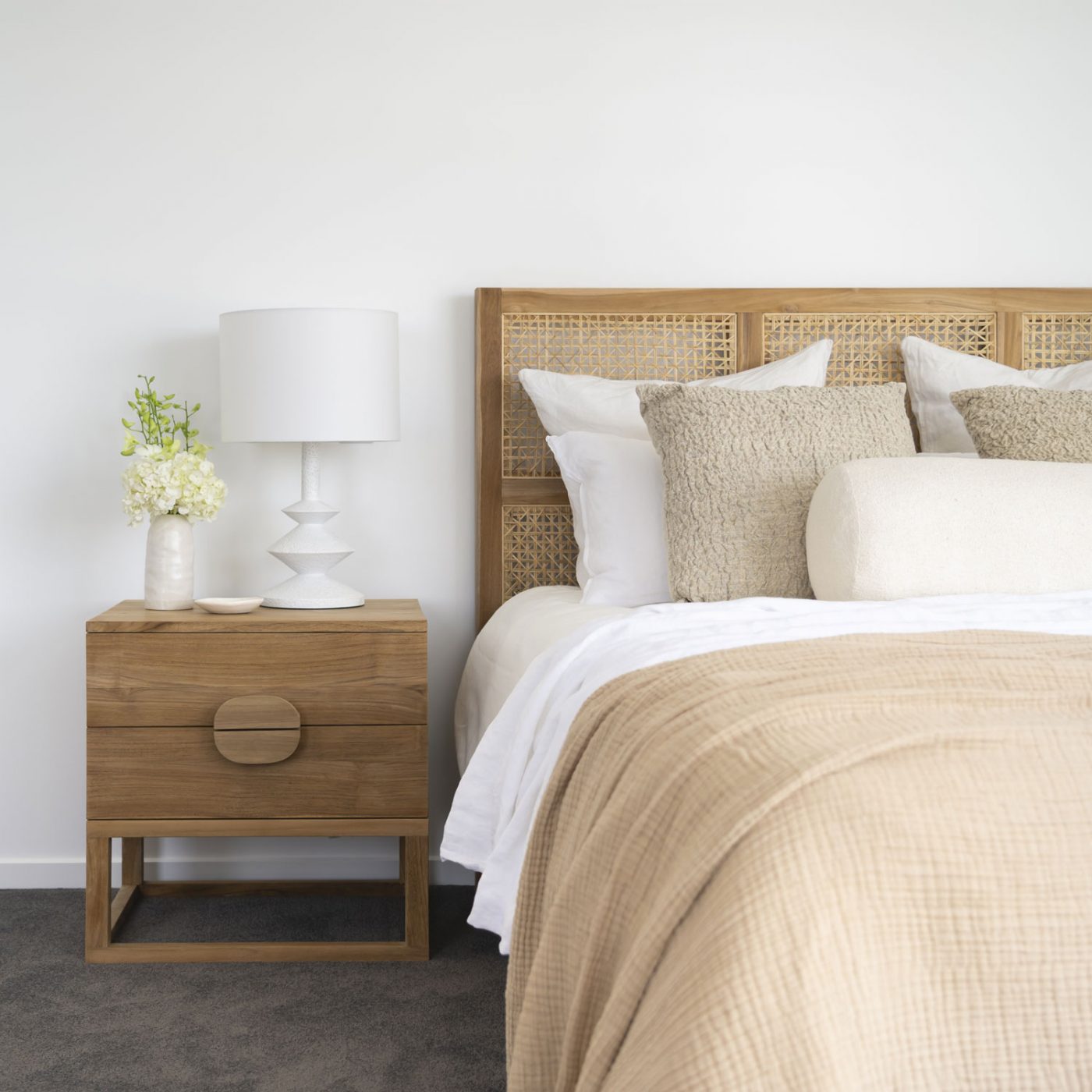 Most people purchase their bedside tables to pair up with their bed, and they use this space to rest their mobile phone or book before going to sleep. It stands to reason, then, that your bedside table should be styled to match the calm and relaxed feeling invoked by your beautiful bed. It should not be a convenient dumping ground for items that have no other home.
There's no right or wrong way to style your bedside table, so we'll be offering some design tips on how you can make optimal use of this space in your bedroom. Your bedside tables can serve a better purpose than to simply be a dumping ground for your phone or a pile of unread books.
Styling a bedside table can create a dilemma for many people because they just don't know where to start and they're not sure what the finished look should be. How many items should be placed on top? Should these items match each other? How do you make them look curated? Should the items be large, small, or a mix of both?
Before we begin, note that your bedside table should be approximately as high as the top of your mattress, with the lamp height being roughly the same height as the bedhead.
Check out our simple tips and inspiring ideas for styling your bedside tables –
Start by Decluttering
Take everything off your bedside table and give it a thorough clean. If your bedside tables are not in good condition, you may want to consider using a trivet or large tray on top. Alternatively, you may decide to give your tables a new look by sanding and painting, re-varnishing or polishing. If you have a chest of drawers, hide the clutter in your top drawer and keep your stylish favourites on display. Whichever way you go, start with a clean slate.
Your Bedside Tables Do Not Need to Be Styled Identically
Yes, your bedside tables should be styled in such a way that they look connected, but they don't need to look exactly the same.
The Linking Piece Should Be A Lamp
The lamp you choose for your bedside tables is the perfect décor item to link these two furniture items together. We suggest choosing a sizable, identical lamp for each table. Of course the lamp should not be too large (out of proportion to the size of the bedside table) or so small that it gets lost among everything else. The lamp is your anchoring point and should be the first item placed on your bedside table, with other items positioned around it.
The right lamp can define the style of your bedroom, and fortunately there are many lamp bases and shades to select from.  There's ceramic and iron bases for a Hamptons look, natural timbers and linen shades for a coastal feel, and crystal or larger fabric shades for a more traditional look.
Alternatively, if you prefer not to lose surface space to a table lamp, you may want to complement your bedside table with a pendant light, floor lamp, or wall sconce.

Electronics and Cords Be Gone!


Your bedside table is not the appropriate place for storing cords, electronic devices, and charging docs. These items should be relegated to either a dresser, or preferably to a completely separate room. Your bedroom is a place for winding down and relaxing prior to going to bed, so these items have no place near your bed.
If we can't convince you to store these items in a different location, make sure all cords hang down the back, between the  bedside table and the wall. You may want to consider a stylish docking station which could become part of your styling décor.

How Many Items Should You Have?
No-one wants their bedside table to look cluttered, so many people ask how many items should be put on the table's surface. The answer is three. The first item you place will be a lamp; the second might be a stack of books (only one book will be touching the surface), and you might decide on a plant or floral arrangement as your third item. Some stylists suggest starting with a tall piece (say a lamp), a small vase of foliage, with an even smaller alarm clock being the third item.
Collate Smaller Items
Loose items like jewellery, glasses, and so on can be placed on a small, decorative tray or in a pretty bowl. This is also the perfect place for creating a water station, with a glass and jug or stylish decanter, or water bottle. A ring dish will help keep your jewellery safe while you sleep, at the same time adding an unusual shape or pattern and adding some bling to your bedside table.
Fresh Flowers and Plants
Some people don't like having fresh flowers in their bedroom; however, for those who do, flowers can add some extra glam to your space. Just one single rose in a vase is just as beautiful as a big bouquet. Flowers provide a lovely, organic touch to a bedroom, as well as an injection of colour. If you prefer something more permanent, a delicate orchid or fern, an air plant, or a succulent like "string of pearls' will add a natural look to your room. It's said that indoor plants clean the air in a room, so it stands to reason that having a plant in your bedroom might offer some great health benefits like being able to relax and sleep better.
Create a Relaxing Environment With Personal Touches
Your bedroom should invoke a sense of calm and peace, so we suggest maximising a Zen mood with a diffuser or a candle, and/or incorporating greenery with a real or faux plant. Put your own personality on display with a pile of your favourite books or with a small piece of framed artwork.
Maintain Your Colour Palette
Your  bedside table should be styled to create cohesion with the rest of your bedroom. This means that the displayed items on your bedside table should be coordinated with the prime colour scheme of the décor and bedding in your bedroom. It's really key that you maintain a continuous colour palette when decorating your bedroom, but that doesn't mean you can't add a pop of colour with a floral arrangement or trinket.
Time to Arrange Your Essential Items
When arranging your essential items you can take a triangle approach for round tables or a grid approach for square bedside tables, always keeping in mind the rule of three. Items can also be layered from the back of the table to the front, which works really well for smaller art pieces.
Don't Have a Bedside Table?
If you don't have bedside tables in your bedroom, that's fine too. Perhaps you would prefer a bar cart, floating shelf, accent stool, or ottoman – all of these will work just as well. Simply style as above and you'll have created an attractive and workable surface at your bedside.
Bedside Tables, Dressers and Drawers
or 4 payments of $86.25 with Afterpay
Only 5 left in stock