If your aim is to design a dream, modern farmhouse kitchen, consider these three essential ingredients – rustic elements, modern features, and industrial-inspired accents. The right blend of these three will create a sophisticated, yet warm and inviting kitchen.
While there are no set-in-stone rules for modern farmhouse colours, a winning and popular palette seems to be a combination of white, black, and natural wood tones.
A typical farmhouse kitchen evokes images of retro appliances and rustic materials, while the ones that stand out are a blend of modern sensibilities with a laid back, country mood. Many believe that farmhouse style and modern design are mutually exclusive, but this is not true. In this post we'll show how design opposites do, in fact, attract and we'll offer our ideas on modern farmhouse kitchen inspiration and ideas.
Modern and Farmhouse Kitchens
A modern approach to kitchens is always appealing; however, farmhouse kitchens are renowned for being timeless in style, so the question is this: How do we achieve farmhouse kitchen style without being too literal?
There's a wide range of design elements that can be used to change your kitchen from just a plain, ordinary kitchen space into a gorgeous farmhouse kitchen. It all comes down to maintaining the basic fundamentals of a home with a warm aesthetic and the practicalities that farmhouse kitchens are renowned for.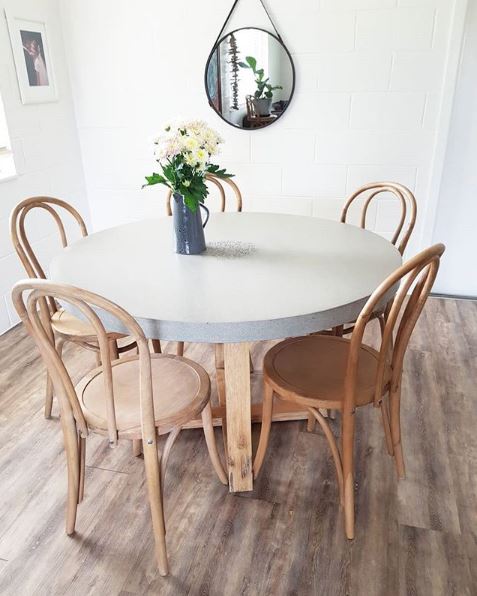 Farmhouse kitchen designs are typically warm, cosy, and comfortable, but more than that they're always inviting. These kitchens are the hub of the home, a place where people come together in their favourite place.
Here are our best farmhouse kitchen décor suggestions for your consideration –
No. 1: Keep It White and Light
When we think of a modern farmhouse kitchen, we think of an all-white kitchen. Kitchens quickly become outdated, so having a white kitchen with modern materials and elements will keep it in style for years to come. You can still maintain the charm of a rustic, country feel, but with a universally appealing and modern touch.
Dark colour schemes in kitchens can make the room look smaller and more closed off than it actually is, yet many people still go for dark benches, cupboards, and floors. If you want your kitchen to look and feel light, spacious and fresh, keep the colour scheme as light as possible. Change out your dark cabinetry for a lighter colour and you'll be amazed at how different the space looks and feels. Your kitchen will look large and open, yet all you did was change the colour scheme.
No. 2: Add A Pop Of Colour
Your kitchen doesn't have to look boring, and there are many ways to make this space fun and unique. Forget about traditional neutral colours or dark hues – consider something completely different, like a bold, saturated pop of colour. With this in mind, you'll have a lot more flexibility and freedom to play around with this space because, traditionally, farmhouse décor is a one-colour show. Consider this move carefully and make sure you're passionate about the direction you take; it's a bold statement to make and it will probably look fantastic, but if you change your mind later it could be a costly exercise to correct.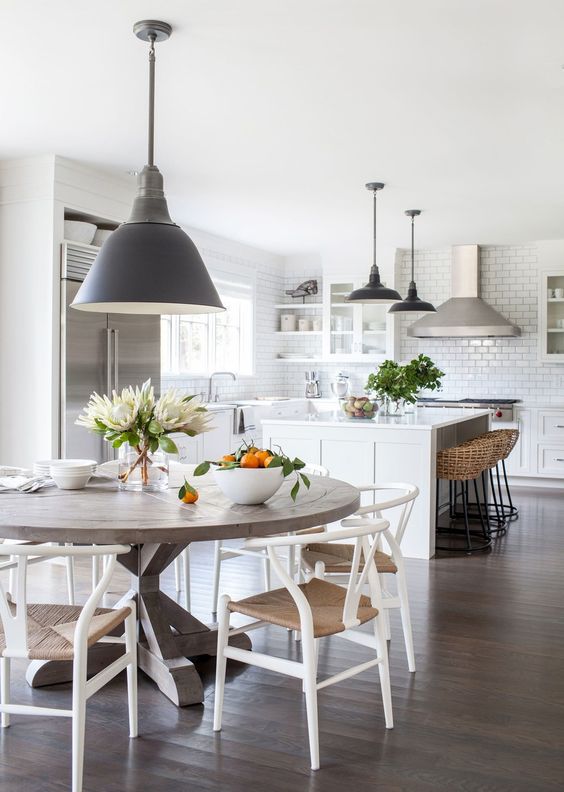 No. 3: Consider Exposed Brick
We love exposed brick in any country-style home, but it works especially well in modern farmhouse décor. In fact, when done right, exposed brick makes a stunning feature in any home. For a natural feel to your farmhouse kitchen, exposed brick walls add a rugged but classy look, at the same time suggesting a comfortable, lived-in feeling. With an exposed brick wall your kitchen will feel cosy and inviting. When teamed with soft neutrals and warm wood tones, your beautiful, exposed brick wall will become a gorgeous feature of your modern farmhouse kitchen design. It's important to note that this brickwork should be treated to prevent shedding layers into prepared or served food.
No. 4: The Right Tables and Chairs
Of course you need somewhere to sit and eat in your stunning, modern farmhouse kitchen, and so the farmhouse table and chairs you choose will ensure your kitchen becomes the hub of your home. We love the idea of selecting something rustic; something that looks as though it has a wonderful story to tell, something that also looks as if it's been a part of your life for many years. The right dining table and chairs will add authenticity to your kitchen and to your modern farmhouse décor. Consider ladderback chairs for this space; they're a great choice for a farmhouse breakfast nook or dining space, and they have a timeless look that will stay on-trend and always work well with any type of interior design style.
No. 5: Modern Wood Cabinets
If you're aiming for a classic farmhouse feel to your kitchen, consider modern wood cabinets. They provide the warmth of wood, they look modern, your kitchen will look classy and on-trend, and this design style will promote the overall country style you're looking for.
Sometimes wood cabinets running throughout a kitchen can be a bit too overpowering, especially if they are dark in tone, so if you love the idea of wood but still want to keep it modern in style, try wood cabinets at the top and go for something different at the bottom. Or, for a great contrast, have the wood at the bottom and try something different at the top.
The easiest way to promote the feeling of a modern farmhouse kitchen is to install modern wood cabinets. They're traditional, and they're always in style. To change it up and punctuate this look, try something different like metal-faced cabinets. New and different, this type of feature will make your kitchen stand out as a modern, authentic, and welcoming farmhouse kitchen.
No. 6: Get An Armoire For Your Newly Designed Kitchen!
Have a look through your local second-hand shops and antique stores for an affordable armoire (cupboard) with a beautiful, aged finish, and let it become the standout feature in your new, modern, farmhouse kitchen. Armoires have become very popular and are definitely on-trend. These furniture items are typically beautifully designed with solid construction, so resale would be a breeze if you decided to re-design at a later date.