The Hamptons design style is nothing short of iconic. This wonderful approach to outdoor design is all about highlighting the surroundings with a bright, welcoming twist. This style is so special because it can be casual and beach-friendly but also very sophisticated and elegant. The Hamptons style has become so iconic for its remarkable ability to combine these two different vibes under one roof. It proved to the world that casual and fancy can intermingle beautifully, and the resulting mix can be incredible. Keep reading to learn about some of the easiest ways to achieve a perfect Hamptons style for your outdoor space and home.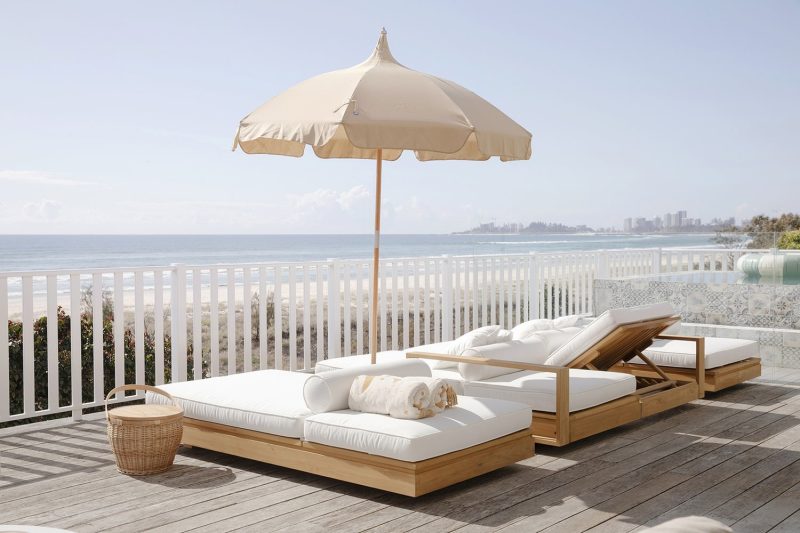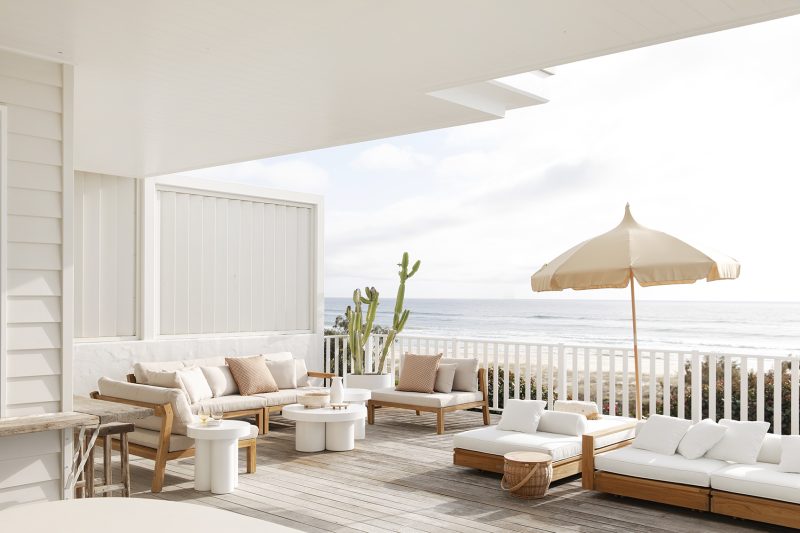 Larger furniture should be fairly neutral.
You might know that the Hamptons style owes its name to the iconic string of seaside communities located on the eastern end of Long Island, USA. Because of their proximity to the ocean and many stunning natural features, these communities have adopted a design style inspired by the beautiful local settings.
One of the Hamptons style's most prominent hallmarks is its approach to furniture. White, natural or whitewashed furniture is particularly predominant. In addition, timber and rattan are also sought-after alternatives. These choices allow larger furniture to be more unobtrusive while still going for a very elegant and functional style. In addition, these colour and texture choices often lead to a more welcoming and relaxing environment overall. This is an opportunity to add a very personable and comfortable vibe without making any compromise in terms of vision and style overall. Furniture with natural colours or white mixes very well with natural features, such as pebbles, plants, trees, and even exposed bricks and stone walls. One of the key components of the Hamptons style is its inner harmony, and the right furniture will help you get there. The good thing is that changing furniture to get closer to a Hamptons look is relatively easy to do without requiring major modifications to your home or outdoor area.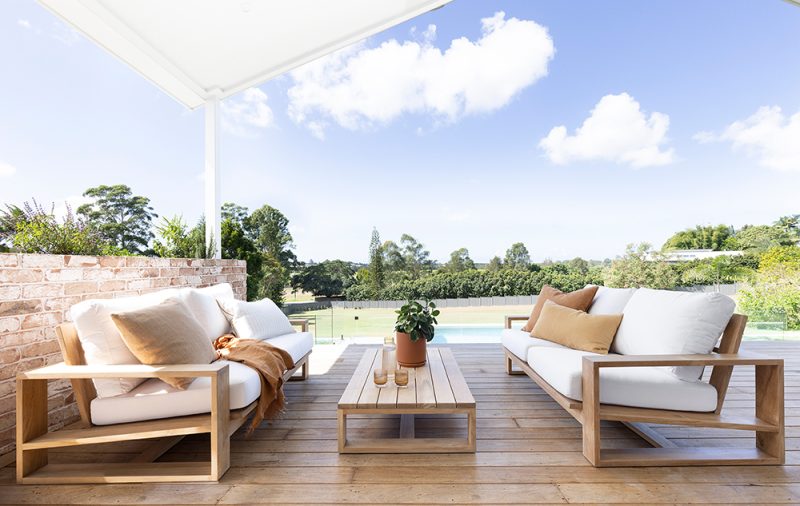 Colour accents inspired by nature.
Colour accents are very important to the Hamptons look. They are one of its salient and most well-known traits! Accents help different elements blend in together, giving your area a stylish yet comfortable and welcoming look. In most cases, designers opting for the Hamptons vibe always look at nature for inspiration. Rattan, which is super predominant in this style, is reminiscent of sandy shores. At the same time, glass and fabric can also resemble the ocean, with deep blue, grey or green tones.
Even though the colours of nature are a big source of inspiration for the traditional Hamptons style, do not be afraid to switch things up! Many homeowners have successfully experimented with adding their favourite colours and spicing things up in their own personal ways. As long as you don't go over the top, you should still be able to capture the essence and refinement of the timeless Hampton look with your added personal twist. Even if you decide to go off-script with your colour choices, remember to retain an understated approach at the core of the Hamptons look.
Plants
Having plants, whenever possible, can be a great way to bring some additional character to your Hamptons-style design. One thing that can be perfect for this style is blending different sizes. For instance, you might have a small tree planted in a corner and a small pot with a tiny centre table plant. It's not exactly like recreating an English garden, but we do want to get a sense of nature creeping in and gently becoming a vital part of the design. Hanging planters, as well as "wall climbers" such as vines, can most definitely add to the charm and become beautiful highlights. In addition, you could also consider some flowers or herbs with a nice scent. After all, you experience the beauty of a design with all your senses! The smell of plants and herbs (or even special scented candles) can help you set the mood and take your design to the next level.
Accessories bring spaces to life.
One of the most notable design "strategies" at the core of the Hamptons aesthetic concept is relying heavily on accessories to achieve a more distinctive look. If you consider a traditional Hamptons room or outdoor area, you will notice that the theme is fairly minimalistic. Still, small details, such as accessories and furniture, bring most of the highlights. Tablecloths, pillows, decorative platters, glasses, table runners, umbrellas and upholstery, are only some of the many things you can consider if you want to spice things up. In line with what we mentioned earlier about using naturally-inspired materials, these accessories work even better if you choose jute, rattan, burlap, or linen options, only to mention a few essential options. You want to avoid plastic or steel, as these might interfere with the natural, understated look of a traditional Hamptons design.
Decòr can add to the charm.
Although there is an inner minimalism to the Hamptons approach, there is also room for a lot of decors to add to the charming intensity of this particular style of design. Keeping in line with the trend of following in nature's footsteps, it is not uncommon to see decorations such as platters of sea shells. It's also common to see elements of raw wood, marble and brass, beach pebbles, and similar items reminiscent of beachside or nautical themes.
In conclusion, these are only some things to consider if you want to achieve a true Hamptons vibe! The best thing you can do is look for great examples of this style online. Reference pictures and home designs that embrace the Hampton identity. This way, you can already have a good idea of what you want to achieve for your home.